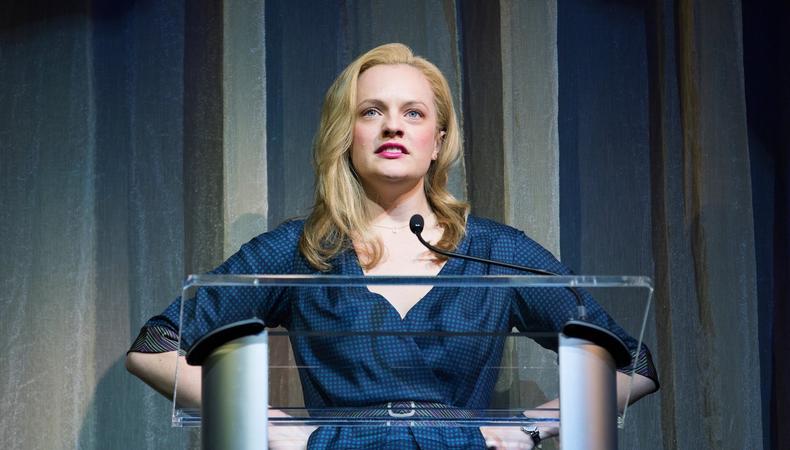 In a 1971 essay, art historian Linda Nochlin considered the problem, "Why have there been no great women artists?" Nochlin argued that the question itself carries bias: Given the opportunity, women would have their own opinions about what constitutes a masterpiece and have been doing so ever since. Likewise, women have literally been rewriting theater since around the same time.
These playwrights have not only created great plays, but challenged rules regarding plot structure, characterization, and even what makes something a play. As a professional or emerging stage artist, you should have familiarity with this emerging tradition. Here are 10 landmark works by women to get you started:
"Dulcitus," Hrosvitha of Gandersheim (ca. 935-73 CE)
Hrosvitha ("a clarion voice") was the first woman playwright in the Western tradition. She lived in Lower Saxony (today Germany), devoted her life to the church, and composed poems and plays in Latin. In "Dulcitus," the governor of Thessalonica wants to arrange marriages for three virgin sisters and convert them from Christianity to Roman paganism. Hrosvitha wrote the play for reading, but the language and dark comedy play well onstage.
"Trifles," Susan Glaspell (1916)
Glaspell was a playwright but also an official with the Federal Theatre Project during the Great Depression. In this one-act, a small town awakens to the murder of Mrs. Wright's husband. While the sheriff and his companions search the house, Mrs. Peters and Mrs. Hale chat in the kitchen. The two women notice details ("trifles") that the men would not think to see and solve the murder. However, should they reveal the killer's identity? The script is a dazzling display of subtext. Glaspell arrays choreographies of glances, pauses, and beats, suffusing silence with meaning.
"A Raisin in the Sun," Lorraine Hansberry (1959)
In 1949, Arthur Miller explored the cost of the American Dream in "Death of a Salesman." Hansberry broadened Miller's question, by asking whose dream? (The title "A Raisin in the Sun" alludes to a poem by Langston Hughes about deferred justice.) The play features the Youngers, an African American family living in the South Side of Chicago. Mama, the matriarch, receives a life insurance check from the death of her husband, Walter Lee Sr. Will the money go to her daughter Beneatha's career as an eternal student, her son Walter Lee, Jr.'s dream of owning a liquor store, or a new home for the family?
"Fefu and her Friends," María Irene Fornés (1977)
"Fefu and her Friends" features Fefu and seven of her female friends during a day in the spring of 1935. Whereas Part I takes place in Fefu's living room, Part 2 happens in four different parts of the theater space, at the same time. The audience rotates in groups until everyone has seen the entire play. The all-female cast and removal of the fourth-wall symbolized women's struggle against boundaries in society at large.
READ: 25 Contemporary Plays Every Actor Should Know
"Cloud 9," Caryl Churchill (1978)
In this mind-bending critique of British colonialism, Churchill throws traditional play structure out the window. Act I takes place in a Victorian-era homestead in Africa where Clive, the administrator, is married to Betty (played by a man); Joshua is Clive's black servant (played by a white man); Edward is their son (played by a woman); and Victoria is their daughter (played by a doll). Along with four other characters, liaisons occur across race and gender. In Act II, the action switches to a park in 1979 London and the performers rotate roles. A deconstruction all around, Churchill's "machine" of comedy rivals Shakespeare's.
"The Heidi Chronicles," Wendy Wasserstein (1988)
"The Heidi Chronicles" rejects the interpretation of Aristotle that a play's action should take place within a 24-hour period. Rather, the play follows the main character, Heidi, from high school in the 1960s through her feminist explorations of the 1970s, and her career as an art historian in the 1980s. The lead role provides a King Lear-like challenge in its sweep of character growth.
"The American Play," Suzan-Lori Parks (1993)
A critique of race in America, this two-act allegory follows The Founding Father, an African-American gravedigger who sidelines as a Lincoln impersonator and charges a penny for audience members to take part in reenactments of Lincoln's assassination. Lucy is The Founding Father's Wife and their son, Brazil, works as a professional mourner. Parks has developed unique conventions for scriptwriting, which include notation for silence, unison, and dialect.
"How I Learned to Drive," Paula Vogel (1997)
"How I Learned to Drive" features the relationship between L'il Bit and her uncle, Uncle Peck. Two decades before the #MeToo movement, the piece focuses on sexual violation. The plot occurs out-of-order and a three-member chorus interweave with L'il Bit and Uncle Peck's dialogue. In addition to her own accomplishments, Vogel's students at Yale and Brown University have become important voices in their own right, including Quiara Alegría Hudes, Lynn Nottage, and Sarah Ruhl.
"In The Next Room (or The Vibrator Play)," Sarah Ruhl (2009)
"In the Next Room" features the sexual woes of Sabrina Daldry and Catherine Givins, two rooms, and vibrators, set during the 19th century when doctors brought female patients to orgasm as a cure for "hysteria." The climax of the play bursts open a third room. Critics employed the term "magical realism" to describe Ruh's dream-like imagery, but the playwright prefers "fabulist": one who tells fables.
"Ruined," Lynn Nottage (2009)
"Ruined" levies a devastating rejoinder to Bertolt Brecht's "Mother Courage and her Children." Mama Nadi runs a bar/brothel in war-torn Democratic Republic of Congo where a traveling salesman sells her Josephine and Sophie, sisters. Against her better judgement, Mama takes the girls in even though Sophie is "ruined" (has suffered genital mutilation). A bravura role, Mama must charm opposing armies while maintaining her own secret.
If you're looking for even more women playwrights, consider Aphra Behn, Eve Ensler, Lillian Hellman, Quiara Alegría Hudes, Adrienne Kennedy, Young Jean Lee, Anna Deveare Smith, and Sophie Treadwell.
The views expressed in this article are solely that of the individual(s) providing them,
and do not necessarily reflect the opinions of Backstage or its staff.
Disclosure: This post is brought to you by the Backstage team and/or a Backstage Expert. If you purchase items through these links, we get a small share of the revenue from the sale from our commerce partner.