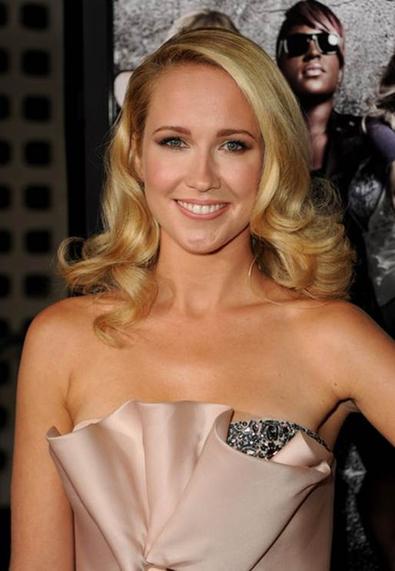 Anna Camp wants to try a different look. "I'm dying to shave my head, dye my hair black, anything!" says Camp, who feels fortunate to consistently land work as the "uptight blonde." "I'm dying to go the opposite direction and play somebody totally different."
It's not easy being blonde. While there are countless young, fair-haired aspiring actors, Camp has snagged two coveted roles this fall as the obsessive-compulsive Aubrey in the movie "Pitch Perfect" (in theaters now), about competing college a cappella teams, and as the straight-laced best friend on Mindy Kaling's new Fox series "The Mindy Project."
She really "goes for it" in "Pitch Perfect" – there are some grossout scenes – and she also gets to show off her rapping skills in the film. "I didn't have my baseball cap on backwards so I didn't feel like I was reaching my fullest potential," jokes Camp, adding that she and her husband like to make up rhymes together.
She is soaring in her career, though, and she encourages aspiring actors to not stop chasing after their dreams.
"I know a lot of people that are still busting their ass every day and pounding the pavement," says Camp. "I just want to tell everybody to not stop, to just keep going. In a way it never ends."
How did you get cast in 'Pitch Perfect'?
Anna Camp: I got the script and got the audition when I was in New York doing ["All New People" at Second Stage in 2011]. And they liked me and they wanted to Skype with me. I was like, "I don't want to Skype. I want to be in the room with everybody! I've got to get this part no matter what!" I had Monday off so I flew out on Sunday, went in and auditioned, and sang a song on the ukulele because I was singing it in the play at the time. And then I got back on the plane on Tuesday morning, and then when I landed, I got the news that I got the job.
Did you have singing training?
Camp: I went to School of the Arts in Winston-Salem, and we had a bunch of singing classes. My first job in New York was an Off-Broadway musical.
Oh really, what was it?
Camp: It was this crazy musical at Rattlestick theater called "God Hates the Irish: The Ballad of Armless Johnny." [Laughs] I played a British girl named Pepper who was in love with armless Johnny. It was really risqué and really crazy. I do remember a lot of the older folks leaving in the middle of one of the songs. I had a great time doing it.
So you moved to New York and started doing theater after college?
Camp: I started doing regional theater. My first job was "The Importance of Being Earnest" at Dallas Theater Center. Then I did some Off-Broadway stuff at Second Stage, and then I did two Broadway shows, which was amazing. And then "True Blood" took me out to Los Angeles, and I fell in love with living out here. I miss New York a lot, though.
You mentioned working on a risqué musical and "True Blood" is pretty racy too. You also had a nude scene in "Equus" on Broadway with Daniel Radcliffe. What is that like as an actor?
Camp: I'm attracted to those types of roles because they do scare me. And I think if I'm afraid of something, I've got to do it or what's the point? We only live once. I learned so much about myself and so much about acting and what it's like to be in those circumstances in front of people. It pushes you to a kind of limit as an artist and you have to do those things if you want to keep growing. And they're also usually incredibly fun parts to play when you do put yourself out on a line for a character in a role like that. My poor parents, though. They've seen me do crazy things. I thank them so much for putting up with me. And my husband, he's a really good man for putting up with me.
You also play Mindy Kaling's best friend on "The Mindy Project." How did you get involved with that?
Camp: I auditioned. I had actually worked with Mindy before on "The Office." She wrote the wedding episode that I was in when I played Pam's sister. I just auditioned, and they liked me and I got the job. Every time I get a script I'm just laughing out loud. It's hysterical, and I just hope that America responds and loves it. I have my fingers crossed. I think the best friend dynamic between the two of us is really cool.
You have so much going on right now with a new movie and new TV series!
Camp: And I just turned 30 years old. It's been a crazy week. Turning 30 was kind of an emotional party for me. I remember sitting with my husband in a bar at midnight the other night, and I felt like I was closing a chapter and opening a new one and I was definitely scared. The past couple months I've been like freaking out with all this stuff going on but now that everything is opening and the dust is settling, it feels good. I've been acting since second grade, and I just remember when I first moved to New York and I was living in Washington Heights with three other actors in this tiny apartment and busting my butt to get to the subway, walking to like five auditions in a day. Just like not stopping and taking a lot of no's and getting a lot of rejection. I remember going home from auditions and crying and being like, Will I ever get another job? I'm very happy and I know my parents are very proud. I've worked hard.