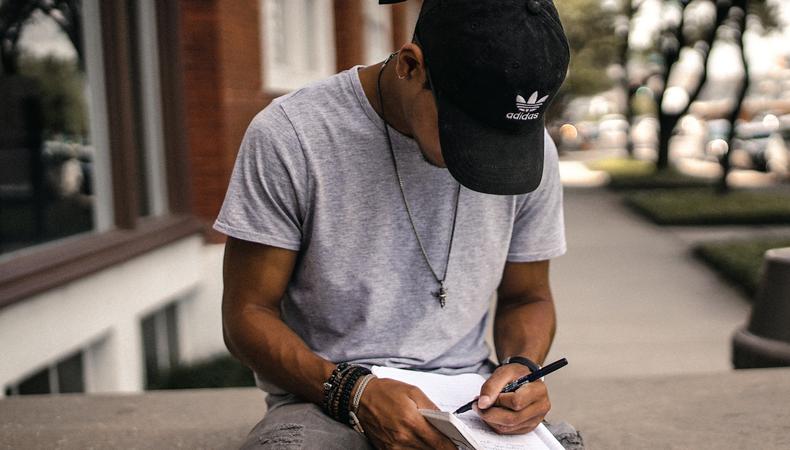 I've written over 10,000 jokes in my career. Some I've used and some just sit in the Red Grant vault—I would never be able to use all them. But that's okay; I would rather have an overflow of jokes than no jokes at all.
Jokes come in and out of my head all day long, but when people ask me how I write them, I say, "Just write five minutes at a time." I know five minutes doesn't sound like a long time but on stage, it can feel like an eternity. Writing for five minutes is simultaneously tricky and easy...it's one of those classic comedy riddles.
The first five minutes I ever performed was horrible. I remember talking about Wonder Woman and her bracelets and how they wouldn't last long in the neighborhood I grew up in. I thought it was the funniest joke in the world when I wrote it but when I performed, crickets.
After the show, a friend asked, "Why don't you talk about that real stuff you always tell me about, the stuff that makes me laugh? Why don't you talk about your family and your friends and all of the situations you get yourself into every day?"
READ: Want to Be a Comedian? 3 Tips to Get You Started
From that point on, I made it my duty to focus on my real, everyday experiences. I've since found that these are the best jokes, the ones closest to my heart and based on my life. Why? Because the experiences you have, the ones you base your jokes on, have likely been experienced by others and so they can relate.
I also learned a lot about how to write jokes in college. Because I didn't like my English teacher in high school, I didn't pay attention in class and missed the part about writing essays. When I took my college entry test to find out what classes I would be taking, I completely failed the English section.
Since I did so terribly, I was put in the lowest level English course they offered. But the funny thing is that this class taught me so much I hadn't learned in high school. When I was tested and given an essay to write, it was a mess. I wrote a letter similar to what you would send home to your parents in the mail. I even ended it by saying, "Sincerely yours, Rodney Grant."
When I got the paper back, it was so full of red marks from the grading that then and there I decided to call myself "Red." (That's a joke. It's not true, but it's funny to me).
Anyway, this class showed me how to write an essay. It showed me that all essays begin with an introduction, the body, and a conclusion, a structure that has helped me enormously. When I write jokes, I follow that structure: beginning, middle, end. The topic is the beginning. The crazy stuff you do in the middle is the body. And you always have to end on some type of laugh that makes sense to sum up the joke aka the punchline.
There are millions of topics out there. There's a whole world of jokes waiting to be written and delivered to an audience. If you're serious about this career, I encourage you to find your jokes, write them well, keep them relatable and real, get on a stage (anxiety and all), be physical and willing to look stupid if you need to, and knock 'em the heck out!
*This post was originally published on June 18, 2018. It has since been updated.
The views expressed in this article are solely that of the individual(s) providing them,
and do not necessarily reflect the opinions of Backstage or its staff.