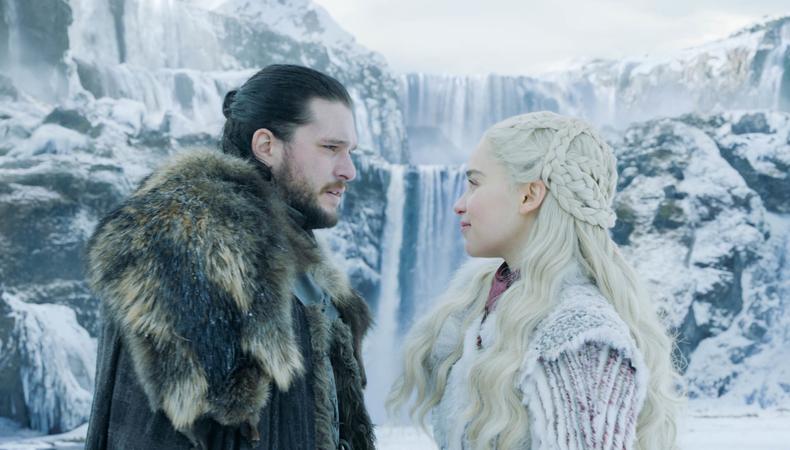 The time has come to crown the very best of television's best. Before the 71st Primetime Emmy Awards on Sept. 22, Backstage is rounding up every nominee in the major acting categories across drama, comedy, and miniseries. Below is a refresher on their stellar performances, how they earned the Television Academy's recognition, and why we couch potatoes on staff can't stop thinking about them. Read on for your 2019 Emmy acting voting guide—and pick your favorites!
OUTSTANDING LEAD ACTOR IN A DRAMA SERIES
Jason Bateman, "Ozark"
It may have taken Bateman most of his acting career to prove he can play (and direct) drama as well as he can do comedy, but his performance as Marty Byrde, a cuckolded financial adviser whose idyllic life becomes a money-laundering nightmare, was worth the wait. That classic Bateman dryness provides the perfect foil for the unsettling world of "Ozark," where middle-class banality becomes menace.
Sterling K. Brown, "This Is Us"
You can't look away from a performer like Brown, who can seemingly do no wrong. Playing the multifaceted Randall Pearson means the Emmy winner gets to preach the truth, have mental breakdowns, and, occasionally, throw out solid one-liners that reveal his superb comedic timing. He's created one of the most enthralling characters in TV drama.
Kit Harington, "Game of Thrones"
Jon Snow went through hell this season—to be fair, that's true of every season of HBO's record-breaking fantasy series. Everyone's favorite reluctant hero was forced to step up to the plate like never before, especially in the show's bold (and bloody) conclusion. And in battle, Harington moves with remarkable control of his body; his grimaces of fear or fury are a study in magnetic physicality.
Bob Odenkirk, "Better Call Saul"
As this riveting spinoff delves deeper into the thorny morality of ambition and survival, Odenkirk continues to show us streaks of the "Bad" habits that built his character's rascally reputation. Even with the knowledge of that final meth-charged outcome in the back of our minds, Odenkirk is giving an increasingly refined performance, adding new layers to the dodgy lawyer's present tense.
Billy Porter, "Pose"
Everyone on this sequined and stunning series deserves accolades aplenty, but the performance that may lodge itself in your heart most is Porter's as Pray Tell. With countless friends and lovers dying of AIDS, he is entrenched in sadness and death and unimaginable fear, yet he projects an infectious joyousness—without ever coming off as saccharine. We're finally mining the depths of this veteran theater actor's abilities, now on a bigger stage.
Milo Ventimiglia, "This Is Us"
On paper, the day-to-day life of a father with three kids doesn't sound like a riveting NBC show. But with the terrific Ventimiglia playing the character, things start to get interesting. Endless care, tireless loyalty, and dad jokes: Jack Pearson is the culmination of everything anyone could ever want in a dad, yet Ventimiglia still manages to make him feel real.
OUTSTANDING LEAD ACTRESS IN A DRAMA SERIES
Emilia Clarke, "Game of Thrones"
Despite the shortened last season's breakneck storytelling, Clarke brought to the table her impressive ability to channel practically an entire series' worth of character development into a single facial expression. Her descent into madness notwithstanding, we'll miss Daenerys Stormborn of the House Targaryen, First of Her Name, Breaker of Chains and Mother of Dragons.
Jodie Comer, "Killing Eve"
Villanelle kills people. She's good at it. She's gorgeous. She's completely heartless. (Or is she?) This jet-setting assassin challenges our every preconception of psychopaths, assembling, enigmatic, someone who inflicts her deeply buried suffering on others but mostly yearns for the unexpected. As portrayed by Comer in one of the gutsiest performances of the year, expectations for Villanelle are subverted at every twist and turn.
Viola Davis, "How to Get Away With Murder"
Five seasons in, Davis is still sinking her teeth into the role of treacherous defense attorney Annalise Keating and carrying a show full of murderous twists so cheesy you'll swear off lactose. In her Emmy- and SAG-winning role, she's a diva for the ages, as brash and ballsy an antihero as any of her white male counterparts on the small screen. We wish there were more TV characters—and performances—like hers.
Laura Linney, "Ozark"
Wendy Byrde is a dissatisfied suburban housewife—until she's an on-the-run, money-laundering mastermind. In this ever-darker Netflix drama, Linney excels at guiding you through everything on Wendy's map: messiness, vulnerability, true kickassery. Count on Linney to ground wild twists and turns with her shrewd yet fascinating style.
Mandy Moore, "This Is Us"
So effortlessly natural and charming is Moore as matriarch Rebecca Pearson, hers becomes one of those performances whose subtlety could be taken for granted. The actor's first Emmy recognition is overdue partly because of the ease with which she plays multiple ages—more than any actor on the show must—and her ability to find where "loving" and "overbearing" overlap.
Sandra Oh, "Killing Eve"
Oh's award-winning, critically hailed return to TV reminds us why she's so compelling to watch. We follow Eve's ascent from disillusioned government employee to insatiable MI6 agent on the hunt, while her complicated relationship with Comer's Villanelle proves that these cat-and-mouse stories can be anything but predictable. Oh's Season 2 performance made us want to savor each suspenseful moment.
Robin Wright, "House of Cards"
While Netflix's "House of Cards" first landed on the map as a story of the scheming politician Frank Underwood, its final season focused squarely on Wright's Claire. It should have ever been thus. Wright's ability to project a steely exterior—or collapse under its weight—has been put to the test again and again; her unstoppable performance shows us what it means to be an unstoppable woman.
OUTSTANDING SUPPORTING ACTOR IN A DRAMA SERIES
Alfie Allen, "Game of Thrones"
Allen's first-time Emmy recognition for this sprawling epic is as much due to one unforgettable moment as it is to his overall performance; just before Theon Greyjoy charges recklessly toward literal death, he looks at his adopted brother and accepts his demise. The look that crosses Allen's face in that moment is emblematic of his brilliance.
Jonathan Banks, "Better Call Saul"
Banks is a master of the close-up. When the camera inches toward the actor's face, you see both sides of his Mike Ehrmantraut in this "Breaking Bad" prequel: the cold-blooded hitman and the weary, tenderhearted grandfather. How does Banks use a grunt, glare, or subtle twitch to convey either persona—let alone all three at the same time?
Nikolaj Coster-Waldau, "Game of Thrones"
Though "Game of Thrones" is a crowded field, Coster-Waldau manages to stand out with his nuanced, soulful portrayal of a privileged pretty boy-turned-enlightened force for good—mostly. When we were first introduced to Westeros, few could have predicted the despicable Jaime Lannister would become one of its noblest heroes.
Peter Dinklage, "Game of Thrones"
On a series as unprecedentedly massive as "Game of Thrones," we needed a reliably constant character—and performance—to ground us. Dinklage made Tyrion Lannister a riveting figure onscreen, suavely navigating fragile political truces without sacrificing humor to the last. The actor also has that rare ability to elevate his co-stars' performances; it seems everyone has chemistry with him.
Giancarlo Esposito, "Better Call Saul"
What delicious menace Esposito brings to the camera frame; sometimes it feels like it can't contain his power. Part of what makes drug lord Gus Fring so complex—and so terrifying—is that he's not afraid to get his hands dirty and commit violent acts effortlessly. In fact, it seems he's not afraid at all.
Michael Kelly, "House of Cards"
While "House of Cards" was putting Netflix on the radar back in 2013, it had the added bonus of putting Kelly on our radars, as well. As the laconic Doug Stamper, stooping to more and more morally dubious acts, Kelly proved himself the show's secret weapon, embodying the cruelty of politics that this drama captured so acutely.
Chris Sullivan, "This Is Us"
Sullivan did his best work on this season of "This Is Us," which found his Toby, for the first time, anxious. Usually the strong, put-together half of his touching relationship with Chrissy Metz's Kate, Season 3 found Toby bringing his flaws to the forefront, allowing Sullivan to pack quite the dramatic punch.
OUTSTANDING SUPPORTING ACTRESS IN A DRAMA SERIES
Gwendoline Christie, "Game of Thrones"
Christie's acting is too good for this world, and Brienne of Tarth is too good for her world. To see Lady Brienne receive Westeros' first female knighthood and a seat on the Small Council was more than we could have hoped for the character, especially given everything she's put up with (the misogyny, especially) and the fact that—thank the old gods and the new!—she survived.
Julia Garner, "Ozark"
Season 2 of Netflix's "Ozark" found ample opportunity to explore its female characters in particular, giving Garner, an actor of increasingly apparent skill, the juicy material she deserves. Her Ruth Langmore is a survivor prone to making dangerously criminal decisions, but there are always rational reasons behind them—even if Garner makes us guess what they are.
Lena Headey, "Game of Thrones"
There's a wonderful moment on this fantasy epic when Headey's queen Cersei delivers what could be the show's motto: "I choose violence." She says it firmly but quietly, as if it's not a choice at all. The jaw-dropping last season of "Game of Thrones" found Cersei burrowing deeper into her own ambition, greed, and evil, taking that choice to new, and ultimately tragic, heights.
Fiona Shaw, "Killing Eve"
Watching the terrific Shaw think and react—and, best of all, scheme—reminds us why we love watching actors. In fact, the less she physically does, the better. Every moment her tense MI6 chief Carolyn Martens is onscreen, both her eager audience and her co-stars are in good hands.
Sophie Turner, "Game of Thrones"
All the awards for Turner, please. Her increasingly steely and badass Sansa Stark deserved Emmy recognition even before this final chapter, which found the Lady of Winterfell outsmarting her every political adversary (and some of her allies) while uniting and protecting what remains of her family. And fans will always have that final shot of her in a crown.
Maisie Williams, "Game of Thrones"
Say what you want about this epic's final season, but it served some of the best moments for the series' female characters. Case in point: Arya Stark flying out of nowhere to stab the Night King and end the long night. A million flaming Dothraki scythes in your honor, Williams, for pulling off one of the most fist-pumping twists in TV history.
This story originally appeared in the Aug. 15 issue of Backstage Magazine. Subscribe here.