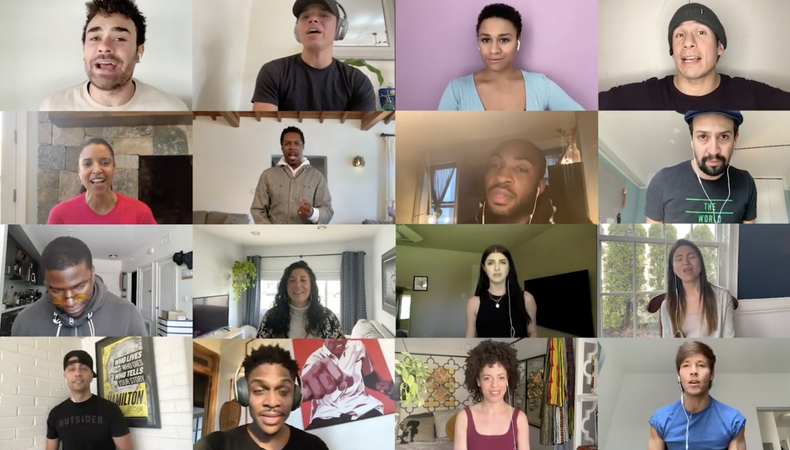 "The World Turned Upside Down" is a song title from the megahit musical "Hamilton," but it also pretty aptly sums up the mood across the country and beyond since the coronavirus has halted nearly every normalcy of life. So naturally, leave it to the musical's original cast to give us all a much-needed bright spot during these unimaginably tough times—and though they didn't sing that aforementioned number, they did sing.
Performing the musical's title number "Alexander Hamilton," the creator and star Lin-Manuel Miranda dropped by John Krasinski's makeshift web talk show "Some Good News," joined by Tony winners and nominees including Daveed Diggs, Renée Elise Goldsberry, Philippa Soo, Leslie Odom, Jr., Christopher Jackson, and more.
But best of all, the reunion was not just for fun (though it is) and was actually a surprise for a 9-year-old "Hamilton" fan, whose long-awaited trip to see the musical has been cancelled due to the virus. As she watches each new cast member that pops up, her hands clasp to her face again and again, speaking for all of us, frankly.
Give yourself a well-deserved break and check out the clip below; the Ham-related action starts at about the 11-minute mark. (And we take no accountability for the song getting stuck in your head nonstop like it's 2016 again.)