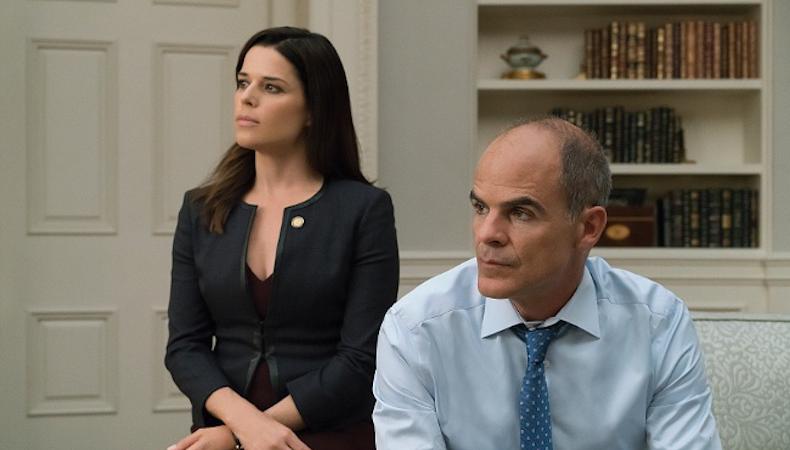 "House of Cards" stars Neve Campbell and Michael Kelly sat with Backstage May 25 for a revealing Facebook Live interview. Kelly, a two-time Emmy nominee for playing the nefarious Doug Stamper on the hit political drama, and Campbell, who's gunning for her first Emmy nomination after introducing Leann Harvey in Season 4, chatted about the Netflix series' upcoming fifth season—plus, how they audition and memorize lines.
Don't be afraid to ask what casting directors are looking for.
Neve Campbell: "I always find that going into an audition, the best thing for me is to ask them immediately what they're looking for and to ask them what they haven't seen yet from other actors. You know that they've seen 30 people before you and they're sick of the process, so what's the point in giving them exactly what they've gotten from everybody else?"
READ: How to Audition for Netflix
Do you struggle to memorize lines? You're not alone!
Michael Kelly: "I'm hardly ever off-book. It takes me forever to memorize. I think it's a negative and it's a positive for me. It's negative in that it takes me a very long time to commit things to memory, but it's a positive for me because I've gone over [the script] so many times. And sometimes it's the 25th time that you've gone over it [before] you go, 'Oh, that's what I'm doing there!' On one hand, it's a tough thing for me doing this for a living, that I can't memorize, and on the other hand, it's been great and an asset."
Sometimes naiveté plays to your benefit.
MK: "I studied in college and I moved to New York, and yeah, I was so naive that I thought, Well, I have a degree in performing arts from Coastal Carolina [University]—I'm gonna be an actor! And I held that naiveté until I was 30 and making a living as an actor. And there were little, tiny baby steps along the way, starting with Backstage. I used to go on Thursdays and get it and run home and read all the listings and handwrite my letters and put a headshot with it and mail it out. I was just so religious about it because I was like, 'This is what I'm gonna do! I'm gonna be an actor!' And I never gave up.... It was a very long road to here."
Never let yourself get bored by your own work.
NC: "I think it really depends on the roles that you get. I do think it's important to try and mix it up and not keep leaning into the things that you sort of know how to do. Be willing to be risky, and take roles and try and go for roles that are a little outside your comfort zone so that you can expand yourself in some way. Otherwise, you're going to get bored."
Want to hear more from Campbell and Kelly? Visit Backstage's Facebook page for the full video interview.
Want to star on the small screen? Check out Backstage's TV audition listings!