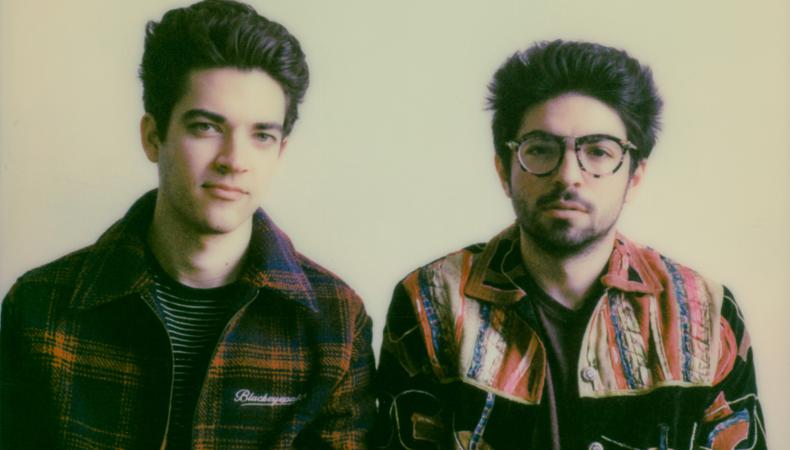 Jamie Dolan and Adam Faze launched their production company Must B Nice at the beginning of March. Two weeks later, the world fell apart. But creators create, which is why they launched their narrative podcast "Day by Day," featuring a new script and a new cast of actors (including Pamela Adlon and Margo Martindale) every week.
What was the inspiration for "Day by Day," and why did you feel it was important to create something during this tough time?
Adam Faze: It's funny, we had started our production company, Must B Nice, the first week of March. And literally a week later, it's COVID and the world's falling apart, and everything we had planned to do for the rest of the year was obviously not going to be happening anytime soon. There was a moment [when] we just sat there and were like, "We have to do something about this." All our favorite writers are home and all our favorite actors are home, and if there's one way we're going to collectively get through this thing—which is not just going to be a two-week thing—it's through storytelling and talking about what we're all going through. Because for the first time on Earth, every single person has been impacted by the same thing. It was, like, three days into quarantine and we said, "It's 'Day by Day'; it's this narrative podcast of stories inspired by what we are going through. Within a month, on April 17, we put out the first episode and started this biweekly show.
Jamie Dolan: The thing we saw was the fear and anxiousness that everybody was going through. And I just feel like this year, a lot of people within our community felt good about what they had in store—and then this happened, and everybody felt very hopeless. It was so rewarding for us to serve as this place of comfort for people to just express how they were feeling. Even though every episode was meant to end with a positive twist, these episodes very much make you feel in different ways. I think it was essential, and we feel very grateful that we were able to help a lot of people through this, including ourselves.
What goes into making an episode of the podcast?
AF: We still look back with shock and amazement that any of it actually happened, because of the amount of work. We have a writer send us a script, we give some notes, if any, and we immediately start thinking, OK, who are the best actors for this? At the same time, our amazing sound mixer and designer, Becket Cerny, would read the script and start thinking about the sounds this is going to require. We have to deal with all the agents and managers to get these actors on board and get them to record in a timely fashion. Everyone records by themselves in their closets with their iPhones. I would do the sound editing, and then Becket would go ahead and implement his sound design. We listen to it a bunch of times, give it some notes, and get it to where we want it to be.
How did you enlist talent, both on the writing and acting fronts?
JD: We have a pretty broad network of writers and filmmakers as well as actors in young Hollywood. We knew that if we could just leverage our immediate circle, we could definitely translate that to something much bigger. That's essentially what we did for our first episode. Like, Gideon Adlon, Brandon Flynn—they are people we knew. Come the second episode, we had known Julia Fox's manager for many years, and we told him about the podcast, and he was like, "Julia's No. 1 priority is to be behind the camera as a writer-director. Would you guys be open to her writing an episode?" And within a few days, she sent us her pitch and script. It definitely was still difficult in terms of pitching agents, managers, and publicists, because for one, they just were unsure if their actors would even be bothered right now. There was just a fair share of difficulties that we overcame, and we highlight charities with each episode. And a lot of people, once they started to catch on to what this show was and what it meant and how much it was actually helping young people, wanted to be a part of it. But, needless to say, that never made the process easier.
AF: The funniest thing is, we're talking about an industry that's used to writers writing scripts and rewriting and rewriting over the course of three years, and you're lucky if it gets made after that. But in this situation, we would have a writer write an episode after they'd pitch it, and they'd give it to us on a Thursday or even maybe a Saturday and they'd be like, "Oh, when's this coming out?" And we're like, "Wednesday." And they're like, "What?" We're like, "Look, we don't know how either, but it is going to come out on Wednesday."
LISTEN: Aidy Bryant's Response to an Agent
Who Doubted Her: 'Well, Fuck You'
What has "Day by Day" taught you about producing more generally?
AF: We never expected a narrative podcast to be the first thing out of our company, but it's 100% representative of the type of company we want to have. Because in this changing landscape where there are so many different mediums, you have to always think on your feet. And at a time like this, when it became so much more challenging to produce anything, we wanted to do something, the best possible thing, knowing we can't easily film. And so it was always going to be the audio space.
JD: What has been so fascinating in the producorial sense is, Adam and I have both been producing much longer than the initiation of our company. My background is independent film, and I've been producing narrative features [in that space] for two years. There's been nothing more rewarding than this [podcast], because, as a creative and as a storyteller, the one thing you want to do is to inspire and give people hope. And obviously that's never as easy as you want it to be. This happened quickly in terms of being able to produce something and know that people are going to be listening. People relied on this as a space of comfort and to relieve their anxiety and stress and fear. In that producorial sense, it definitely gave us a larger appreciation for the power of storytelling.
Many creatives have felt stunted during this time. What advice would you give them about how to start making things again?
AF: In a time like this—and also with the election—it's very hard to stay focused. But our job becomes 10 times more important during times like this. It's hard to watch [everything that's happening]. People think, "Well, I can't be creative right now." But we have to force ourselves to be creative, because we are the only thing that can help people have a moderately better time than they're having right now. There's a huge responsibility on our shoulders, and I think it's important for us to feel the weight of that and to troubleshoot any which way we can.
This story originally appeared in the Nov. 5 issue of Backstage Magazine. Subscribe here.
Looking for remote work? Backstage has got you covered! Click here for auditions you can do from home!