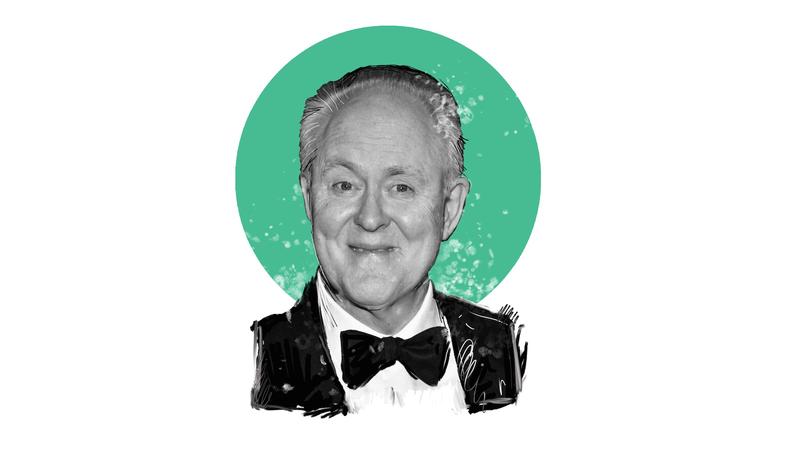 John Lithgow's career can be regarded as one of today's most formidable—and he has six Emmys, two Tonys, and two Oscar nominations as proof. But amid the release of his latest feature, "Bombshell" (in which he has the unenviable task of portraying disgraced Fox News CEO Roger Ailes), Lithgow is as in touch with his acting roots as ever; from his taxi driving survival job to audition horrors, the industry giant tells all.
What performance should every actor see and why?
The most extraordinary performance I ever saw was when I was in drama school in London at about age 22. I saw Laurence Olivier in "Dance of Death" by [August] Strindberg; it was one of two performances I saw him give onstage, but that performance was so titanic, I would say it was the most unforgettable piece of acting I ever saw. I saw him often enough in other things and I did begin to see his tricks and understand why [my peers] were sick and tired of hearing about how great Olivier was—but not me. It was all new to me.
What's the wildest thing you've ever done to get a role?
I had a car, and I used to take long trips to different regional theaters. I would just call and say, "I'm coming, I want to see a show, and I want to audition for you." And you would say that was crazy, except one of those trips was to Long Wharf Theatre, and six months later, they hired me for that season, [which eventually] brought me to New York. It worked all right. It was a long shot, but it paid off.
How did you get your Equity card?
I had worked in rep and I think my first Equity job was in the fall of 1969, working in regional repertory, but I just could not get arrested in New York City.
READ: The Unassuming Genius of Laurie Metcalf
What's your worst audition horror story?
Well, they're all terrible if you don't get the job. I tried to persuade myself that auditioning was the same as having a job, because, after all, you're acting, which is what you got into the game for. You just have to trick yourself into thinking that it's a creative activity. But if you don't get it, there's no getting around it. You're terribly crushed. And the better you do, the more disappointed you are when you don't get the job. You have nothing to blame it on!
What advice would you give your younger self?
I always tell young actors: Have something in your life that is all yours, some creative thing in your life that doesn't depend on somebody else hiring you from an audition. Don't wait around for the phone to ring. Try writing, take tap dancing lessons, try directing. Just experiment with lots of creative outlets. Develop a project that is all yours and work toward that project. Chances are you'll never be able to do it because you'll be hired to act, but it keeps you feeling like a creative person all the time, and I follow that to this day. That's how I ended up doing children's books and children's albums, concerts with orchestras, and writing. I'm writing a poetry book right now. It's all to just keep the juices flowing. Acting is absolutely wonderful—but only when you've got a great job.
Do you remember what your first headshot looked like?
Oh, very well. Let's see, that would've been around 1970, and I had a wool turtleneck and a tweedy sport coat. It looked like I must have been running a temperature of 105, and [I had] long, long hair and a mustache. I looked very 1970s. Lots of hair up on top, not like now.
Is there a project you'd consider to be your "big break"?
I was in a new American premiere of an English play called "The Changing Room" at Long Wharf Theatre. It was the second show of that season, and it got a lot of national attention and came to Broadway. My Broadway debut, and I hadn't even worked in New York yet. It came down from New Haven and opened at the old Morosco Theatre, which is now the Marquis, right on 45th Street. I think it opened March 7, 1973, and on March 25, I won the Tony Award for it. That's almost the definition of a big break. On the other hand, Walter Matthau said he had about 17 big breaks in his career, so you never know.
Before that, did you ever hold a survival job?
I drove a taxi in New York and I also worked at WBAI [as] a part-time radio programmer doing radio satire. I think they paid me about $55 a week. [Driving a taxi was] terrible. I'm 6-foot-4. You don't see a lot of tall cab drivers because they give all the room to the people in back, so I didn't last long. I think that was one summer, and it practically crippled me.
How did you learn to get over a bad audition?
You have to make fun of yourself for it. I was pretty terrible at musical auditions. I remember my first New York audition: I drove into town from McCarter Theatre, where I was working, to audition for the national tour of "1776," for the role of Thomas Jefferson. My audition song was so terrible that they asked me to sing the National Anthem instead. I have to say, I surprised myself at how well I sang the National Anthem—but I didn't get the job.
Do you remember the moment you knew you wanted to be an actor?
I'm an odd case because I grew up in a theater family. My father produced Shakespeare festivals in Ohio when I was a kid, so it was the family trade. I acted when I was a 6, 7, 8-year-old kid. In fact, the first time I acted was when I was one of Nora's children in "A Doll's House," with my father playing Torvald, and I was only 2 years old. I have no memory of it whatsoever, I've just seen photographs. But they say I was very good. And growing up, I didn't really intend to be an actor, mainly because I was really passionate about art and I wanted to be an artist. I intended to study art and do painting and printmaking. But I went off to college and fell into the theater gang and just by osmosis, I was an accomplished actor. So I became a campus star, and when you get that much positive reinforcement, that's your destiny. But there was no "aha" moment, like, "Oh God, I love this, I'm going to do this." It was almost like submitting to it—which is a good way to start.
This story originally appeared in the Dec. 3 issue of Backstage Magazine. Subscribe here.