Jon Bernthal has always played that guy: that guy who's full of rage, that guy who's seeking revenge, that guy who doles out the punches. But Bernthal also plays other guys—those who are nurturing and supportive, playful and intimate, and trade loving barbs with their childhood friends.
Although he's earned a reputation for embodying bruisers (see: Frank Castle on "The Punisher," Grady Travis in "Fury," and Shane Walsh on "The Walking Dead"), Bernthal has always had range. The timing of his recent roles, in particular, signals a shift—at least to outsiders: the forward-thinking Lee Iacocca in "Ford v Ferrari," well-meaning philanderer Josh in Lena Dunham's upcoming "Sharp Stick," and warm professional tennis coach Rick Macci in "King Richard." The latter movie, about the early days of Venus and Serena Williams' meteoric rise to tennis stardom, earned him and the rest of the biopic's cast a SAG Award nomination for best film ensemble.
"I don't see Lee Iacocca as being less of a man than Frank Castle. It's a different shade of masculinity."
"People have remarked on how [these characters are] so different because I'm not beating people up or killing people," Bernthal says. "They're saying that they're less tough. I don't see Lee Iacocca as being less of a man than Frank Castle. It's a different shade of masculinity. He's just as strong. Rick Macci—he's enormously strong and tough. He does it with a smile. He does it with kindness."
Bernthal leads with unmitigated empathy in his own life; he's a longtime pit bull rescuer and will soon debut a podcast featuring conversations among guests with differing viewpoints. Perhaps that's why he is able to find vulnerability, strength, and humanity in all his characters, regardless of whether or not they talk with their fists.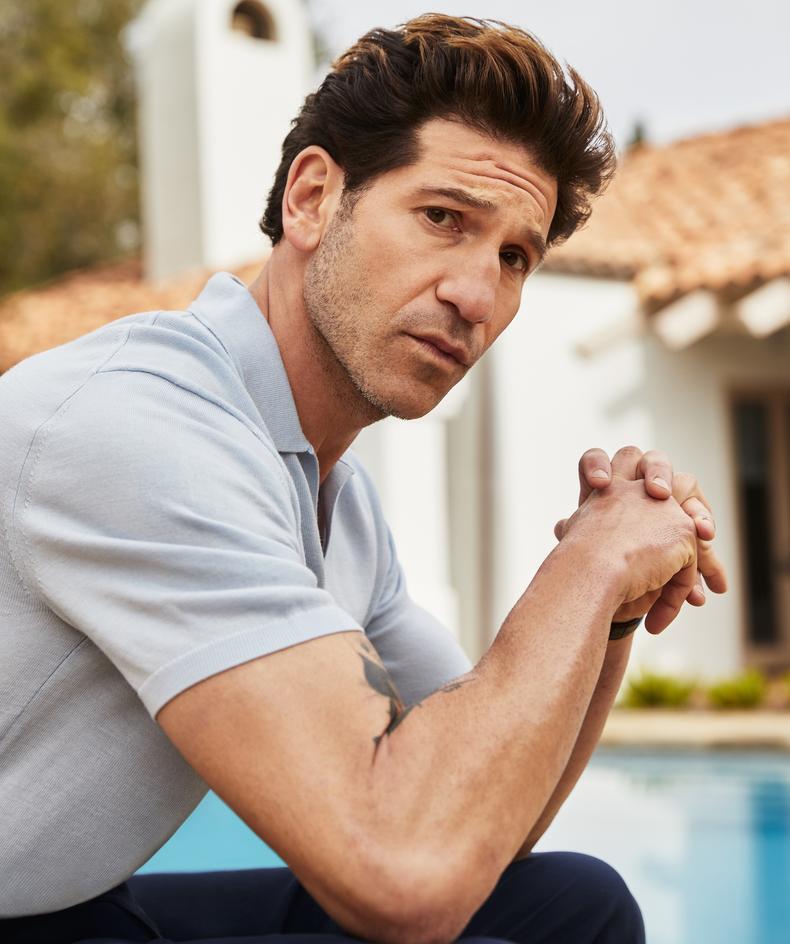 Bernthal's introduction to performing was accidental. While attending Skidmore College to play baseball, he signed up for an acting class. As a wayward youth, he was often getting into trouble; but his acting professor Alma Becker saw his promise and cast him in his first play. Soon, he was hooked. Bernthal later dropped out of Skidmore, but before he left, he asked Becker for advice on how to become a professional actor. She told him to apply to the Moscow Art Theatre, so off to Russia he went.
His training there was regimented and brutal, which made it an ideal environment for an athlete who craved discipline. Bernthal learned acrobatics, ballet, foreign language, rhythm, and singing. Each semester, instructors would critique the students before telling them whether they would advance to the next level of study. One comment Bernthal remembers began with, "Jon, your talent is like a gem," he says. "And I was like, Look at that! I'm good. And they said, 'But it's completely unshaped. You lack elegance in every single way. You're wild. You're out of control. It's so raw, and you're not doing anything with it.' " Though it was harsh, Bernthal welcomed the criticism as a departure from the often-coddling style of American theater training.
He continued his studies at Harvard University's Institute for Advanced Theater Training, graduating with an MFA degree. Those years of education and technical training, he says, became integral to his process; but he also knew he needed to live an enriching life outside of the arts. He had to interact with people of all stripes in order to play tortured killers, mobsters, and similar types of characters that casting directors threw his way. Today, he credits his friendships with artists, police officers, soldiers, teachers, and activists with helping him perform authentically.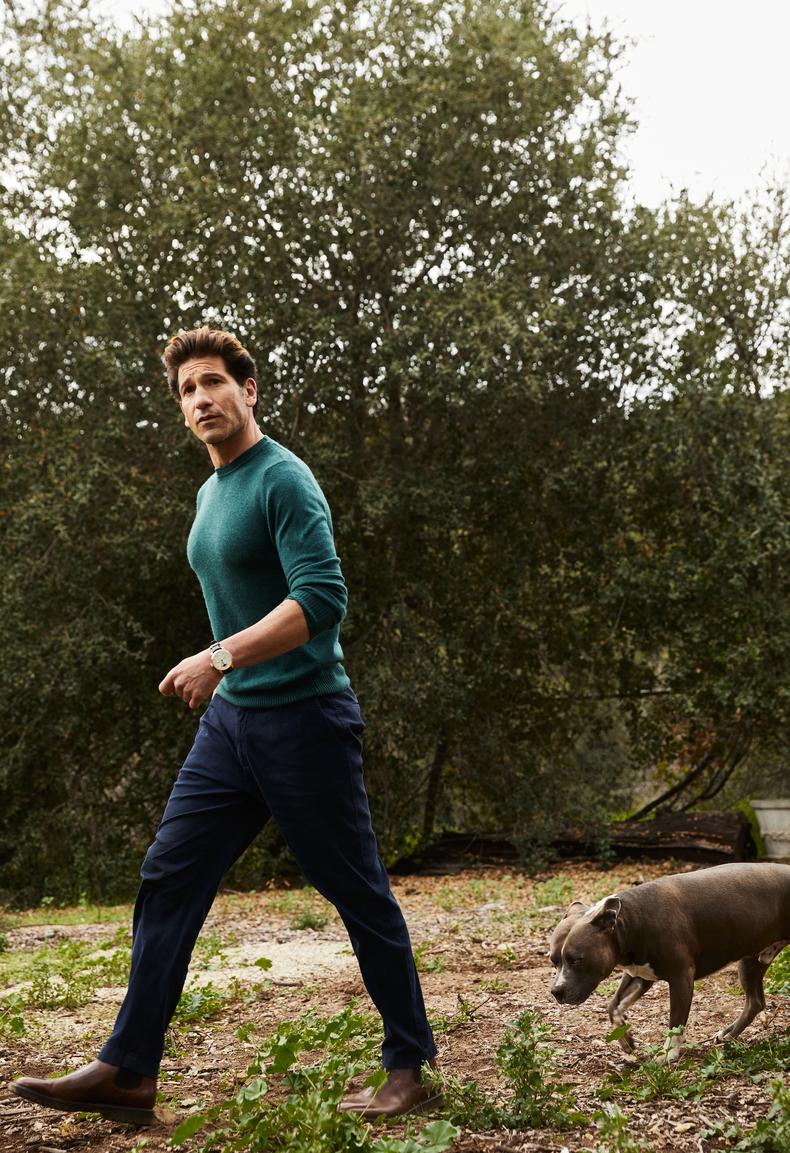 While his breakthrough came in 2010 on AMC's long-running "The Walking Dead," Bernthal began his career onstage a decade prior. He sees theater as an extension of his sports days: Each player supports the other, and there are no do-overs. "There is this sort of us-versus-them mentality in the theater," the actor says. " 'Let's take it to that audience.' I really thrived on that."
Bernthal approaches his screen work as a team player, too. For him, teamwork and companionship on set goes hand-in-hand with delivering a quality performance. On "The Walking Dead," for instance, he and his castmates would take nighttime walks in the Georgia woods, bonding and running lines. During production for Martin Scorsese's "The Wolf of Wall Street," in which he plays drug dealer Brad Bodnick, he remembers the electric, collective impulse to improvise on set with the director and his co-star Leonardo DiCaprio. "It's how I always approached rehearsal in theater: taking big risks, changing it up," he recalls.
In "King Richard," he and castmates Will Smith, Aunjanue Ellis, Saniyya Sidney, and Demi Singleton never broke character, even after director Reinaldo Marcus Green called cut. "It was constantly play, on- or off-camera," he says. "We could just play with each other and talk to each other in character and explore and make each other laugh."
To achieve the depths he's plumbed in bit parts and meatier supporting roles alike, Bernthal requires individualized homework. His is a two-pronged approach: the busywork and the inspirational work. The former is his attempt at controlling what he can in an unpredictable business: the accents, physicality, and research into a character's skills and expertise.
Busywork for "King Richard" included months of three-hour-long tennis training sessions, coaching a real-life player, losing 30 pounds, and finding his character's unforgettable voice. "Whether you're going to have the juice or the magic that day is not something you can really control," Bernthal reflects, so he focuses on what he can have power over.
Less technical, but equally essential for the actor, is his inspirational work. This is where all the years of training come into play, as Bernthal digs into the head and heart of a character. "What is this situation like? How does he feel?" he posits, adding that this is "all the magical, wonky, cool stuff that is why I do this."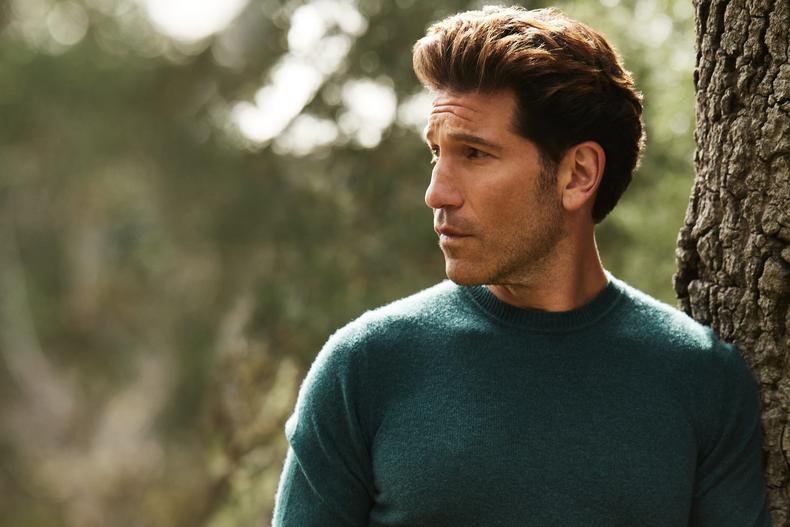 He'll spend an evening with a character—going out to eat as them, walking around, and talking to himself as filtered through that person. A tradition he started back in college to help him with the inspirational work is to roll a blunt, grab a 40, and hunker down in an empty theater, studio, or rehearsal space for a few hours—sometimes through the night—until he finds the character. "I fell in love with that kind of work because you would always leave differently than when you came," he says.
Even at his lowest moments as an actor, Bernthal relied on his process. Early in his career, fresh out of school, when he was reading Backstage and auditioning for WB pilots and soap operas, Bernthal would take every open casting call as an opportunity to act for an audience. Any time he'd get a positive remark from a casting assistant, he'd count it as a win, letting that little victory carry him through to the next one. Instead of fretting about the things he couldn't control, he reveled in the uncertainty. It was exciting for him to not know whether tomorrow would be the day his agents called with a life-changing offer. This freed up space for him to focus on the work. "You will get your shot, but don't waste years of your life banging down doors trying to get in that room. Worry about what you're going to do when you get in there," Bernthal advises. "Have five monologues in your pocket ready to throw down, and be able to walk the walk; don't just talk about it."
All told, 2021 was a banner year for the actor. In addition to "King Richard," he appeared in "The Many Saints of Newark," "The Unforgivable" opposite Sandra Bullock, and on B.J. Novak's anthology series "The Premise." He made his producing debut with John Pollono's indie "Small Engine Repair," which he also starred in. And audiences will see even more of Bernthal in 2022. He recently completed production on HBO miniseries "We Own This City," written and produced by David Simon and George Pelecanos ("The Wire") and helmed by "King Richard" director Green. Due to premiere on April 25, he'll star as Baltimore Police Department sergeant Wayne Jenkins in a return to the type of role he's classically played: a cop gone bad.
For Bernthal, the key to the professional longevity and variety he's found in the arts is having a healthy relationship with his dream. He points to a seagull tattoo on his hand, inspired by Anton Chekhov's "The Seagull."
"I think that's what the play is about," he says. To marvel at the seagull, he posits, you've got to chase it and allow it to lead you, as opposed to the choice Konstantin makes in Chekhov's story. "The only way you're going to touch that seagull is to shoot it out of the sky and kill it. You're going to kill your dream if you do that. Don't worry about getting there. Keep chasing."
This story originally appeared in the Feb. 24 issue of Backstage Magazine. Subscribe here.
Looking for remote work? Backstage has got you covered! Click here for auditions you can do from home!
Photographed by Gari Askew II in Ojai, California on 01/31. Grooming by Marissa Machado. Styling by Kelsey Ellstrom, assistant to Ilaria Urbinati. 1st shot: Sky blue tee, Reiss polo, Dolce & Gabbana trouser, IWC watch. 2nd shot: Green sweater, Georgio Armani Sweater, Dolce & Gabbana trouser, M Gemi boot, IWC watch. 3rd shot: Black tee, Neil Barrett polo, Dolce & Gabbana trouser, IWC watch. Cover designed by Ian Robinson.