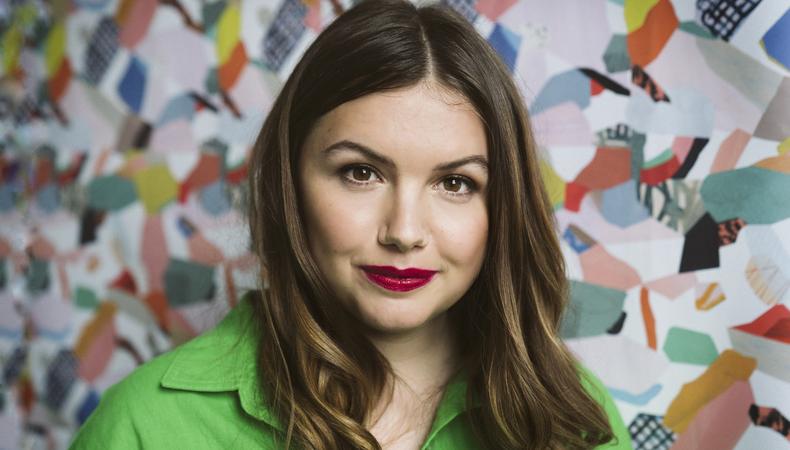 Hannah Murray has a knack for sneaking her way into audiences' hearts. She first did it as Cassie on Channel 4's "Skins" in the U.K., and has certainly done it as the fan-favorite wildling Gilly on HBO's "Game of Thrones," which airs its anticipated series finale this Sunday, May 19. Murray's latest feature film project, "Charlie Says," gives her some of her richest material yet—and even more opportunity to sneak her way in. The 29-year-old British actor stars as Leslie Van Houten, one of the real-life followers of Charles Manson behind the cult's infamous string of murders in summer 1969. Joining her onscreen are Sosie Bacon and Marianne Rendón as fellow cult members, and Matt Smith stars as Manson.
"It's based on a very infamous true story of the Manson [Family] Murders, but it's from an angle that has not previously been explored: the perspective of the women who were involved in those crimes, both their time in prison and their time in the family with Charlie," Murray explains. "It's a very female-driven project," she adds, citing director Mary Harron and screenwriter Guinevere Turner, both previously of "American Psycho."
Sitting with Backstage, Murray recounts the greatest challenges to bringing Van Houten to the screen, her best advice for the audition room, and what filming the final season of "Game of Thrones" was really like.
Murray's goal in playing Van Houten was to give her a grounded identity.
"I was attached to the project for a little while, so I had time to really delve in and learn everything I could about Leslie, and I tried to work mostly from accounts from people that had known her personally. The main source was Karlene Faith's book 'The Long Prison Journey of Leslie Van Houten,' which was a really important source for the screenplay, as well…. I wanted to get that perspective from people who knew her well rather [than] from those slightly more sensationalized versions. The three female leads we have in this film are very distinct entities. The reasons they wound up in this situation is different for all of them, so I wanted to explore them and give them back their individuality."
READ: The Imitation Game: Playing a Real Person in 5 Steps
The film's historic violence was difficult to push through.
"The biggest challenge for me was the violence that we depict in the film. Reading those scenes made me feel very uncomfortable. And I didn't know how I was going to be able to get myself to a place where I could be doing that. It's such an inhuman thing. You're sort of brought up from age 0 to believe that you don't behave like that, so it was a transgressive thing. I couldn't relate to it based on my own experiences in my life. It was a big leap, and I was very scared of messing it up—particularly because I was representing this real woman with her real life."
From nonfiction to fantasy, Murray's approach to the material changes.
"For me, I feel like I have to tailor my method to the specific character and the specific project. And I think different directors require different ways of working. Different acting styles are appropriate for different projects. I like to always start by [asking], 'How am I going to do this?' Obviously a show like 'Game of Thrones' is worlds away from telling a real-life story. Even though there is a lot of interesting humanity and very relatable characters on our show, I feel a greater sense of responsibility when I am playing a real-life person."
Murray's résumé boasts some dark projects—maintaining mental health off set is key.
"I think [maintaining mental health is] something I learned a lot over the course of my career. My first role, I played a girl with anorexia who had suicide attempts and addiction problems, and it was heavy stuff. It was 'Skins,' when I was 17. And I thought being an actor meant being tortured and angst-ridden and suffering and [that] I had to feel everything for real and hold on to it. I really believed in the idea of the tortured artist. And that is not sustainable, by any means. You have to take care of yourself, and you have to leave stuff on set or in the trailer, and you can't take it home with you. My self-care is all over the place, and that makes it extra hard to sort of check in with those practices. I have very supportive friends. That's what [I] tend to do if I'm feeling like I need to get something out of my head; I will just call someone that I care about and ask if I can share it with them."
When it comes to the audition room, get out of your own way.
"It sounds really corny, but the advice I want to give is be yourself. Of course there are things you could do to stand out. You could wear a weird hat! But I think you need to be who you really are and not try and be somebody else, because you are only going to be an imitation of someone else. Whereas if you're authentically yourself, that is what makes you unique, feeling things the way you want to do them and [having] the courage to stick by those ideas and stand up for them. Because people think they know what they want, but they may not know what they want until you give it to them."
Take it from her "Game of Thrones" co-star: Acting is pretty silly.
"Be nicer to yourself. I was so unforgivingly harsh on myself. Being a good actor is not the same as being a good person; I used to put all of my self-worth into the quality of my performances, and that's kinda stupid. I was very naive, and I saw the world in a very black-and-white way. The best advice I ever got, which I wish I knew at a younger age, was from James Cosmo from 'Game of Thrones,' who played Cmdr. Mormont. And he said, 'It's a very silly job that we do. And the more serious we take it, the more ridiculous it is.' I found that really liberating and helpful. He told me that, and I wish I knew that the more serious you take it, the more ridiculous it is."
As of this interview, the last time we saw Gilly was during "The Long Night" at Winterfell—so what was filming that really like?
"It was very exciting because I got to be in a room [in the crypts] with these really amazing people, none of [whom] I'd had scenes with before. So I got to work with Peter [Dinklage] and Conleth [Hill], and Sophie [Turner] and Nathalie [Emmanuel], who I probably would have not in my wildest dreams have come into contact with, particularly when I joined in Season 2. That was this incredible thrill. And we definitely had a lot of fun in between takes with each other. But it was scary, and those sort of corpses coming to life are frightening, and they are played by men with their eyes covered up and all these heavy prosthetics on, and it's really eerie, and then working with the children was a challenge…. We meet each other at premieres and stuff, and you watch the show and you admire these people so much, and I want to work with all of them. So, yeah, that kind of crypt gang was a real treat."
Want more advice from the best in the biz? Check out all of our Backstage Live interviews here!