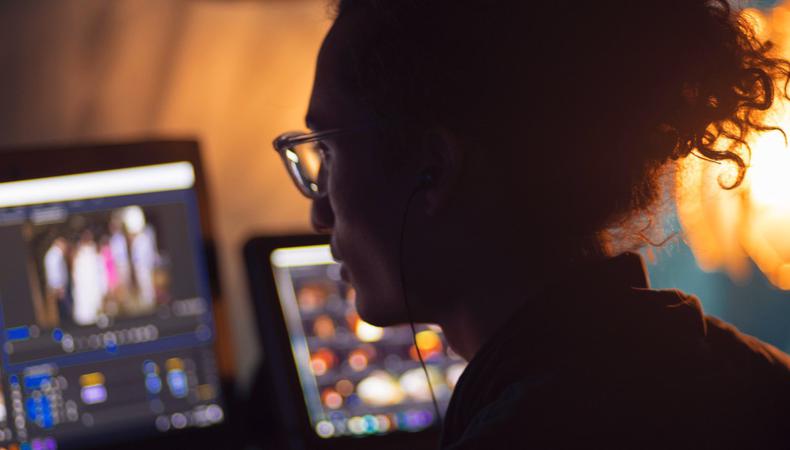 If you want to be taken seriously as an actor, you must have a demo reel. It's that wonderful, 2–3-minute sizzle reel of all of the amazing on-camera work you have done, in nice, short, exciting snippets, complete with high production value, your headshot, your contact information, and an easily email-able link that you can send at a moment's notice to an agent or casting director. It's an essential piece of your marketing tools, and one you must take very seriously. Nothing is worse than an agent asking for your demo reel, and you saying, "Uh, I don't really have one." Consider that a missed opportunity.
What footage do you put on there? Maybe you are still waiting on that one piece of great footage from that film you did last year. Word of advice: Don't hold your breath. I'm sure you have already stalked the director on Facebook, demanding your crying scene from that black and white student film, and have gotten no response. (Note to directors: After an actor works on your project for free, you owe it to them to give them their footage.) I hear too many stories of actors never getting their footage—which I think it very disrespectful—after all of the hard work they have put in. It's the least they can do, right? This business is built on networking, and actors will remember if the director was difficult and vice versa. So you can't use that footage, and you now have to deal with what you have.
You have probably read advice columns that say, "No demo reel is better than a bad demo reel," or "Just put a bunch of class videos on there so you have something." There are a lot of opinions on this. At the end of the day, it's about how you present yourself. Would you show up to a job interview in ripped jeans, with typos on your résumé? It's the same with demo reels. Do you want to be showing someone a reel with blurry videos and bad sound? It says that you don't take yourself and your career seriously. This is a business, after all. First impressions matter. Every way you present yourself, from your looks to your materials to your talent, should be of the highest caliber if you want to break in to this business and compete at the highest level. That includes your demo reel.
When looking at all of your footage, you have to put yourself in the shoes of the casting director and ask yourself, "What would make me want to hire this person? What is the right footage to put on here? How long should it be?" Here's my two cents (and I'm not a casting director). Don't just throw everything you have on there. Leave them wanting more. People know in the first 30 seconds if they want to hire you. The best kind of footage to use is from a project that was shot well (meaning, not with your mom's iPhone), with a 30-second scene featuring you (not the person doing his best Michael Caine opposite you), that shows how you would be cast (your type), and is current (shot in the last two years). It should be you talking (not extra work), with good sound, and only about 20–30 seconds long. Four clips like that should be more than enough—especially if they show comedy and drama (two minutes total). People have short attention spans, so keep the pace moving, show off your best acting, and move on to the next one.
Always get an outside perspective. You might think your acting is amazing in this one scene, but someone else might disagree. It should be exciting, almost like a little movie trailer featuring you. No long montage at the beginning with sad music, please. Just get right to the work, and start with an active scene that really grabs their attention. You can then post it on YouTube, attach it to your IMDb, upload it to your website, the casting websites, your Backstage profile, put the link on your business cards, and email it out as a followup after you meet a casting director or agent. It should be so good that it closes the deal. Short, sweet, and to the point. If it's not, you are doing yourself a disservice. If you give them a five-minute reel, they will be bored, and will therefore assume you are equally boring in person.
Far too many people use bad self-tape auditions for their demo reel footage, just to try and get more auditions, and it ends up showcasing how unprofessional they are. It's the equivalent of putting extra work on a résumé. It's a no-no. If you are using compressed videos of that "Girls" scene you nailed in your acting class (or did you?), then you will be highlighting the fact that you don't have real footage to use, and will seem amateur. Even if you filmed it really well, most people watching it would say, "They did it better in the TV show." If you filmed yourself doing a monologue in your house with a shaky iPhone, you should not be showing anyone that, except your relatives over Thanksgiving. If you are going to make a reel, do it right. High-quality footage, great acting, and get to the good stuff.
If you don't like any of the footage you have, your best and final bet is to film a scene with your friends using a good camera, or at the very least film a great, original, monologue in a medium shot with professional equipment. Or perhaps two contrasting self-tapes that you really nailed, or maybe even ended up booking. I think it's better to have that attached to your casting profile, rather than you doing one line in a bad student film. But only if it shows what an amazing actor you are!
Remember, at some point you will be filling your reel with network TV credits, shot with million dollar budgets. Everything leading up to that will involve replacing older footage with newer, better footage, much like replacing ensemble credits on a résumé with supporting and leading roles. Show yourself in the best light, and the work will follow.
The views expressed in this article are solely that of the individual(s) providing them,
and do not necessarily reflect the opinions of Backstage or its staff.