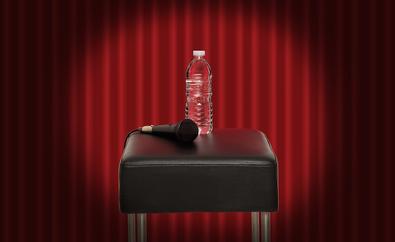 With pilot season around the corner and a slew of new single- and multi-camera comedies, there is no better time to hone your comedy and improvisation skills. LA-based actors take note: Here are 9 great places to study comedic acting.
Actors Comedy Studio
The tagline of this popular Hollywood acting school—"We take comedy seriously"—is made evident in quality instructors and thoughtful classes. Coaches Gunnar Todd Rohrbacher and Lauren Bertoni lead the Actors Comedy Studio staff, and students prepare for film and television auditions with the highly successful Acting for Sitcoms program.
Carolyne Barry
Casting director, teacher, and actor Carolyne Barry has been coaching actors in the Los Angeles area since 1982, and offers specialized classes in the realm of acting, commercials, improv, comedy, and hosting. Actor Donovan Scott leads Barry's two-level Comedy Workshop, which brings the inner-clown work of Jacques Lecoq to the forefront with personal exploration, play, and practical application in a final student performance of scenes, monologues, sketch, and standup.
The Groundlings
This character-based improv and sketch comedy theater is one of L.A.'s best, and has spawned thousands of bright careers in sketch, standup, film, and television in its 41-year history. Who are the Groundlings? A group of 30 hard-working company members and performers who, in addition to performing regularly at the Groundling's Theatre, teach all of the school's classes. Training programs range from beginners' workshops to professional (and competitive) performance and writing tracks, and even include improv and sketch comedy classes designed exclusively for teens.
iO West
This L.A. branch of Chicago's famed ImprovOlympic, iO West boasts dozens of L.A.'s best improv and sketch comedians as alums. Based on the work of director Del Close and co-founder Charna Halpern, iO pioneered the long-form improv style known as Harold, and created a story-based approach to improvisatory acting. iO West classes include seven levels of advanced improv training, as well as sketch and television writing programs, and students can also enroll in shorter workshops in subjects randing from storytelling to commercial audition and beyond.
Lesly Kahn & Company
Lesly Kahn teaches a right brain, "non-technique" approach to acting that is uniquely beneficial for on-camera and comedic work; students with previous training can enroll in the ultra-practical "Comedy Intensive" (the actors' "boot camp"), a three-week program that includes three-hours per day of outside rehearsal on sitcom and comedy scripts. Bonus: Many of Kahn's students (and teachers) are working actors with years of experience on film and television sets.
Miles Stroth Workshop
Originally a performer at Chicago's iO and an early disciple of Del Close and Charna Halpern, Miles Stroth has 25 years of experience in the field of comedy and brings his unique perspective to distinct improv and sketch comedy programs. Stroth believes that performance is a crucial component of improv training, and offers students eight weeks on the MSW show calendar after the completion of Improv Level 6, along with the opportunity to join one of the company's permanent home teams.
Scott Sedita Acting Studios
As the author of bestseller "The Eight Characters of Comedy: A Guide to Sitcom Acting and Writing," acting coach Scott Sedita is eager to share his Hollywood-honed approach to single and multi-camera comedy work. Get specific about character type, writing style, sitcom technique and more with one of the studio's one-day intensives or longer workshops, or book Sedita or an associate for a personal audition coaching session.
The Second City (Hollywood)
Another Los Angeles outpost of a Chicago-based company, the Second City teaches students to ground their comedy in truthful scene work, bringing reality (and honest stakes) to even the most outlandish improv scenarios. The impressive class selection includes basics like improv, directing, and writing, alongside specialized workshops including Improv for Students with Anxiety and Writing Strong Women.
Upright Citizens Brigade Training Center
This very busy theater has been teaching long-form improvisation and comedy technique to legions of L.A. actors for over 15 years. UCB classes are taught seven days a week by top-tier instructors, and fall in line with an improv performance or sketch comedy writing track. UCB's "game-based" technique (similar to iO) trains actors to listen carefully and respond on their feet—an invaluable skill when facing that full day of last-minute auditions.
Want more L.A. news? Sign up for our Backstage L.A. newsletter!