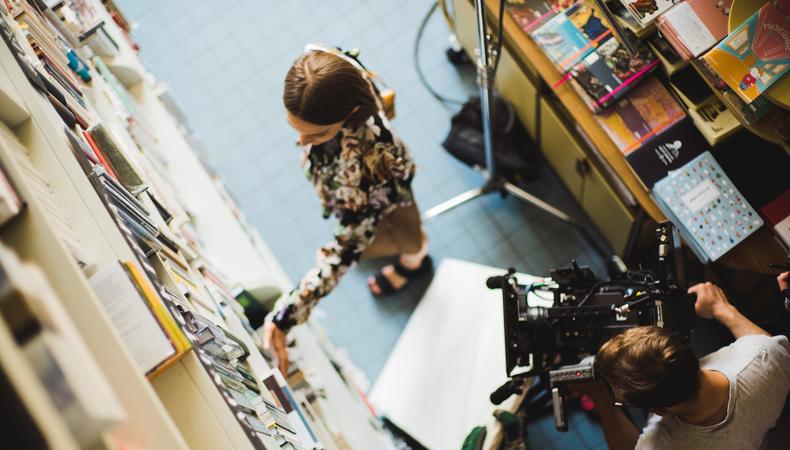 You booked a pilot. Congratulations. Too often, I've seen actors view booking a pilot as a jackpot win rather than simply an important milestone. It's the equivalent of an invitation for a third date rather than a marriage proposal. When you get to the table read for example, as with a third date, you still need to have a deft strategy and bring a tight game. This is not the time to be sloppy or leave anything to chance. To keep this attitude in mind, it can be helpful to know exactly what to expect once you book a pilot so here's what you should know about the pilot to TV show process.
Before you start shooting, you'll sit down for that table read. A tip when you're in this room: always hold the script with one hand, even if you're the only person in the room doing so. Gripping the script with one hand means that you can be more in your body, less rigid, and less inclined to act from the neck up. This demonstrates your malleability and inherently positions you as an actor who can make adjustments. That attitude is important for the pilot process overall according to Annie Chang, an actor and producer who's been a TV series regular. She recently booked another series regular role on a new J.J. Abrams pilot and teaches at my studio so, since she has been on the front lines of what happens to an actor after booking a major pilot, I asked her about this process.
"Remember what you did to get the part, but also remember to stay open. A pilot is very much a process in discovering what the show is going to be, so it is constantly changing," she says. "Often the producers still have characters and plot points that they're not sure about. There are still elements of the greater story they don't know if they are going to keep or discard. Show that you are malleable to all notes or feedback. Demonstrate your ability to make adjustments: you can change as the show changes."
Keep that in mind as the pilot moves on to shoot. Chang says actors should remember during the process to "be grateful for the experience and attempt to appreciate and enjoy the present."
"It's easy to get carried away and dream about the pilot going to series. But the reality is, the destiny of the pilot is out of your control, so make peace with this fact. The pilot might not get picked up, you might get recast, or you might start shooting Season 1, but then it never airs," she adds. "Be grateful that you got the pilot and focus on the work of the pilot. Getting the pilot alone means you are in the top percentile here. Enjoy it and give yourself credit for all it took for you to get there."
Once the pilot is shot, it is cut and re-cut into a finalized version and screened repeatedly before executives, studio heads, producers, showrunners, and test marketing groups. It's not uncommon for trusted family members and friends of these industry elites to be given private links or screeners to the pilot and asked to weigh in.
If all goes well, there is a series order. When a pilot makes it to a series order, you'll shoot a set number of episodes. However, remember that your job still isn't secure. You're still being scrutinized and observed by producers and executives for how watchable, likable, relatable, etc. you are onscreen.
Once a show is in the can, it needs to be edited and given a release date. Some pilots sit on the shelf forever and never see the light of day. Some series have release dates that are then postponed because of current events (for example, school shootings or acts of violence can delay the release of pilots). Actors will be given instructions about how much they can and cannot discuss or promote the show at this stage before it is or is not released.
Press is a must for a pilot that has gone to series. Actors should receive media training and will often be expected to promote the show on their own social media channels. Once the series is released the actors are subjected to a new level of scrutiny: what the public thinks of them and their characters. Much of how you are received is out of your control. The best you can do is be honest, authentic, and positive over social media and the press.
At the end of the day, the pilot process should be enjoyable. Allow yourself to relish every moment of it by laying the groundwork you need to support you. It's about more than just keeping your job (though that is a nice bonus). It's about flexing your prodigious power as an actor so that this is yet another experience where you solidify your connection to your craft.
Now that you know what it takes to go from pilot to TV show, be prepared the next time you get this opportunity!
Sign up here to get Joseph's FREE Acting & Career Tips delivered to your inbox, and email [email protected] to launch your career now from anywhere in the world, or schedule an audit.
The views expressed in this article are solely that of the individual(s) providing them,
and do not necessarily reflect the opinions of Backstage or its staff.