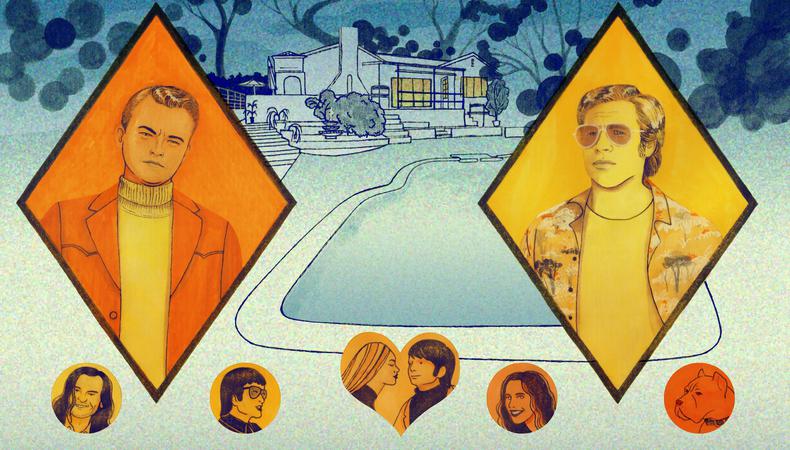 Victoria Thomas doesn't have a "type." It's impossible to distill her vast number of casting credits to a genre, but one constant that has emerged is a collaboration with Quentin Tarantino: first on "Django Unchained," then "The Hateful Eight," and most recently for Columbia Pictures' "Once Upon a Time in Hollywood." For his latest feature, Thomas filled dozens of roles in a complex world—a historically accurate '60s Los Angeles, a fantasy '60s Los Angeles, a film within a film, children, and more. Thomas says the process wasn't so different from her usual work with the auteur writer-director, but for two L.A. natives, the project felt more personal. Thomas shares how the star-studded cast—including Leonardo DiCaprio, Brad Pitt, and Margot Robbie—came together, and why actors should brush up on their Hollywood history.
READ: Why "Once Upon a Time in Hollywood" Has One of the Best Acting Ensembles of 2019
How did your casting relationship with Tarantino begin?
We started working together on "Django Unchained," which was a really great creative process. I think we speak the same language and work well together. I get where he's coming from; he doesn't have to say much. I like working with him! He's fun and always interesting. I'm pretty lucky to be able to work with a filmmaker of his caliber. We have a lot of laughs.
Describe the process for casting "Once Upon a Time in Hollywood."
I came on very early; I think I'm one of the first people to have read the script. Our initial conversations were obviously about casting, who might be right for certain roles. The only person attached at that point was Leo, and he had met with Brad and some other people he was considering as he tried to figure out who this other guy would be. Then I did some thinking, started to make lists, and we met again. The first or second time we met, he had seen Julia Butters on her TV show ["American Housewife"] and showed me a scene with her. He liked her, but he hadn't met or read her yet. So she, Leo, and Brad were three people he talked about early on.
How did you fill out the rest of the world?
Once I got the go-ahead, we had more conversations, and people came out of those that we knew we wanted to meet with. I started out auditioning for the Maxim girls. We met with actors like Luke Perry and Tim Olyphant for various parts. It's a combination of conversations and auditions without [Tarantino] and with him before he starts shooting. Both of us will read with the actors in these sessions.
What advice do you have for actors who want to be cast by a filmmaker like Quentin Tarantino?
Know the history of your craft and of movies and television. Look at actors in the past and learn from the good ones. I think knowing the history of your industry and your occupation is a good place to start. I find that a lot of people don't know as much about the history of Hollywood and movies as I think they should. Have some sense of who came before you, and that can hopefully impact your acting. The other things are what a lot of casting directors say: Prepare for your scenes, make a choice, but also be prepared to make another choice if I give you a direction. Someone will come in and do it once, and I give them a direction and they'll do it exactly the same way. I understand nerves and that you've practiced, but you have to leave some opening to adjust. Take classes. Study. All that stuff.
What considerations do you have to make when casting people opposite recognizable talents?
The big actors do come in for these auditions. Obviously, you try to always have good actors opposite them who won't start shaking if they're in a scene with someone like Leo, and I think those are the things. We had Julia Butters come in several times for that reason, and also just to make sure that what we saw on her TV show could be built on, that she could go from a situation comedy and do a more grounded performance in a movie opposite an actor like Leo. She came in several times, and each time she just kept getting better and better and she could take whatever we threw at her and she responded. That was a specific process with that role, because it was a young actor who was going to be going up in scenes with Leonardo DiCaprio. We really had to figure out if they could hold their own, or were they going to wither away when the cameras started rolling.
How did actors end up in some of the supporting roles when we're usually seeing them as leads or bigger roles?
I think pretty much whenever I start a movie with Quentin, everybody wants to be in it, no matter how small the role. It's just a matter of seeing if they fit in the world we're creating—but there's never a lack of actors who want to work with Quentin. It's a nice problem to have.
What challenges did you run into on this job?
Any time you're trying to portray historical figures, it's a little intimidating. This one was a little weird because the movie exists sort of in this world and also kind of a fantasy, but it's also based on real events. We're trying to cast the people who look like the real people they were actually portraying. Not lookalikes, but someone who hopefully had the essence of those people. We tried to cast those Manson girls as young women with some sort of menace underneath. In terms of casting historical people, I feel a duty to get it right so people aren't taken out of the movie. Otherwise, these other movies, we've cast a ton of parts and that's just a challenge you run into sometimes. I thought the young girl would be the most challenging, and that was challenging, but it turned out not to be as hard as we'd thought. We got very lucky with Julia.
Find out what CDs are nominated alongside Thomas for a 2020 Artios Award.
Where do you like to look for new talent?
If I'm not in New York, I'm always looking at the reviews of the plays, checking out the casts just to see who I don't know. I think it helps to look at some television that's not necessarily shot in L.A. to see who might be up-and-coming. I like to get referrals from people I trust, and that can include agents or other CDs or other actors. We kind of look all over the place, and now with so much content, I have to be aware of it, depending on what people are looking for, whether it's YouTube or something else. I go to see the new crop of actors at the showcases. I think like all CDs; it's movies, plays, television, referrals, just trying to look wherever we can to see new people.
What can actors expect from auditioning for you?
Hopefully, they'll have fun and it will be a relaxed environment where they can do their best. I like people who are prepared. If you're not and you need another minute, that's fine. You can go out and take another couple of minutes, I understand. Sometimes you come in and your mouth doesn't work and you just need to take a break and go outside. But it's hopefully a relaxed atmosphere where they can do their best audition and feel good going out the door.
This story originally appeared in the Jan. 30 issue of Backstage Magazine. Subscribe here.