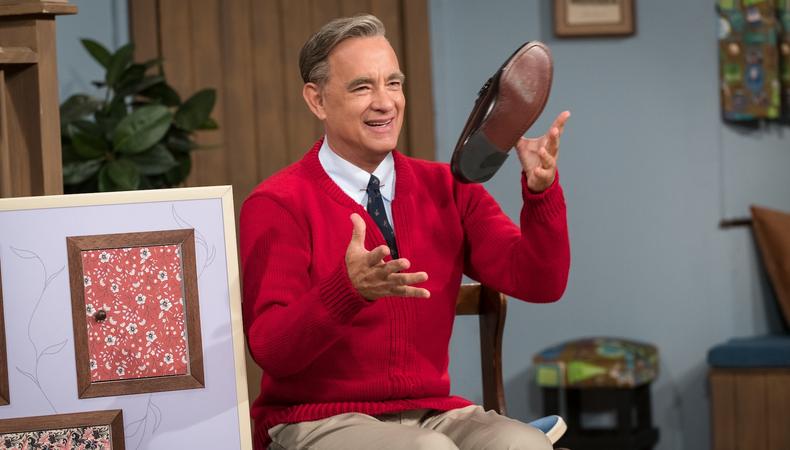 You can thank director Marielle Heller for convincing national treasure Tom Hanks to play national treasure Mr. Rogers.
Since they first began writing the script for "A Beautiful Day in the Neighborhood," Hanks had been Micah Fitzerman-Blue and Noah Harpster's dream actor for the role of Fred Rogers. But on three separate occasions, the Oscar winner had turned down their offer. It took Heller's magic touch to finally change their casting luck.
Considering her friendship with Hanks' son Colin, and knowing that Hanks had been keeping an eye on her work since her indie success with "The Diary of a Teenage Girl" and "Can You Ever Forgive Me?," Heller offered to give the request one last shot. She got in touch and explained to Hanks what he already knew: She wanted him to play one of the most beloved men in television history.
Why You Should Channel Your Inner Tom Hanks at Your Next Film or TV Audition
"It was very important that he knew I saw it not as a biopic, but more as a character piece between these two men [Rogers and journalist Lloyd Vogel] and their relationship, and that I never wanted it to be an imitation," Heller explains. While there are endless hours of archival footage of Rogers from "Mister Rogers' Neighborhood," she wanted an actor who would make it his own. "It was about getting his essence right. If we did an imitation, it would feel like a distance between him and the audience, and it was so important that he was really present and right there to be close to."
Moved by her approach, Hanks signed on. "They all looked at me like I'd just performed a miracle," Heller recalls. "They could not believe that I had done it. I was like, 'I will never be this cool again in my life!' "
One wonders, then: Once you have an actor like Hanks attached to your film, what's next? Does he take the script, do his prep work, and come to set with a fully formed character? How does he take notes? In the case of "Beautiful Day," at least, preciousness was left at the door and collaboration was honed through a preshoot rehearsal process—in short, "Tom loves being directed."
"He's someone who truly values the relationship between a director and an actor, that collaboration," Heller says. "He's really saying, 'How do you envision this? How can I help bring your vision to life?' "
That "old-school attitude," as Heller calls it, meshed perfectly with the director's creative sensibility. She came to directing by way of acting and feels that her working style is inherently molded with actors in mind.
"Getting into the real meaty, emotional stuff of the script with the actors is my favorite part," she says, adding, "I especially love it when actors get to the point where they are having a hard time or they can't figure out why they would do something, [and then] figuring that out together. [Hanks] was just really into that; he was also an actor who, whenever I would say I wanted to do one more or I wanted to do something different, he was like, 'Great! Let's go again.' He liked doing the work, and that was really surprising and great."
Mining her own background for advice she'd give to actors who want to get behind the camera (as Hanks himself has for "That Thing You Do!" and "Larry Crowne"), Heller emphasizes that if an actor has that impulse, follow it; they're naturally capable storytellers.
"Many of us as actors—more than we know—understand structure and emotional builds, and so it can make for an easy transition, really, if you're willing to do the work," she says. "We're all part of the same machine trying to tell stories. And if you're connected to the bigger story, you'll be able to step around all the aspects of it and use the skills you learned as an actor to do these other parts of the business."
This story originally appeared in the Nov. 28 issue of Backstage Magazine. Subscribe here.
Want to hear more from the best creators in film, TV, and theater? Get it right here!