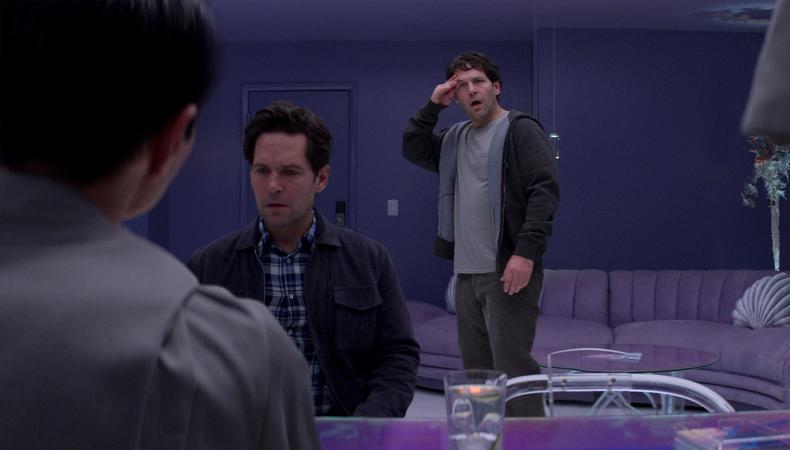 "In the Envelope: An Awards Podcast" features intimate interviews with award-winning actors and other creatives. Join host and awards editor Jack Smart for a front-row seat to the industry's most exciting awards races, and valuable acting and career advice from contenders!
Paul Rudd has charmed audiences in everything from his breakouts in "Clueless" and "Wet Hot American Summer" to modern-day comedy classics like "Knocked Up" and "Anchorman." This year, he continued his marvelous work as Ant-Man in box office champion "Avengers: Endgame" and scored a Golden Globe nomination for Netflix's new comedy from Timothy Greenberg, "Living With Yourself," in which Rudd takes on the challenge of acting opposite his clone. The multihyphenate entertainer joined Backstage to chat about craft and his favorite kind of performance. Click here for the full episode or get some great nuggets of advice below.
How Paul Rudd Brought Timothy Greenberg's 'Living With Yourself' to Life
Anxiety over job security is just part of being an actor.
"It isn't like that [anxiety] goes away once you get your SAG card [or] even once you are working somewhat steadily. It can still feel completely overwhelming. And I think it's also in an actor's nature to wonder, Well, what's next? Even when you get some job—anything, a play or a commercial or something—what's next? 'Cause this is cool now, but, you know, this is gonna be done in about a week."
Acting in the classics makes you part of a bigger legacy.
"Working on plays that are hundreds of years old and being in that setting, you feel a part of something huge. I think actors sometimes feel this living in New York and doing theater in New York: You feel a part of something that's much bigger than you, that has history, that has importance. And in a way, that, I think, makes people feel a little more sane and a little bit more a part of something that's noble and artistic and amazing."
'Shining a Light on How Crazy It Is to Live': Paul Rudd Reveals His Creative Process
Acting opposite yourself onscreen requires pulling out all the stops.
"Acting is reacting, so I'm gonna react to whatever's going on in front of me. Part of the appeal of doing ['Living With Yourself'] was trying to be the architect of the scene in a way I've never been before, where I get to build the scene, take it to a certain place, know how I want it to sound, how I want to hit certain jokes and setups and all of that. And it never works that way because usually whatever anybody else is doing is going to change the direction in some way. It was a cool experiment."
Quieter, more authentic performances often resonate.
"I love big, showy performances. Look, there are so many incredible performances where people are doing such transformations and they're acting up a storm. But my favorite stuff is the stuff where people don't seem like they're acting. And if you can get lulled into something, and then all of a sudden they make a turn and their performance has such depth—I just find it really effective. That's my favorite kind of acting."
This story originally appeared in the Jan. 2 issue of Backstage Magazine. Subscribe here.