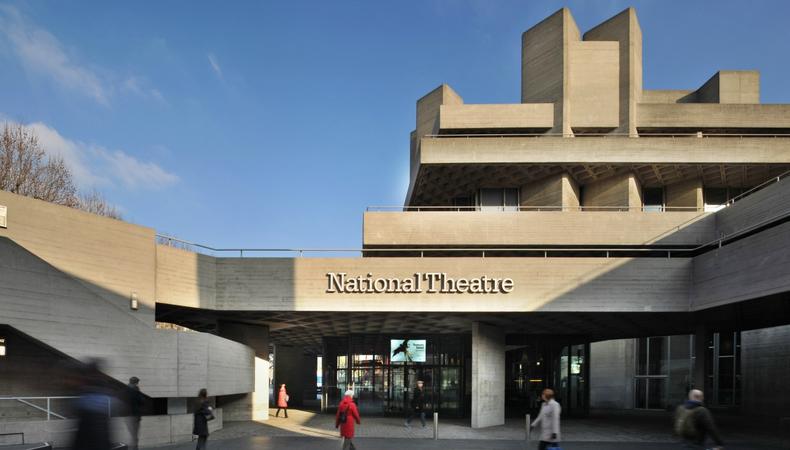 Want to work at the theatre that kick-started the careers of actors like James Corden, Vanessa Kirby, and Cush Jumbo? A place that regularly attracts A-list talent like Bryan Cranston, Chiwetel Ejiofor, and Cate Blanchett to its stages? Of course you do—which means you want to get cast by the National Theatre!
The National Theatre is one of the UK's leading performance spaces, with an unrivalled track record of creativity and innovation, staging over 1,000 performances every single year. That's a lot of potential work. We've spoken with the National's casting department to get the inside track on what it takes to land an all-important audition, and how to make an impression if you do.
The Royal National Theatre in London, aka the National Theatre, aka NT, is one of the UK's most important cultural institutions. It has three London theatres and multiple touring productions, and it often simulcasts hit plays in cinemas around the world via NT Live. The theatre was founded by Laurence Olivier and opened in 1963 with a production of Hamlet starring Peter O'Toole and directed by Olivier—quite the debut!
The National gets an annual UK government grant, which enables it to keep seat prices reasonable and take creative risks, but that doesn't mean it's averse to producing a hit. Productions such as War Horse, The Curious Incident of the Dog in the Night-time, and The History Boys have proven to be successful commercially as well as critically. It's acclaimed across the pond as well: The National's recent production of The Lehman Trilogy transferred to Broadway and has just won five Tony Awards. (It will return to the West End in 2023.)
The NT produces everything from blockbuster new plays to Shakespeare revivals, full-scale musicals to work-in-progress workshops. Rufus Norris is currently serving as the artistic director. Later this year, the theater will debut new productions of Arthur Miller's The Crucible starring The Crown's Erin Doherty, a theatrical love letter to the NHS in The Boy with Two Hearts, and a retelling of Sleeping Beauty in Christmas musical Hex. For any aspiring actor or creative, having the National on your CV looks great and usually means you've been part of ambitious, creative work.
Plus, the NT is always actively on the lookout for new blood, and its new work department runs regular workshops in which actors and artists of all kinds can experiment with new ideas. The casting department is also very keen to discover bold new talent.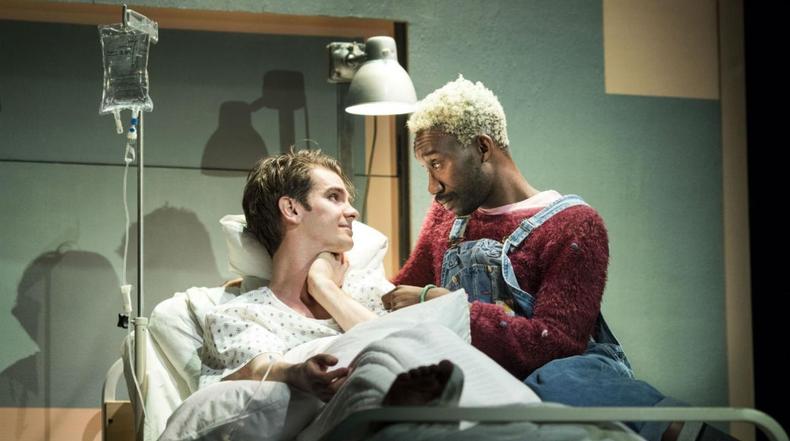 Andrew Garfield and Nathan Stewart-Jarrett in Angels in America/Helen Maybanks
Backstage spoke to the National's senior casting assistant, Naomi Downham, about how she and the team find talent. Firstly, she stressed that they're on the hunt across the board. "As a department, we regularly go to see productions across the breadth of London theatres, as well as regional work, which helps keep us informed and engaged with new talent," she says. "We have a structured team approach to ensure that our coverage takes us to a balance of West End, subsidised, and fringe and pub theatre—the latter trips often a result of being invited by actors directly."
Yes, you heard right: The prestigious National Theatre's team of casting directors might come to your production, however small—you just have to invite them. Downham says you don't necessarily need an agent to get the National's attention. "We work with unrepresented actors on a regular basis and are very happy to hear from actors directly via our casting inbox, which is checked and distributed amongst the team every week," she says.
That crucial email address she mentions is [email protected]. Because of the environmental impact, her team is very keen to stick to email rather than the post, but they do want to hear from you. So if you haven't sorted 'Brand You' already, it's time to brush up your CV, polish your show reel, and make sure your headshots are on point. Always keep an eye on Backstage for any casting notices. And if you have an agent, let them know you want to work at the National!
Do keep in mind that the casting department is very busy—so be polite and persistent, but also nice. The NT casts around 350 actors a year in an average of 25 productions, which means meeting over 2,500 performers per year. The casting process on a big show like Follies can begin up to a year in advance; or it might be just a couple of months ahead for a smaller play. A top tip is to keep an eye on the National's website, Twitter, and Instagram.
So you've done the prep and got an invitation to audition for the role of your dreams at the National Theatre. What can you look forward to? Well, first up, the National works in accordance with the Casting Directors' Guild guidelines. That's good news, as it sets down in writing the minimum you can expect as an actor auditioning for the NT.
Downham outlines what an audition with the National might entail: "Actors would usually be sent a full copy of a script in advance—unless we're working with new writing or confidential material—and we advise on which sections to prepare. They would then either be invited to tape, Zoom, or, most likely, meet us at the NT, wherein we would have a chat about the play, read through the allocated scenes together with either the assistant or associate director—often called staff directors—in first rounds, and then potentially rework scenes to explore where that flexibility might take us."
The casting team says they'll always get back to you after an audition. It might not be full feedback, but you will get a straight yes or no, at the very least. The NT is also committed to "ensuring equal opportunities for all actors, regardless of ethnicity, race, gender, sexuality, age, physical ability, faith, or economic background. We understand the importance of visibility and representation onstage, and we want to reflect the diversity of the population in our work."
Some of the UK's top actors have performed on the National's stages. Top talent such as Olivia Colman, Adrian Lester, Jessie Buckley, and Andrew Lincoln have taken part in the National Theatre's fab interview series called Life in Stages, which is free to watch on the website.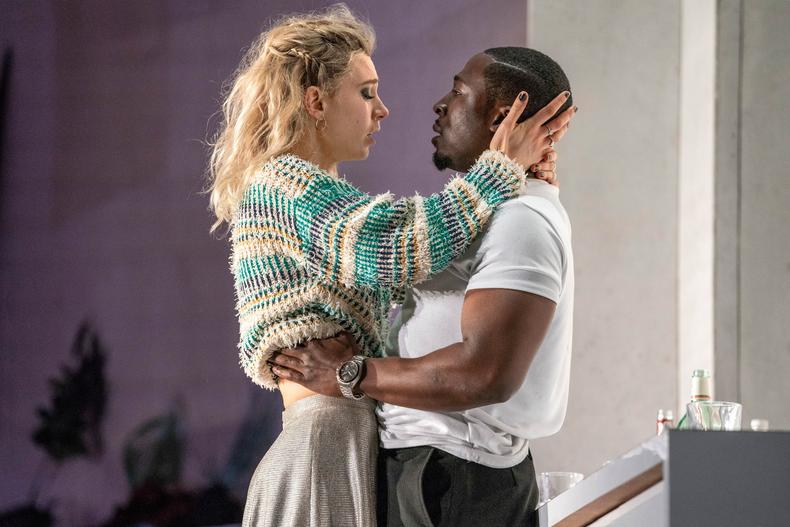 Vanessa Kirby and Eric Kofi-Abrefa in 'Julie'/Richard H. Smith
Vanessa Kirby (The Crown) starred in a version of Strindberg's Miss Julie at the National (which is available to watch on the National Theatre at Home website), and she told BAFTA Guru about her tips for audition room success.
"The best audition advice is really simple—and I've learnt it the hard way: Learn your lines back-to-front, inside out, so you can actually do them backwards really, really fast; you can do them while you're cooking eggs or [while] someone is talking to you," Kirby says. "So you can drill them all the way through and it's already so far in your memory in your body that you're no longer thinking about the lines anymore. Even if I think I know the lines, I don't know them well enough."
Kirby says that Sir Anthony Hopkins told her that he does his lines at least 2,000 times for any project. "It takes away half of the anxiety and the nerves about being in the room—because if you know you know the lines no matter what, even if they're throwing a million things at you, even if someone's looking bored, if they're on their phone and they clearly don't think you're the right person, you've got an absolutely safety blanket. You've already given yourself half a chance," she says. "Get someone to test you endlessly. My poor sister and housemates…"
Fellow National alumna Sophie Okonedo agrees. She told The Stage her top tip for auditions: "Really do the work. It's amazing how people rock up without doing it. I work really hard. I think very deeply about what I'm doing and spend a lot of time poring over the script and trying not to miss anything."
Downham agrees. "Always make sure that you've prepped as much as possible, and don't be afraid to ask us questions," she says. "Our aim is to make sure actors enter the room as comfortable and confident as possible so that they can do their best work."