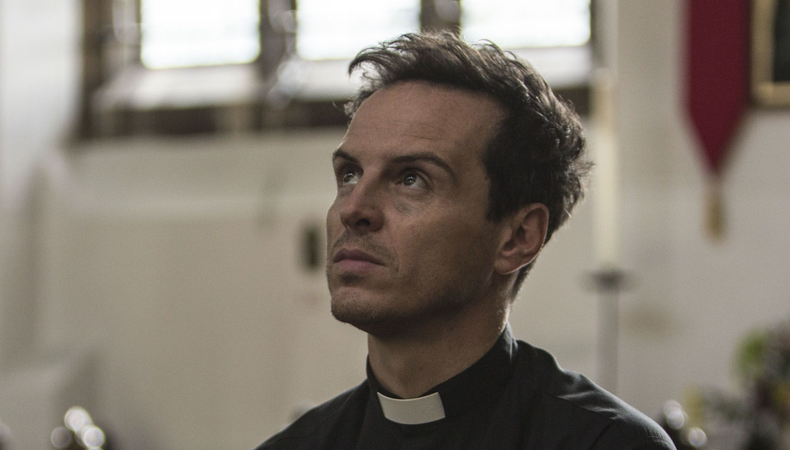 Summer is here and things are looking up. You're definitely going smash that audition, book that role you've been longing for, and you'll probably have a pretty amazing ice cream or two as well. Life is looking good and along the way why not take time out to have some fun in the sun with a fictional sexy priest…
What's Scott to love?
Andrew Scott is in the midst of a hot career streak most actors would love to experience. He's been a much-admired modern Hamlet, a mischievous Moriarty to Cumberbatch's Sherlock and most recently starred as the oh-so-sexy priest in Phoebe Waller-Bridge's Fleabag. On 25 July, Scott will be chatting about his current role as a spoilt actor in Noël Coward's Present Laughter at the Old Vic. Book now! (£6)
READ: Fleabag's Andrew Scott to Star in Netflix's Black Mirror
Hip to be square
So, it's sunny and you want to be outside but you still want to get your cultural fix? No problem – get down to the wonderful Somerset House this summer and enjoy a drink while listening to some pop bangers during its Summer Series. Doves, Jacob Banks, Gossip, and more will be playing in WC2 this July. (Assorted prices)
Standing on the Shoulders of Giants
On 20 July at the National Theatre, Martina Laird will be leading a session examining the work of pioneering black actors and theatre makers from the UK. The event will focus on creatives from the 1950s­–1980s and is likely to be enlightening about those who paved the way for today's generation. (£10)
READ: What Is the National Theatre, and How Can I Get Involved?
Zut Alors C'est Jean Paul!
Talking of creativity, you don't get much more creative than famed French fashion designer Jean Paul Gaultier. Loved by Madonna, JPG aka the man behind the cone bra will be at the Southbank talking about his career, process, and most recent extravaganza – the "part revue, part catwalk" Fashion Freak Show. Magnifique! (£20)
Fancy being funny?
Ever thought you might be funny? Not funny-peculiar, but actually have the innate ability to make people laugh? Why not get down to the Betsey Trotwood pub on 30 July and test yourself out in a supportive non-scary environment. Sorry boys – this event is just for female comedians starting out, but you can come along and support from the audience. (£10)
For more from Backstage UK, check out the magazine.