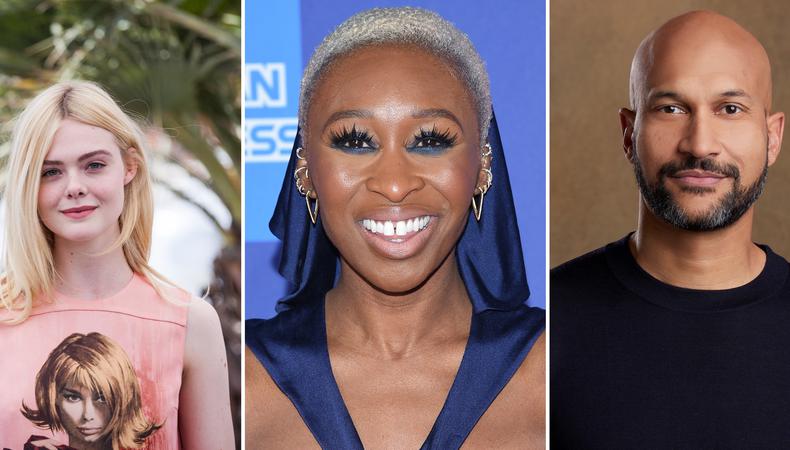 The road to television superstardom is paved with as many mistakes and regrets as successes. That's one of the takeaways, at least, from this season of Backstage's "In the Envelope: The Actor's Podcast," which since its April 23 return has featured 2020 Emmy contenders reflecting on their journeys through the biz. Each was asked, thanks to the power of hindsight, what advice they would give their younger selves. Check out excerpts from these exclusive interviews below, and for more wisdom from today's most award-worthy actors and creators, tune into "In the Envelope" wherever you get your podcasts!
Elle Fanning, "The Great"
"You have to love it. I think that that's also the key. You really have to love it, because it takes up a lot of your time and it takes a lot of hard work. It's not just something that you can show up and not work out. It takes dedication."
Nathan Lane, "Penny Dreadful: City of Angels"
"I was so obsessed with my career—but I had to be. I don't know how else you become successful. I was obsessed with my career at the expense of personal relationships and at the expense of everything. I may be going back, saying to myself, 'Look at the bigger picture.' It took me a long time to see that it's not everything."
Mishel Prada, "Vida"
"I wish I had found confidence sooner.... So often, people meet you and they'll say, 'Oh, let me guess, an actress.' I wish that I had found that place within me that said, 'Yes, I am. That's who I am.' "
Janet Mock, "Pose" + "Hollywood"
"Slow down, enjoy the process, [and] be present exactly where you're at right now, because you'll never get this moment back again. And yes, girl, you are correct, and you are right. Trust that instinct and keep pushing forward. That's what I would say."
Laura Linney, "Ozark"
"I think it's just to be a little kinder to yourself, more than anything. You have to be kind to yourself in the process."
Sarah Snook, "Succession"
"There are so many different variables for the reason you got [told] no. It's not because you're a bad actor or you're a bad person or you aren't very good or you'll never get a job. It's just no for the moment."
Raphael Bob-Waksberg, "BoJack Horseman" + "Undone"
"Don't worry so much.... I wouldn't say don't worry at all. I would say worry a healthy amount. Worry as far as it's productive, maybe keep normal business hours for your worrying. Try not to worry when you don't need to be worrying."
Yvonne Strahovski, "The Handmaid's Tale"
"Those hundred auditions that you do before you land the job on number 101, all those auditions prepped you for the 101st. There's something that happened. You've got to enjoy that journey of just relishing in everything and treating everything as a learning experience."
Mark Duplass, "The Morning Show" + "Room 104"
"Get yourself to the place where you create your own work. And then you either won't have to audition or you won't be as worried about the auditions because you'll have your own ability to do your work."
Cynthia Erivo, "The Outsider"
"I think I would just tell [my younger self] to keep going. I don't know that how I am now and what I do now would be the same if she knew something different. I think that her learning things and discovering things the way she did has led to where I am right now."
Zoey Deutch, "The Politician"
"One thing that I really love to tell myself which genuinely helps me is: it's none of my business what other people think about me... You're auditioning and you want a part and you're literally asking, what do you think about me? But really, it's none of your business."
Michelle Dockery, "Defending Jacob"
"I've had a tendency to overprepare and make assumptions about a scene and the way it should be played.... Walking into something with a much more open interpretation, [thinking,] Let's just see what happens, is actually quite liberating."
Keegan-Michael Key, "Brain Games"
"All anybody here is thinking about is, How do we make the project the best thing it can be? That's what everyone's thinking about. You do you, and part of you should be solving, 'How do I help make this the best project possible?' I would have liked to have known that sooner."
Hailee Steinfeld, "Dickinson"
"I honestly wish I could ask that 13-year-old me advice now for myself! I guess if there is one thing, though, I will say just don't ever be afraid of asking questions.... And be curious and know that you're never going to have all the answers, ever. I hope I don't ever have all the answers."
D'Arcy Carden, "The Good Place"
"I was so obsessed with timeline and looking to other successful people, people that I wanted to emulate.... Especially in my twenties, I would look at other people and realize, 'They already are where I want to be, but we're the same age or they're younger than me,' or whatever. All that being said, I think really giving that up and knowing that your timeline is your timeline. I want to say, it's never too late."
Gugu Mbatha-Raw, "The Morning Show"
"I don't think I'd change anything. I think I'd just say, 'Just keep being brave, just don't worry too much about what people think. Just be braver. Be bold.' "
Looking for remote work? Backstage has got you covered! Click here for auditions you can do from home!