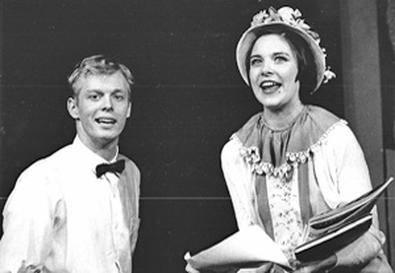 "To this day, when I say that I went to the American Academy, people are very impressed. The reputation of the school has always been fantastic," says Don Rickles. The octogenarian comedian, known for his combative, interactive standup routines, attended the American Academy of Dramatic Arts in the late 1940s, when the famed acting conservatory, located in New York and Los Angeles, was already past its half-century mark. Last month the institution, dubbed by some the "Cradle to the Stars," celebrated its 125th anniversary. Back Stage spoke to a few AADA alumni to commemorate this milestone.
"How I got into the American Academy was a mystery to me, but my mother and father said go audition, and sure enough they accepted me," says Rickles. "I spent a lot of time in the Carnegie Bar across the street, talking about acting with Jason Robards and Tom Poston. We were the three musketeers in those days. Anne Bancroft was in our class, and Grace Kelly was in the class behind us. At the time, I was a struggling actor and a lousy comedian. I was always going overboard on everything I did in class. But there was a great director named Phil Loeb, and he always said, 'Don, don't you dare lose your energy, because that is your strength.' So to make a long story short, today, after 50 years, I'm headlining all kinds of theaters and nightclubs—and the energy has been part of it." Rickles is currently working on the movie "Toy Story III."
The Lyceum Theatre School of Acting, as the academy was originally called, was founded in 1884 in New York by Franklin Haven Sargent, a Harvard University speech professor. In the following years, the school was renamed the New York School of Acting and was shaped by several theater luminaries of the day, including playwright-clergyman Henry DeMille (grandfather of choreographer Agnes and father of moviemakers Cecil B. and William) and director David Belasco. DeMille is credited with giving the institution its current name in 1889. That same year, Belasco directed the first American staging of Sophocles' "Electra" (in a translation from the Greek by DeMille) at the Lyceum Theater, which was the school's home until it moved to Carnegie Hall in 1896. The academy's goal was to provide "a broad and practical education" to those who wished to make acting their profession, and its original curriculum was based on the teachings of François Delsarte. A few years later, Life Study was introduced, and then the teachings of Stanislavsky and other masters. Prior to this, actors were trained primarily through stock companies. By 1896, Sargent was quoted as saying, "I take pride in the fact that nearly every one of the many schools established in the main cities throughout the country is under the direction of either a graduate or a former teacher."
"It really has been the mother and father of all drama training in the United States; that's why I was drawn to it," says AADA's current president, Roger Croucher. He came to the post in 2000 after serving 16 years as head of the London Academy of Music and Dramatic Arts. He explains that AADA preceded the famed Moscow Art Theater as well as the current bastions of English acting, LAMDA and RADA, the Royal Academy of Dramatic Art. (The latter schools became acting conservatories only after the founding of AADA.) "The academy is a main contributor to the standards of conservatory training that exist throughout the world," says Croucher.
Star Pupils
The moniker "Cradle to the Stars" gets its validity from the academy's glittering alumni. A sample from the first half of its history includes Edward G. Robinson and William Powell (1913), Thelma Ritter (1922), Spencer Tracy and Pat O'Brien (1923), Agnes Moorehead and Rosalind Russell (1929), Hume Cronyn (1934), Kirk Douglas (1941), Lauren Bacall (1942), and Colleen Dewhurst (1947). "Sex and the City" star Kim Cattrall recalls seeing the great Dewhurst, who was guest of honor at her graduation ceremony in 1974: "We graduated from the theater where she was doing 'A Moon for the Misbegotten,' and her speech really stuck with me. She said, 'If someone gave me a million dollars, I wouldn't be where you are right now, because it is so tough. But if this is what you love, this is what you will do.' I remember thinking, 'Oh my God, the odds here are so great. If this woman at the height of her career, winning the Tony for one of the most wonderful roles for her to play ever—I thought this is something very special, not just to be part of but also to continue to work at throughout your life and make a living but still be connected to it." After completing work on "Sex and the City 2" in January, Cattrall will star in a new London production of Noël Coward's "Private Lives."
The 1950s was a period of significant transition for the academy. Charles Jehlinger, who succeeded Sargent as president in 1923, died in 1952 and was followed by Frances Fuller, an academy alumna and veteran Broadway actor. She and her husband, pioneering television producer Worthington Minor, led the academy through a challenging period of rebuilding. In 1963, the academy moved to its own home—a landmark Sanford White–designed edifice, originally the premises of the Colony Club (New York's first women's club), on Madison Avenue in midtown Manhattan—which it still occupies.
At around the same time, actor Danny DeVito stumbled into an acting career after a visit to the academy. He was working at his sister's hairdressing establishment in New Jersey and wanted to learn makeup so he could help the family business. "I had no intention of becoming an actor," he recalls, "but they told me if I wanted to learn about makeup, I had to do an audition and enroll. I got hooked; the teachers were so enthusiastic. So I gave notice to my sister, moved to New York, and enrolled in day school. It was a good launching-off point for me. I felt comfortable with myself all because of the spirit that they fostered there."
About 10 years later, in 1974, the academy established a West Coast campus in Pasadena, Calif. Twenty-four years later, it purchased a property on the south lot of the former Charlie Chaplin Studios in Hollywood. Sam Gores was part of the first graduating class of the original California campus in 1976. Unlike the acting stars on the academy's distinguished alumni list, Gores pursued a different career path. He is now the president and CEO of Paradigm, the talent and literary agency. "I knew as I got closer to graduating that I would end up being at the business end of the business," he says. "There are many valuable life lessons—discipline and focus lessons—that you learn, but you learn it through acting. You learn what it takes to be a professional, which you can end up applying to different aspects of life." He is currently the vice chairman of the academy's board of trustees. "I feel that our industry needs, as it promotes more and more personalities and overnight successes, to retain the integrity of great performances, movies, television shows, and so on, and people should be disciplined and trained for that," Gores says.
Actor Paul Rudd, who graduated from the West Coast branch in 1991, says he has retained a few practical lessons from his time in school: "I had a teacher who said a great way to memorize lines is to write them out. I still do that." He also notes that a "major moment" for him was when a guest director came in to work on a project and pointed out how self-conscious his class had become. "He just ripped apart everything that we had learned," Rudd says. "He said you're worried about what you're doing, but you should worry about what the other person is doing. I thought that was brilliant."
Life Lessons
"Our goal is, obviously, to train actors, but we also want to train well-rounded human beings," says Christine Arnold, director of development, media, and strategy at AADA. "Everyone here is extremely devoted to the students. It is a very supportive and focused environment. We're thrilled when our students do well, and we try to give our support to those who are still struggling to get those jobs. When I put together the AADA Journal—the newsletter for the school—I focus on not just the award winners but also on what it's like to be a working actor. We would love it if everyone came home with a Tony, an Emmy, or an Oscar, but at the same time, when people are working steadily and have a good quality of life, that's to be celebrated too."
The academy is a nonprofit organization and has accreditation with the Middle States Commission on Higher Education and the National Association of Schools of Theater. It currently has approximately 300 students on each campus. Admission is by audition. The first year is a kind of intense basic boot camp, where the focus is on training and technique. "We don't subscribe to a single ideology," says Arnold. "All of our faculty members have trained under a variety of master teachers and are master teachers themselves. I think we bring the best of all those techniques together." She explains that a student at the academy will be exposed to the best ideas of Meisner, Strasberg, Hagen, and Wynn Handman, as well as the most advanced methods of instruction in voice, speech, and movement. Students have to be invited back for their second year, after which they graduate. There is also an additional third year, known as the Academy Company, to which no more than 25 students are invited. Throughout the year, this repertory company (there is one on each campus) performs plays that are open to the public, culminating in a showcase for industry professionals.
"All institutions have to move with the times or they become a historical backwater," says Croucher. "We have revolutionized our curriculum in the last 10 years, and being contemporary, on the cutting edge of modern training, is very much what I want." Croucher's goal for the school is "100 percent commitment" from students and faculty. He says, "Our main purpose is to keep the academy and its students in touch with the outside world—to place our students in such positions that they will be able to continue their training with us and enter the profession and have successful lives. So that's what the whole academy is about: finding a future for our students."
Two-time Tony Award winner Christine Ebersole, who landed her first Broadway show, "Angel Street," the year after she graduated from the academy in 1975, would agree: "I did a play at the academy that got me an agent, who got me an audition, which got me from waiting tables after graduation to Broadway." Looking back, she says, "the academy was a great experience for me. It really taught me a lot about what it is to be dedicated. It taught me a great work ethic and the importance of servicing the piece that you're working on—taking your ego out of it and bringing your talents to it, helping it to be realized through your other team members. It made me realize that acting is really a team sport."