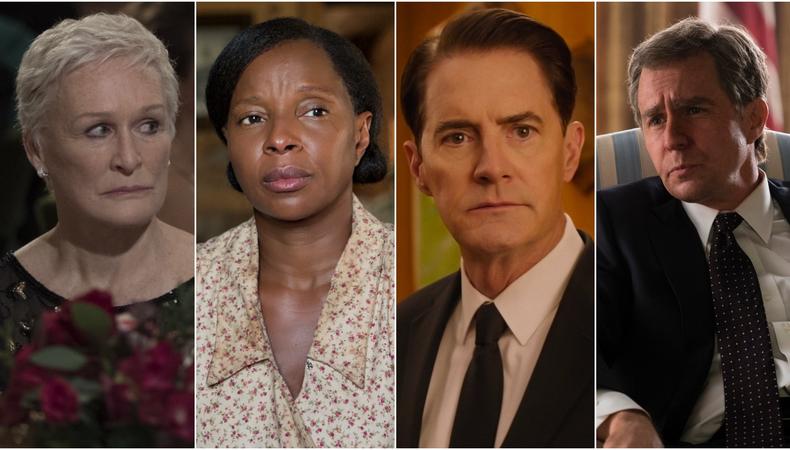 For those seeking long careers, keeping a well-tuned instrument and training regularly are essential; oftentimes that requires working with trusted advisers. When you need assistance fleshing out a role, sharing sides, scenes, or even a full script with a coach can have innumerable benefits.
Here, 10 actors from both stage and screen share how they work with coaches to land auditions and develop roles.
Malcolm-Jamal Warner, "The Resident"
"For me, it's very rare that I go to an audition without seeing an acting coach, because as much as you can prepare for a role, two heads are better than one."
Leona Lewis, "The Oath"
"If I can get a script or the sides in a good amount of time, that's always great, but you don't always have the luxury of time. I have an incredible [acting coach] I work with, Julie Ariola, who is just amazing; I've been working with her for a few years now. I prepare with her and try and dig into the character, and if I have time, it's great, but if not, I delve in as much as possible."
Kyle MacLachlan, "Twin Peaks: The Return"
"You go to the source first, you go to the script, and you just really read through it, you think about it, you ask questions, you try to just [figure out] what are the similarities in experience, and try to feel your way through. And then I also work with a coach, as well, to help me with that, because I think two brains are better than one; she has a certain point of view and ideas and things that I like or that I don't like, depending on how they're presented. But it's really helpful to either work with a partner or someone in that capacity. Going to classes is something I do—I never really liked that, the 'performance in front of your peers' type thing; I was never very good at that. But I do like working one-on-one with somebody, particularly on the script, 'cause that's your everything. That's the rock. Everything comes off of that."
Check out the Backstage Cover, featuring Kyle MacLachlan
Mary J. Blige, "Mudbound"
"The acting was a challenge – just being a mother and having to find that wife that had a husband (Rob Morgan) who cared about her, because I was going through my own challenges and it was hard [to get in the headspace] of trying to be intimate with this man. It's one thing to be this emotional person and have all this stuff, but it's another thing to transfer it into this character and make this character come to life, so I got a coach to help me do all that."
Kelvin Harrison Jr., "It Comes at Night"
"I'll read the script and I'll just start breaking it down bit by bit. I ask a lot of questions. Anything I don't know, I just start writing questions down and start answering them. And then whatever my instincts tell me. My instinct is a big thing for me because though I took those classes, I haven't gotten a formal [training], in my opinion—like, university training. [From there], I'll start with whatever, like, it might be a movie reference or it might be a person that I think of, and then I start pulling up stuff, and I look up a lot of clips. Then I just start jotting stuff down in my journal, and if I want to, I'll coach with my acting coach on Skype. And that'll be about it."
Glenn Close, "The Wife"
"For [my audition for] 'Albert Nobbs,' and that was a long time ago, I felt I was doing bad, and I had the wherewithal to say, 'You know what? I'm boring myself, so I must be boring you. I think I'm just gonna go home.' [Laughs] And I heard from my agent that they thought that was the most interesting thing that had happened, and they asked me to come back. But before I came back, that was the first time I sought out Harold Guskin as a coach, and I just said, 'Please help me! I'm so bad at this.' "
Learn How Audition From Glenn Close
Sam Rockwell, "Vice"
"In England there is more of an apprenticeship for actors, there's less of that here [in America] but I guess it's changing. I'm proud of the fact that I trained for 2 years – I went to school and I have an acting coach – but a lot of people don't like to talk about that stuff. I feel like you need to carry the sword and the spear a little bit before you play Hamlet. You learn from older actors, like I've learned from Chris Walker and Gene Hackman, and I think that's cool. Being labelled as a journeyman is a cool thing to me."
Andie MacDowell, "Love After Love"
"I started [training] with someone named Warren Robertson. He had a studio that felt like a family, and I liked that environment. I had also heard that Jessica Lange had worked with him, and she was my hero. I loved her; I loved her performances. And I always thought that she was a very honest actress. So I went there because I heard she went there. He was really good for me. And when I did 'Sex, Lies, [and Videotape],' I actually did it onstage there in preparation. So, yeah, he had a warm environment. And I worked with other people. I did other classes, as well, and worked with other coaches, but that's where I started. And I tried different techniques. Method is not as technical, so I worked with other acting coaches that were much more technical. And then, yeah, and then you learn through the process of working a lot. You learn from the people that you work with."
Lyrica Okano, Marvel's "Runaways"
"[Auditioning is] different for every project with me, but I think most of the time, I read the sides, and if I get a full script, I read the full script, and I do as much as I can to imagine my life as a character. What's she gone through and what's made her get to the place where she's at? I ask myself a lot of questions. I've also been working with a great acting coach named Anthony Abeson, and he's taught me a lot about 'F.I.O.-ing,' which is 'fleshing it out.' It's pretty much, you have a scene, you flesh out all the circumstances, and then you go back and you kind of nitpick little details that your character might bring up or [that] the other character in the scene might bring up, and you act that out either by yourself or with a friend. It's like playing pretend, but just for the sake of having something to remember when you're recalling that during the scene that you're auditioning with."
Dave Bautista, "Avengers: Infinity War"
"I work with a coach, and I've been working with him for a while. I over-analyze everything and I beat myself up—I'm literally my own worst critic. I've always been, I always will be. But working with him is what I do. I know it's a boring answer, but I work with him to get out of my head and get onto the page. To get lost in the moment.... I don't just take certain roles and just expect to be good. If I even get an audition for a role the first thing I do is call my acting coach. We start going over it, we start going over dialogue, we start going over mindset. It works. It's a craft. It's not an easy craft, it's hard to learn, but every time I walk away from a film I feel like I've gotten better."
Want more audition advice? Click here!