Amanda Seyfried sounds different. She's speaking via Zoom from Los Angeles on a Monday in April, and her voice is, well, lower. Deeper. More like a certain founder and CEO she just portrayed on an acclaimed Hulu limited series.
She's not channeling Elizabeth Holmes or describing how she captured the disgraced mogul's notorious speech patterns, though she will later. The reason is less deliberate: "Massive sinus infection," she says apologetically. "I don't know if you could tell."
Just like the moment on "The Dropout" when Holmes first tries out a lower pitch, it is obvious. That deeper voice is just one facet of the actor's layered transformation for a performance that stands out among the recent glut of TV series about scammers, grifters, and con artists ("WeCrashed," "Inventing Anna"). On "The Dropout," which chronicles the rise and fall of Holmes and her blood-testing startup Theranos, Seyfried doesn't just mimic the young founder's demeanor; she crafts a fascinating character that has earned her critical praise and awards attention.
"It was immediately obvious that it was a real character piece, something that was going to be incredibly challenging—and I welcomed that," she says of being courted to play Holmes on the limited series. "This person in particular is just so mysterious that I had to try my hand at trying to figure it out."
As she talks about constructing her version of the real person, she also describes the character work the role has opened up for her, something she's now eager to explore.
"I've been working for two decades playing people very similar to me, in different circumstances," she says. "This just unlocked a whole world."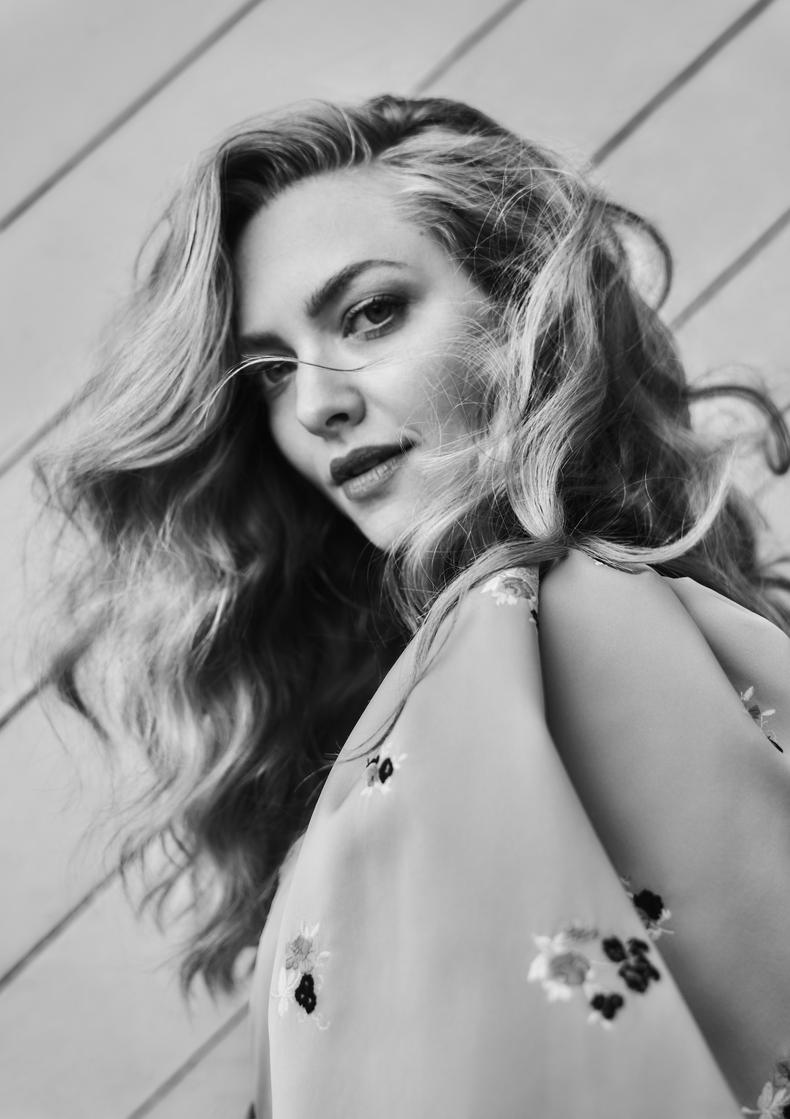 Over her years in Hollywood, Seyfried has amassed credits that span comedies and movie musicals, soap operas and prestige TV. The actor, born in Allentown, Pennsylvania, appeared on long-running soaps "As the World Turns" and "All My Children" in her teens before breaking out in the 2004 hit "Mean Girls" as the hilariously vapid Karen Smith (of "There's a 30% chance that it's already raining" fame). Roles on TV dramas including "Veronica Mars" and "Big Love" followed, as did chances to showcase her singing voice onscreen in "Les Misérables" and both "Mamma Mia!" movies.
She earned her first Oscar nomination last year in the supporting actress category for playing screen starlet Marion Davies in "Mank," David Fincher's black-and-white drama about "Citizen Kane" screenwriter Herman J. Mankiewicz. For the film, as she did for "The Dropout," Seyfried had to build a character based on a real person, albeit in a very different era and genre. "That was really intimidating," she admits. "My insecurity came from wanting [Fincher] to feel like he'd chosen the right person to play this very iconic role. And then once I shed that a little bit, I was able to tap into what was important—less about who she was and more about who she was in this movie."
"It's difficult to work with people you can't access on a human level between takes, or at least at the start of the day and end of the day, and it does actually affect my performance."
For every project, Seyfried says she relies on her instincts to make her performances believable. She doesn't work with an acting coach, but she will create a backstory if she needs to, or consult friends if she wants their insight on what to do with a character. She appreciates actors who come to set prepared but aren't completely consumed by the work, and she tries to foster that same mindset. (She credits Julianne Moore and Gary Oldman as two such co-stars, as well as her friend Jennifer Carpenter.)
"It's difficult to work with people you can't access on a human level between takes, or at least at the start of the day and end of the day, and it does actually affect my performance," Seyfried says. "I've learned how to keep it separate."
Prior to landing the role of Holmes on "The Dropout," she was well aware of the medical wunderkind and her work with Theranos. She'd listened to the titular podcast the series is based on, and she'd seen the 2019 Alex Gibney documentary "The Inventor: Out for Blood in Silicon Valley." So once Seyfried came aboard the project—which was initially set to star Kate McKinnon—she had a circulatory system's worth of information about the infamous figure to inject into her veins.
Beyond the podcast and documentary, there were magazine articles, clips of Holmes in interviews and the TED Talk she gave, and of course, the Wall Street Journal's report that first exposed how Theranos was misleading customers and investors. Seyfried says that video footage from Holmes' depositions was especially useful. "You see a lot between her speaking and the moments of her listening and experiencing, which is really helpful as an actor from the character study point of view," she says.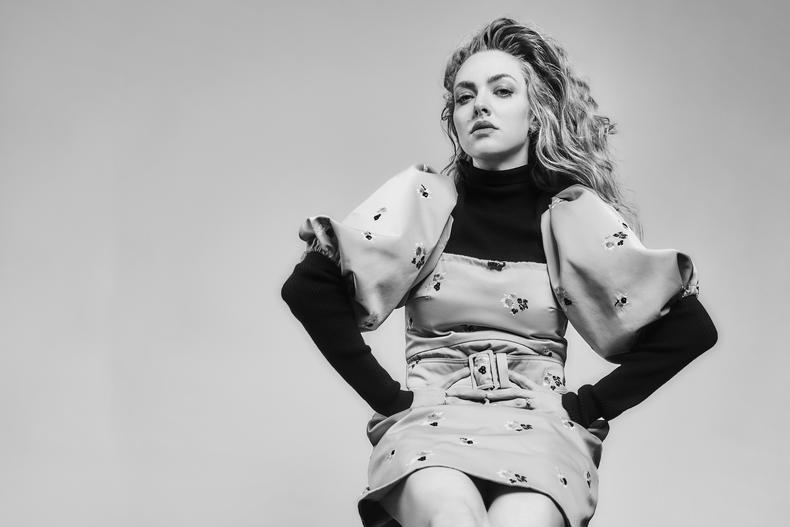 Seyfried used that wealth of information to hone her own version of Holmes using series creator Elizabeth Meriwether's ("New Girl") vision of the story.
"The script really pulled me into exactly where I needed to be," Seyfried says. "I was able to pull so much from [Holmes], absorb so much of her mannerisms and the way she held herself and the way she listened. But that all ends up taking a backseat to what's in the script and the actors I'm working with." That includes Naveen Andrews ("Lost") as her intimidating co-lead; he plays Holmes' romantic and business partner Sunny Balwani.
"The Dropout" had to strike a careful balance over its eight installments. Seyfried, in particular, needed to offer insight into Holmes' actions and create empathy without justifying what she did. After all, in January, the real Holmes was convicted on four counts of defrauding investors. As an actor, does one have to sympathize with such a character in order to effectively play her?
"The actor in me always needed to believe," Seyfried says. "So throughout the whole thing, I just believed, believed, believed—this is what [Holmes] believed in. She doubled down when she could have backed off and been like, 'Yeah, you know what? This doesn't work.' And although Amanda doesn't agree with that, as an actor, I had to find a way to believe in it. It is a fine line, having a sympathetic perspective and then also telling the story in a responsible way."
Two turns in the series are crucial for both Holmes and the way Seyfried plays her. One is that first scene in which she uses the infamous voice. The CEO is talking to herself in a mirror, practicing a line to convince the Theranos team (and herself) that they're pushing in the right direction. She pitches her voice lower and deeper as she repeats, "This is an inspiring step forward."
"The reason it's so important and so impactful is that it's fierce and it's desperate," Seyfried says. (The scene was also a reshoot, done on the last day of filming.) "It just shows that she will get there no matter what; she will not let anything get in her way.
"It's also just one of the things, like"—Seyfried deepens her own voice here, despite her illness—"that's how she's gonna make people listen. Which is crazy, but it's true! It fucking worked!"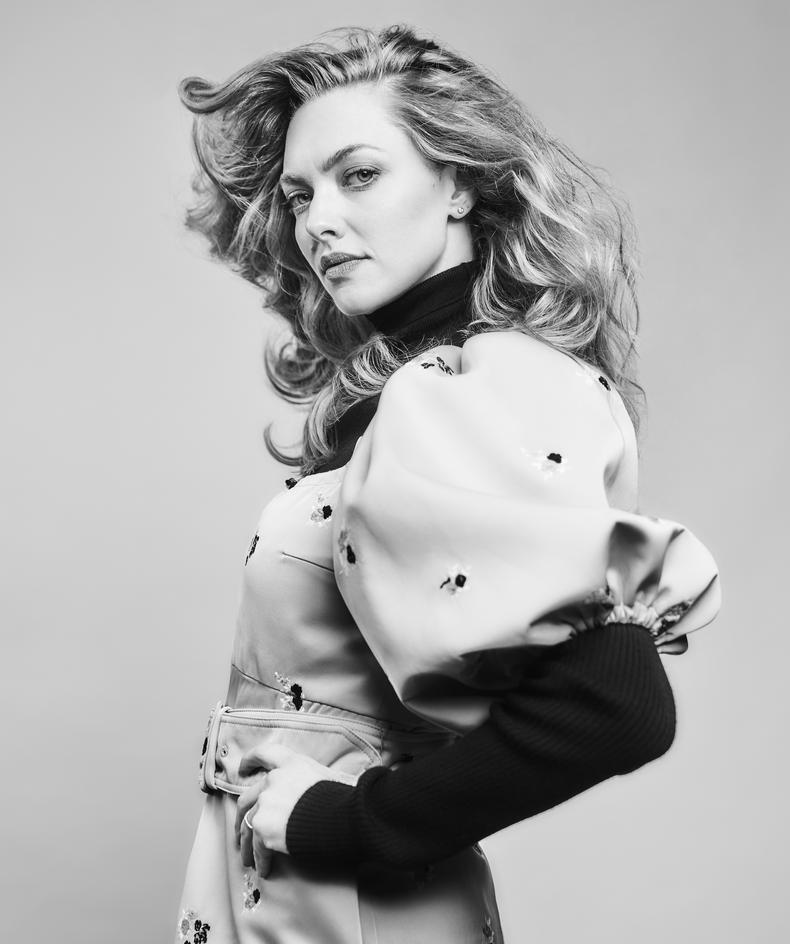 There was no way Seyfried could pitch her tone quite as low as the real Holmes did, so she found other ways to create that same effect. "It was the way her mouth moves. When I do that, people think I'm going deeper," she explains.
If that moment is when Holmes first slides into her "Elizabeth Holmes" persona, the closing moment of "The Dropout" is its bookend; the scene offers a final glimpse inside her mind after the Theranos house of cards has come tumbling down. After literally running out of the office she helped build, Holmes—no longer wearing the turtleneck and lipstick she used as her CEO uniform—lets out a primal scream. It's an eruption of everything she's bottled up over the last eight episodes. She then calmly gets into an Uber and introduces herself as "Lizzy," reinventing herself once more.
"Oh, my God, the pressure of that being the last scene of the whole series," Seyfried recalls. "My insecurity was at an all-time high, because I've been playing this person for so long, and I'm like, What if it's not satisfying? What if it's not cinematic?—all these silly things that I have no business thinking about at that point. And so when I talked to Liz [Meriwether] and [director Erica Watson], I was like, 'I'm gonna scream in a way that feels like vomit and expression of the ugliest kind.' "
The process was "cathartic and amazing, but scary" for Seyfried, especially considering she's a singer who's careful to protect her voice. But that sudden explosion, followed by her calm entry into the car, was an impressive end to such a carefully calibrated, demanding performance.
But the refreshingly relaxed way Seyfried approaches her acting process ("I've always been on the healthy side of lazy," she says with a laugh) is markedly different from the way other actors might disappear completely into a role. It's how she's always operated; the key, she says, is for every performer to find what works for them.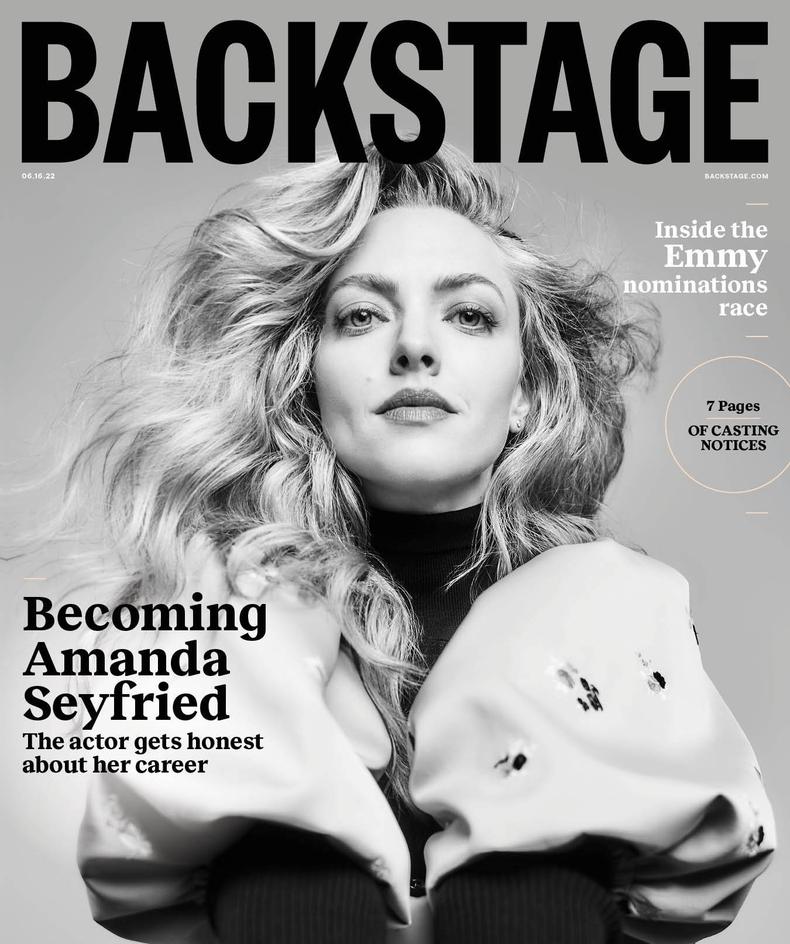 "I've noticed that a lot of younger actors, and the younger generation just behind me, think they have to build this world around themselves in order to perform, and it's just not the case," she says. "All you need is you and some preparation—understanding of your character in the script, respect for the director, respect for yourself and your actors. If I were that age, it would make me think that I was doing something wrong; but I realized I'm doing what's right for me. I still have a lot to learn, and I'm having a good time doing it. I'm not stressing out. You don't have to. You don't have to build up the world around you in order to be good. You're good! You're already here."
In the short time since the last episode of "The Dropout" was released, Seyfried has found herself still drawn to Holmes' story. Her sentencing is set for September, and Balwani's trial is ongoing.
"​​Part of me is campaigning internally for a coda, or to revisit Elizabeth. Her life certainly isn't over," Seyfried says. But even if she never dons that black turtleneck again, the experience of playing Holmes has made an impact on her that will reverberate throughout the rest of her career. "I just want to return to that kind of thrill. That's what I'm looking for now. And how great is that?" she says.
To borrow a line from Holmes, it's an inspiring step forward.
This story originally appeared in the June 16 issue of Backstage Magazine.
Photographed by Shayan Asgharnia at the Paramount Studio in L.A. on 4/11. Styling by Elizabeth Stewart. Dress: Patou. Shoes: Prada. Cover design by Ian Robinson.