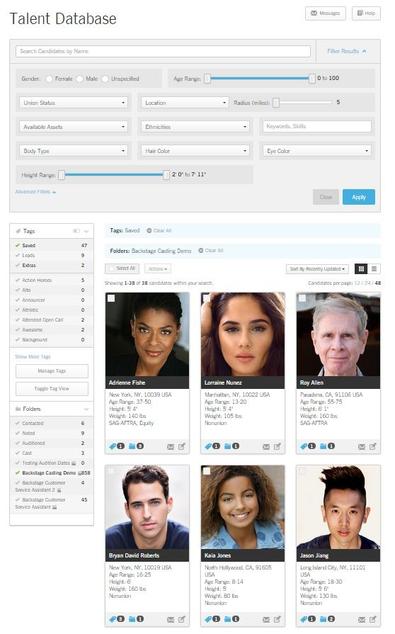 Backstage has launched a brand-new Talent Database to help casting directors and content creators find talent for their projects. Agents and managers can also use the system to scout for talent to represent.
The Talent Database features more than 90,000 actors, models, and performers, with new talent adding their profiles to the database every day. Plus: state-of-the-art search tools; convenient organizational options; quick access to media items (photos, video reels, voiceover demos, music clips); and full integration with Backstage's casting system for easily casting films, web series, commercials, theatrical productions, and more.
New features include:
Advanced Filters
Intuitive search options let you quickly pinpoint the best talent for your projects using any combination of criteria, including name, age range, gender, ethnicity, location, union status, body type, hair color, eye color, height, keywords, skills, and available assets (including headshots, videos, and audio clips).
Sorting
Sort results by recently updated profiles or alphabetically by name, or expand your search with a relevancy sort.
Tags
You can create an unlimited number of custom tags, so you can label and organize talent to fit your needs. With tagging, Backstage's vast Talent Database is turned into your own, customized database.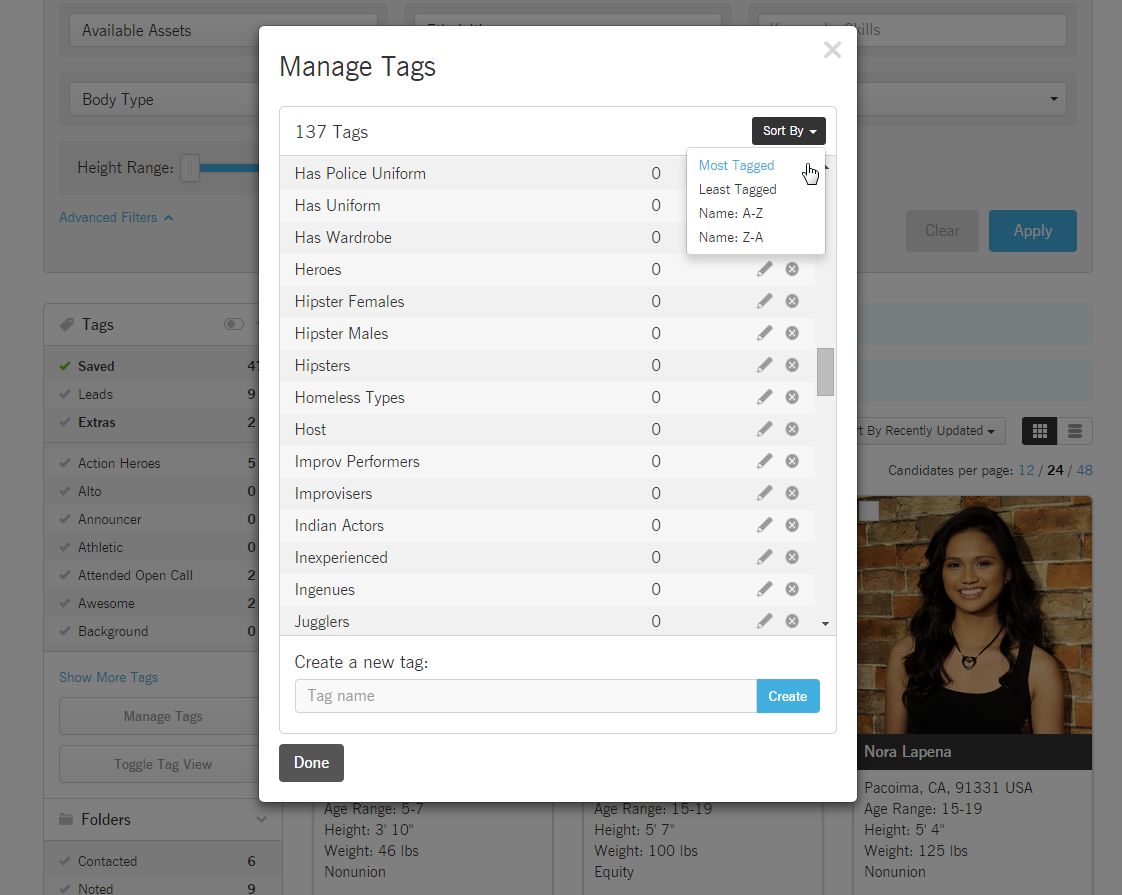 Folders
Actions you take on Backstage.com automatically populate your personal folders. For instance, when you post a casting notice, you automatically receive a project-folder in the Talent Database, where every actor that applies to your project (or that you add to your project) will appear. And if you contact actors, or leave private/collaborator notes about the talent, or categorize an applicant as having been auditioned or cast – they'll all be automatically grouped together in our Contacted, Noted, Auditioned, and Cast folders. You can then instantly filter the database by any combination of folders, search filters, and tags, so every actor you've ever interacted with is always just one click away.
Multiple Views
Browse through talent while viewing big headshots and details in a gorgeous grid, focus in on tags, or simplify your search with the compact list view. Plus, choose how many results you'd like to view per page. Then click on the name or photo of any performer to expand their profile and view their full details, multiple photos, videos, audio reels, and advanced options. Or select multiple actors to perform bulk actions.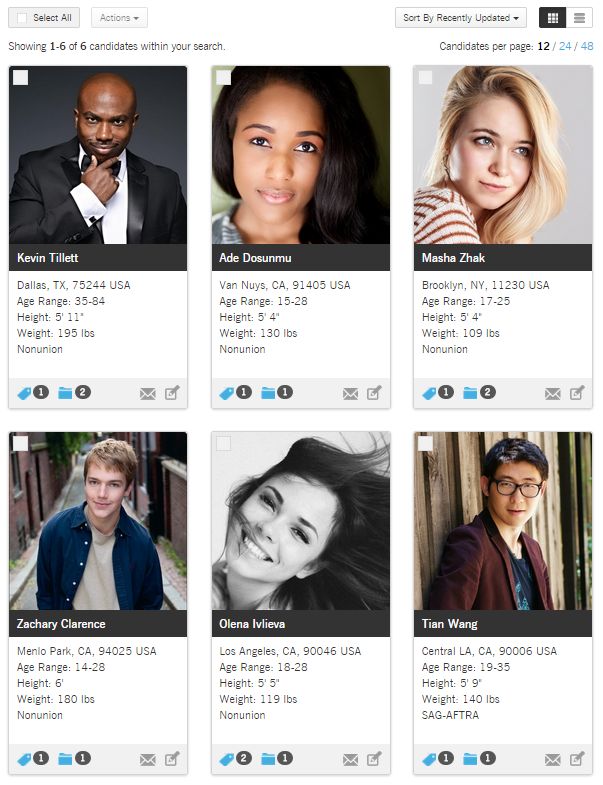 Collaboration
After adding collaborators to one or more of your productions via your Casting Dashboard, your colleagues will also gain access to your selected productions' applicants and notes in the Talent Database, and they can help you find actors in the Talent Database to assign back to your production as suggested candidates.
Production Integration
Easily add the actors and performers you discover in the Talent Database to your productions' roles on Backstage, so you can manage the candidates you discover right alongside the applicants to your casting calls.
Additionally, the Suggestions tab in your Application Manager will automatically search through the Talent Database for you, based on your role criteria. And you can add candidate's from the Suggestions tab back to your productions' roles as well.
One of the greatest benefits of Backstage's casting system is this full integration between your Casting Dashboard, Application Manager, and the Talent Database — with your work in your productions' Application Manager automatically populating folders in your Talent Database when you post a casting notice; and options in the Talent Database populating Suggestions in your productions' Application Manager; and the ability to move candidates from the Talent Database back to your productions; view all of the applicants from your current and past productions grouped together in the Talent Database; and so on.
You now have tens of thousands of actors, models, extras, singers, dancers, comedians, and variety performers at your fingertips, all integrated into the most powerful casting system in the world, with tagging and organizational options customized to fit your needs. Casting has never been easier – or this much fun.
To learn more, visit the Talent Database FAQ, or start a talent search at Backstage.com/Talent.