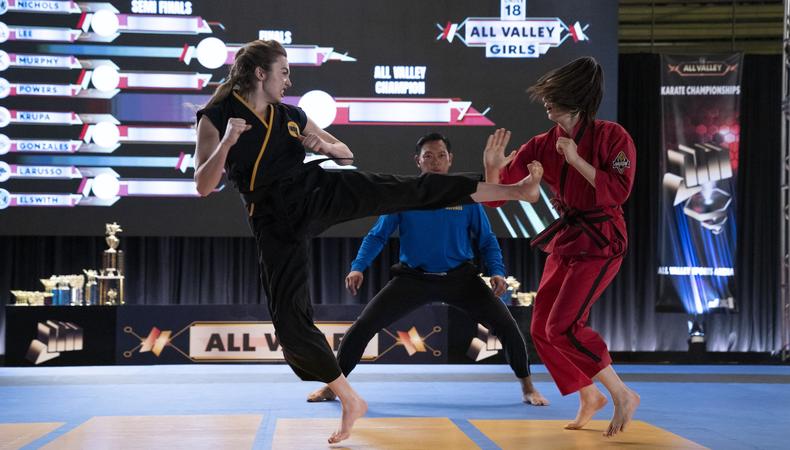 "Cobra Kai" returned more action-packed than ever for a fourth season last December. The SAG Awards Nominating Committee took notice and put the Netflix hit in the running for best stunt ensemble. Here's how stunt coordinator and series veteran Ken Barefield and newcomer fight coordinator Don Lee helped make it happen.
What are the main differences between a stunt coordinator and a fight coordinator? Do your jobs intertwine?
Ken Barefield: The differences would be: We get a script, I go upstairs into the meetings while I have Don with the fight team; he and the team are coming up with all the karate, the fights. For a show like "Cobra Kai," it's so martial arts-specific. That's why I had to bring in Don Lee, whose knowledge of martial arts goes beyond. It takes a big load off of me, having a fight coordinator to whom I can delegate.
Don Lee: Given the fact that we don't have a lot of time, it's hard for Ken to be in two places at once. You have the showrunners, producers, writers—everyone's trying to get information. And so while we're doing these things, there is a whole training section, and that's when Ken and I meet and have a conversation to talk about the script, try to figure out what the beats are, and then try to put the bunkai [the application of martial arts] into the story. There's always a heightened reality in film and TV, but we wanted to try to keep it very authentic this season.
How do you work with actors who don't come from a martial arts background?
DL: Ken, who worked with everyone on all the seasons, has an understanding of what the actors can and can't do. We train with them, and we choreograph to their strengths versus what may cinematically look cool. If you can't do the move 10 out of 10 times, it's not worth putting on film, because we don't usually get more than two or three takes. You want to highlight what the actor can do. When you have a cast where some are more naturally talented than others and some have to work harder to get there, it's a really cool progression to see.
How do you make sure every action contributes to the story as opposed to just "looking cool"?
KB: It's so good having Don next to me, because we are the same in the sense that we don't like just throwing a punch because there's a punch. We like telling the story behind the choreography. When we broke the script down, we would also look at it all the way back from the first three "Karate Kid" movies to the first three seasons of "Cobra Kai." We would literally dissect everything and say, "Oh, remember this in 'The Karate Kid Part II' at an hour and three minutes, when he did this? Let's put this here." And it shows in the season.
DL: If you want to make the best scene, you've got to use all your tools. It's the team—the doubles who come in and choreograph these beats—and then the actors will look at it and they'll have their input. They'll be like, 'Well, this doesn't make sense here.' I love that about the actors, because now they've incorporated the rhyme and the reason. If you understand why you're doing it, you understand how to deliver it.
How can aspiring stunt and fight coordinators get started in the field?
KB: The fastest way to get anywhere is to take your time. Don't be afraid to not be the most talented person in the room. If you stay true to yourself, stay humble, and have a relentless work ethic, you can absolutely make it. I'm a walking example of that.
DL: You really need to work on your craft. For example, if you wanted to become a fight coordinator, or a coordinator in general, whatever specialty you have in the business—cars, fighting, falls, gymnastics, whatever it may be—know your craft. You want to be proficient in it; you want to be able to not only do the action yourself, but to teach it.
This story originally appeared in the Feb. 24 issue of Backstage Magazine. Subscribe here.