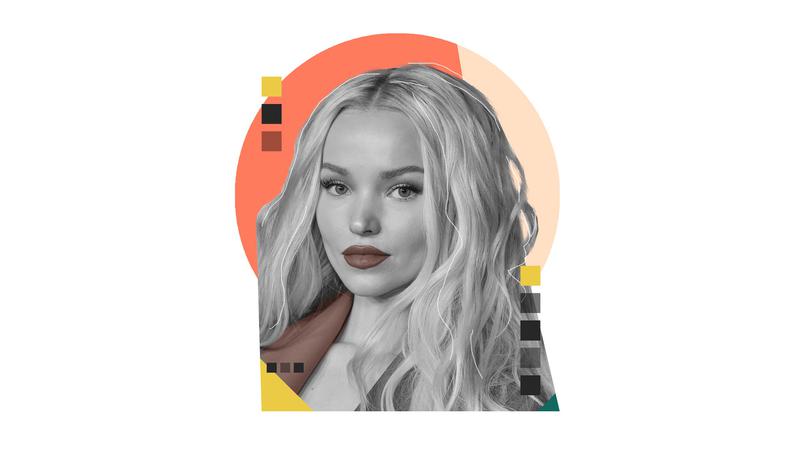 Few actors are as busy as Dove Cameron has been lately. Currently, she's filming The CW's live-action "Powerpuff" reboot, is set to star in the films "Field Notes on Love," "Vengeance," and "Issac," and is constantly writing and recording original music. Her latest project is Apple TV+'s "Schmigadoon!" which sees Cameron playing a farmer's daughter in a town where everyone acts as if they're in a 1940s musical, alongside Keegan-Michael Key, Cecily Strong, Alan Cumming, and Kristin Chenoweth. Cameron credits her work ethic to her Disney Channel roots—she played dual lead roles as twins on "Liv and Maddie"—which allowed her to hone her acting and musical abilities.
Tell us about your first day on a professional set.
I did an episode of "The Mentalist." I remember feeling like, "Wow, these are the faces I'd seen on TV! Wow, oh, my God they're real. This is pretty boring; you wait a long time between setups. Is this acting?" I think you have to really love acting, because the culture around acting is pretty day in and day out; it's pretty 9-to-5 for the most part. I remember thinking, Oh, this is really a job. Your job really becomes everything that's not acting.
"It's amazing to work with other crossover artists who do multiple kinds and incarnations of what we do. It's really inspiring to me. You learn to trust your talent and your ability more and more as you continue to work."
I read that you got your first agent pretty quickly after moving to L.A. How did that come about?
My mom! I was 13, and my mom was calling agencies and sending them my headshot. I'm sure they were getting thrown straight into the trash. I knew a woman named Dinah Manoff, who is an actress. You might know her from the original "Grease." She lived in the same neighborhood in a super small town in Washington state that we lived in. I did a one-act with her. She directed me in it. She was one of the women who convinced my mother we needed to move to L.A. because I had some sort of ability. I think she might've connected us with [actor and talent agent] Topo Swope, who then got me in the room with Pamela Fisher, who still, 10 years later, is my agent. Honestly, I got my very first agent that I went out for, but, luckily, my mom knew someone who knew how to get us in that room. You still have to audition and they have to sign you and it was really very lucky.
At that time, did you feel like you had a handle on auditioning?
Oh, my God no, I did not have a handle on auditions. I went in with a Meryl Streep from "The Devil Wears Prada" [monologue]—she's in her 50s and I was 13 years old. I did the "Oh, I see you think this has nothing to do with you" monologue and I sang Christina Aguilera's "Beautiful" and I wore red lipstick and very high, sort of exotic dancer-looking boots. Somehow, she saw through all of that and wanted to sign me. It was a very, very bad audition, comically terrible and wrong. But I also always knew how to perform, so I think that helped me.
What other nightmare audition stories stick out in your mind?
There were a couple of casting directors who were doing Disney Channel stuff when I was first starting, and I went in for them all the time. I don't even know if they work with Disney anymore, but there were a couple of times when they told me point-blank when I was really young, "You're not funny." I would go in and I'd be nervous and I'd forget a line and they'd send me out and yell at me. All they do is see kids all day long, so I think they're pretty used to speaking down to people, [saying] things that make you feel bad, things that are only making you more nervous. I think those casting directors told me I was not funny and I was never ever going to be on the Disney Channel—which is funny, looking back now.
Speaking of Disney, did you feel being a part of that entertainment machine helped you to explore and hone your talents?
I always look at it as a really intense internship or four years of college. It's very much a space that is protected and cultivated, and within it, they want to make you your best and your shiniest. They find girls and they love them and they basically make as much out of them as they can. In that, you're really experiencing a lot as a performer and as an artist. It's really educational about your abilities. They expect a lot, and I would not have learned my capabilities outside of a company like the Disney Channel, because they were constantly asking me to do more than I thought I knew how to do. I definitely think I became a consummate professional as well, with how much you work. It's like, "This week, you're sword-fighting and next week, you're a basketball star and now you're going to go to New York and talk about it like you've done this for 20 years. You've gotta represent the company, kid!" It's something I'm very glad I did. It broke through a lot of beliefs I had about myself at an early age.
What advice would you give your younger self?
It doesn't matter at all what anybody thinks about you, and all you should do is care about stretching yourself to your furthest reaches and having fun. I think I was so in my head [thinking], Oh, God, everybody hates me, that I really didn't fully live in the moment because I was so terrified of how big the platform was. I really didn't start exploring who I was until much, much later, only the last few years. I think it would've been much more fun if I'd gotten rid of that pressure on myself.
READ: How Kenny Ortega Discovered
Dove Cameron + More
What's the wildest thing you ever did to get a role?
There have been parts that I would have done [something wild] for. I definitely would do that for Glinda in "Wicked." I was prepared to do that for "Powerpuff," but they were like, "Oh, we actually really think you're perfect for this role." I would've done a lot, but if you were already seeing that too, great, I'll see you in Georgia. I'm a firm believer in what you want wants you, and what you're meant for is meant for you. I don't typically tend to pursue anything that hard, but I'm sure that there would be an exception. If they were doing a female Joker film, I think I would put myself on the street corner and get a megaphone.
You've done plenty of musical theater in "Hairspray Live!," "Clueless: The Musical," and "The Light in the Piazza." How did it feel to return to that format with "Schmigadoon!"?
It was so natural. I think musical theater is such a natural mode of performance because if you are a singer and an actor—and I think everyone will agree with me—they enhance each other and they go hand in hand more than you might think. There's that expression "Where words fail, music speaks." There's something really true about that. If both modes of performance are natural to you, emotionality spills forward into song. It's very, very difficult to have a musical performer who doesn't also have an element of acting or performing in them, because it's just natural. All of our favorite musical stars are also actors. And also, to be surrounded by people who are like-minded in that sense was so much fun for me. Alan Cumming and I walked away from that being absolutely fucking best friends and soulmates, which is the coolest thing I've ever said.
What has this project added to your acting skills?
I feel like it was really in my wheelhouse. I learned that there are more people like me. It's amazing to work with other crossover artists who do multiple kinds and incarnations of what we do. It's really inspiring to me. You learn to trust your talent and your ability more and more as you continue to work, and you can free yourself to play more.
Since this is a musical show, were you able to bring a little more physicality or play a little bigger than you normally would on TV?
I know there's this common [idea that] theater and TV are very different. My most recent musical theater role was "The Light in the Piazza," and the role was so challenging and so emotional. You have to feel it every night. Anyone who knows the show knows how emotionally taxing it is, and in order to do that, you have to really feel those feelings. I didn't play it broad at all. The only broadness is in your actual physical movements, because you're playing to the back of the house. Everything you're feeling is the same thing I would feel in film or TV. I've never had that experience of how different they really are. Obviously, it depends on everyone's directorial style. Working with Barry [Sonnenfeld, "Schmigadoon!" director] was a lifelong dream of mine, and it was so cool to see him trust his performers' ability. So much of what he did was allowing space for us to play and experiment.
What performance should every actor see and why?
Anything with Al Pacino in it. "Scent of a Woman," that monologue at the end, unbelievable. I think that Julia Louis-Dreyfus' performance in "Veep'' throughout is incredibly nuanced. If you're watching the show, it reads as a satirical political comedy, but she's so brilliant, she's so intelligent. Her performance in that, especially in the final season, is something actors should see. Steve Carell in "The Big Short," Stanley Tucci in anything since the dawn of time. Anything with Jessica Lange, Al Pacino, Stanley Tucci, Julia Louis-Dreyfus, Steve Carell.
How did you first get your SAG-AFTRA card?
I was so young that I don't think I know the answer to that question! That's a good question for my mother. I would be making it up: the pilot for "Liv and Maddie"? "The Mentalist"? I remember it was a conversation of what's going to get you unionized. I was 13 or so.
What was your first headshot like?
Oh, God, I think I was in long, blonde extensions, like white-blonde. I was in a powder blue T-shirt and the photographer had me in the weirdest position where I was on my elbows but bent to the side and looking up at the camera and it was the weirdest facial expression. I looked like I was seeing the sun. It wasn't good, and everybody was like, "That's the one!" I was wearing individual eyelashes that were sticking straight out and my eyebrows were plucked to death. I remember thinking, I look so good! I look back now and I'm like, What the fuck? Who advised me to take that photo? It's crazy what you learn when you've been doing this longer than 45 minutes.
Looking for remote work? Backstage has got you covered! Click here for auditions you can do from home!