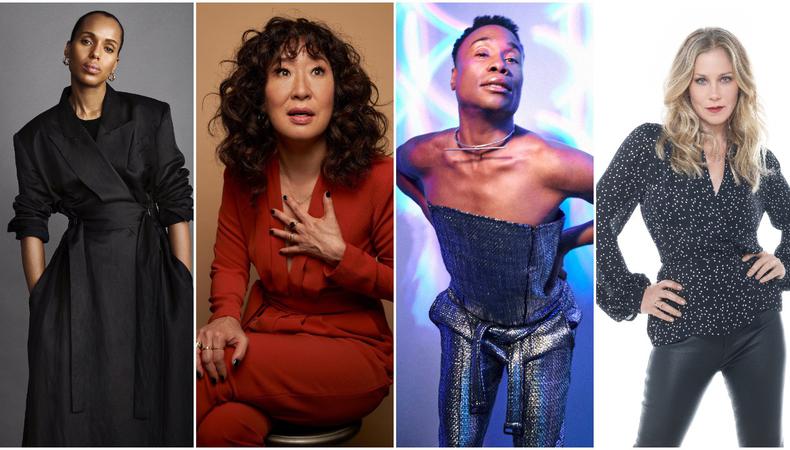 Given the pandemic and subsequent lockdown, TV has arguably never been more important than it is right now. And though they'll occur virtually, the 2020 Emmy Awards are sure to be extra celebratory this year. Tons of this year's nominees have already gone on the record with Backstage to share all their small-screen triumphs and tribulations, too, and to gear up for the show on Sept. 20, we're rounding up the best bits here. From Issa Rae to Kerry Washington to Christina Applegate, you'll want to savor this wisdom from your favorite 2020 Emmy-nominated actors.
Christina Applegate, leading actress in a comedy series, "Dead to Me"
"You should always be challenging yourself; if it gets too complacent or easy, then you're not doing it right. This shouldn't feel easy; you shouldn't be comfortable. Being comfortable, that stagnation is where you die—you can't be stagnant. You've got to push. You've got to expand."
Rachel Brosnahan, leading actress in a comedy series, "The Marvelous Mrs. Maisel"
"Midge is nothing if not open. She's the most unapologetically confident woman I've ever played. So, for me, feeling like I was well prepared with the dialogue and the text, trying to remain relaxed and open, was something that helped me find that confidence even when it was a struggle for me, personally. Midge doesn't struggle in the same way that I do."
Giancarlo Esposito, supporting actor in a drama, "Better Call Saul"
"We as performers and actors are very sensitive. I can tell when somebody is in pain, when they're happy, when they're in conflict. For actors, the biggest advice I could give is to observe everything."
Julia Garner, supporting actress in a drama, "Ozark"
"The most important part of being an actor is focusing. You want to work with a director where you get to that point where you don't need to talk to one another—you just know what the other [person] wants."
Betty Gilpin, supporting actress in a comedy series, "GLOW"
"I think I wasted, career-wise, so much time hiding. My first couple of years out of college, I associated ambition and rooting for yourself with vanity. But the moment things changed for me was when I added a person in my brain who was more of a stage mom, or just a person who believed in themself. I eliminated self-sabotage from my regimen and just tried to like myself a little more."
Dan Levy, supporting actor in a comedy series, "Schitt's Creek"
"In that process, you make that choice: Am I going to present myself as something that I think people want, or am I going to present myself as myself and risk that those people might not want what I've presented? And the reality is, if people don't want you for you, it's not the right fit."
Sandra Oh, leading actress in a drama series, "Killing Eve"
"To really do your job well, you have to understand your own mind, your own body, to chill yourself out. You can be off-put by a sound, or [if] it's cold outside, or [your scene partner] won't look at you—there are millions of things you have to stay grounded and open for... It takes its own chaotic life form and you just have to roll with it."
READ: 8 TV Stars Who STILL Do Not Have Emmys
Jeremy Pope, lead actor in a limited series, "Hollywood"
"Try it all. That is important to do as an up-and-coming artist. Stretch yourself. See what you can find and what characters you can play, and challenge yourself in that way. Another thing is just to own everything that you are, all of the unique qualities about you. It's OK to not be a carbon copy of so-and-so. Find what you have to give."
Billy Porter, leading actor in a drama series, "Pose"
"We speak into existence what we are. If you keep saying, 'I can't,' then you won't. If you say, 'I can,' then there's a transition that happens all around you. Me speaking life into myself ultimately has changed my life."
Issa Rae, leading actress in a comedy series, "Insecure"
"I had a realization driving one day where I was like, 'Oh, shit, I'm me. And there's nobody else like me.' Yes, we have things in common, but no one thinks or has the same experiences or has been through what I've been through, and that's what I need to mine, that's my currency at the end of the day."
Tracee Ellis Ross, leading actress in a comedy series, "Black-ish"
"I figured out how to enjoy the process. And to me, auditioning is an opportunity for me to play the role that I want."
Tony Shalhoub, supporting actor in a comedy series, "The Marvelous Mrs. Maisel"
"You can't lose sight of the roller coaster, because when you're at a high point, there's a tendency to feel like you've made it, and now you're on the ride. That is complacency—and guess what? It's gonna go down, inevitably. Then, when you get to the bottom, there's a tendency to fall into despair and surrender to that. At that point, you have to remember: 'OK, gotta focus on the work. This isn't going to last forever.' Then you climb that incline again."
READ: An Hour of Acting Advice From Tony Shalhoub
Kerry Washington, lead actress in a limited series, "Little Fires Everywhere"
"If you're just in a whirlwind of self-consciousness, that rarely lends itself to solid craft. I've found that if I come to the scene with the goal of making sure that the actor across from me is in truth, then I'll also be reaching for truth because I'll want to do whatever it takes to get them to have the most organic, authentic reactions. [It's] that willingness to be more focused on your scene partner."
Samira Wiley, supporting actress in a drama, "The Handmaid's Tale"
"You're OK exactly as you are. I hear a lot of people [say], 'Just be different!' And I think that while they have good intentions, it can be hard for a young person to hear because they feel like they need to do something to stand out and be different rather than just be themselves."
Ramy Youssef, leading actor in a comedy series,"Ramy"
"In the beginning years of comedy, you're doing a lot of what you think is funny or what you think comedy should be. You're tapping into a perception as opposed to what you actually care about and want to do. If you do it long enough and you're doing it honestly, you get to what you really want to get into."
Looking for remote work? Backstage has got you covered! Click here for auditions you can do from home!