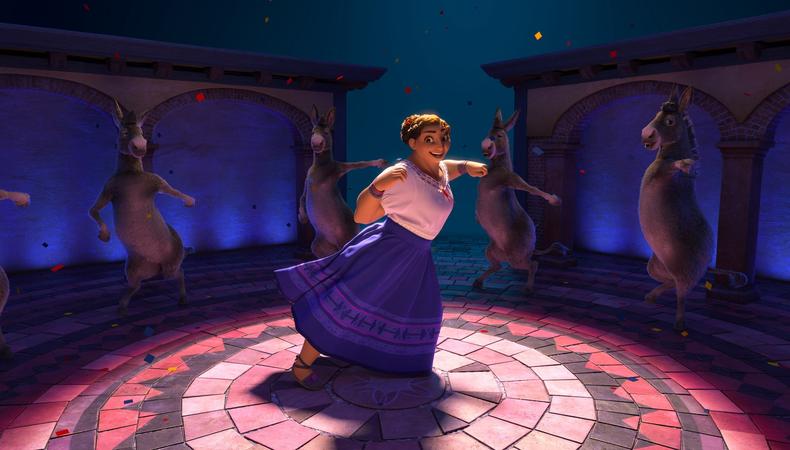 Aside from producing some fantastic family films, Disney has also managed to create a wealth of musical theater audition material. But trust us: No one wants to hear "Let It Go" again. Here are eight Disney audition songs for female performers that are familiar and fun—but won't make your listeners want to freeze you out. Whether you're an alto, soprano, or anything in between, there's something here that will work for your next audition.
1. "Poor Unfortunate Souls" From "The Little Mermaid"
Ursula is one of the best villains in Disney history, so if you're an alto looking for something to show you're a badass with even badder vocal range, look no further. Most songs from "The Little Mermaid" are sweet and (more than slightly) overdone, but this one's got edge and comedic appeal.
Or if you thrive on nuance, try channeling Melissa McCarthy's fabulous take on this classic in the 2023 live action remake.
2. "Surface Pressure" From "Encanto"
This uptempo song, performed by Jess Darrow, explores themes of familial expectations, strength, and survival. The song moves from a lower register to a delicate drip, drip, drip, which lets singers show off their vocal range.
3. "Mother Knows Best" From "Tangled"
"Tangled" became an instant classic in 2010, and it offers tons of beautiful music for performers. "Mother Knows Best," originally sung by two-time Tony winner Donna Murphy ("Passion" and "The King and I"), allows singers to get gritty.
4. "Just Around the Riverbend" From "Pocahontas"
Filled with some of the most beautiful music to ever grace a Disney film, "Pocahontas" has tons of options for anyone looking for an audition song. But considering that the Oscar-winning song "Colors of the Wind" might be a little overdone, opt for the equally melodic "Just Around the Riverbend." Originally performed by stage legend Judy Kuhn ("Fun Home"), this choice is great for mezzo belters and altos.
5. "For the First Time in Forever" From "Frozen"
No need to swear off "Frozen" for good—just opt for a lesser-known song if you want to sing from this viral Disney musical. "For the First Time in Forever," sung in the film by soprano Kristen Bell, is an upbeat option—just cut it off before Elsa (Idina Menzel) comes in with those "Let It Go" verses.
6. "Perfect Isn't Easy" From "Oliver and Company"
You can't underestimate Disney; this hit from the 1988 film is sung by none other than Bette Midler. (Yes, that Bette Midler.) Try this cheeky number on for size and remind casting directors that you're, well, perfect for the role.
7. "Belle (Little Town)" From "Beauty and the Beast"
You didn't think we could leave off this iconic film, did you? This Alan Menken and Howard Ashman song is perfect if you can hit those beautiful high notes.
8. "I Won't Say (I'm in Love)" From "Hercules"
Meg's song might be hard to arrange with all the backup singing, but it's hard to deny this is one of the catchiest and most contemporary Disney offerings. Belt it! Just for fun!
Looking for remote work? Backstage has got you covered! Click here for auditions you can do from home!