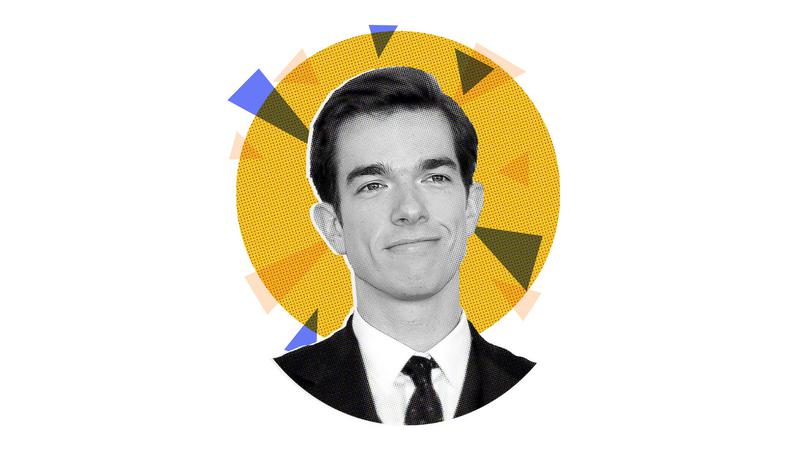 John Mulaney, an Emmy winner for his standup special "Kid Gorgeous at Radio City" and "Saturday Night Live," finds himself nominated again for Netflix's "John Mulaney & the Sack Lunch Bunch," featuring a cast of talented youngsters and zany appearances from Richard Kind, André De Shields, David Byrne, Natasha Lyonne, Annaleigh Ashford, and Jake Gyllenhaal. It's a one-of-a-kind comedy special–meets–variety show that pushed Mulaney into new creative territory.
How has your work changed since the pandemic?
I haven't written "King Lear," let's just say that. I think I'm a better collaborator than solo. Maybe, other than standup comedy, I like to write with people, put sketch comedy together with other people.... I miss people.
What did you learn from working on "John Mulaney & the Sack Lunch Bunch"?
It really cemented how much I love doing these hourlong specials. I've obviously done them in standup; and then the Broadway show Nick Kroll and I did, "Oh, Hello," was similar in that it's a lot of work leading up to this one hour. It's why I loved working at "Saturday Night Live" and why I like doing standup specials: I get to take time, lay out every idea, [and] put together an hour of entertainment. I think of them a lot like albums. This special obviously has a soundtrack album, but the special itself—that was years of ideas in one thing. There's something about running to the finish line of a special that I really like. Whereas [with] a television show, every week, you're trying to get 22 minutes together. That's like a marathon. I like sprints.
READ: How Backstage Helped Launch Jake Gyllenhaal's Career
"I had an idea at "Saturday Night Live," which was to take Vanessa Bayer and go to every open call in Backstage."
What was the original inspiration or impetus for a comedy variety special featuring children?
That's an interesting question, because I was looking to a lot of children's programming that I grew up on, like "Zoom," "3-2-1 Contact," "Sesame Street," "Reading Rainbow," those shows. And I was also just thinking about how PG- and G-rated things when I was growing up were kind of weirder and darker. They weren't inappropriate, but they did have an air of almost nihilism! After we cast it, I realized how incredibly talented all the young men and women in the Bunch were, and it became an even bigger performance piece. So, there were a lot of influences and it was very thrilling, but sometimes nerve-wracking, because I couldn't have told you in the week before we shot it exactly what it was going to look like or sound like. I couldn't really find a precedent for what I wanted, which was: I want kids to talk like me or other adults—just as casual and bored and over it and specific as adults talk.
The director of "Sack Lunch Bunch," Rhys Thomas, was telling me about this movie that I'd honestly never seen called "Bugsy Malone," which I only saw this week. Jodie Foster, Scott Baio, songs by Paul Williams—it's a musical film where it's all kids and they play gangsters in the 1930s. I thought, Oh, I didn't know this movie at all, but this is closer to what I was trying to do. [Laughs] So, funny you should ask that, because this week I discovered one of the influences.
What was the casting process like for those kids?
I thought, OK, I can have ringers or I can have kids who act like regular kids. And what I found was that I could have both. The kids in the Bunch were so good and could nail songs and learn choreography and were so great, but they weren't at all a stereotype I had of stage kids—which, by the way, might not exist; I think most kids are fundamentally kids. So, the audition was they would do a song or whatever they wanted to present; a few kids played an instrument. And then I think the more revelatory thing was there would be a 20-minute interview afterward, and I would just ask them questions about life, what are they afraid of, if they had a doorman they liked more than other doormen, whatever it was. And I think those really pointed to who we wanted. But each of those kids that we enjoyed the interview with had already knocked our socks off. I should really give credit to the Roundabout Theatre, who we cast it with. When I explained to them, "I'm nervous about some kid with an amazing voice is obviously going to be too seasoned to come off like a regular kid," they kind of said, "No, we can show you at least 15 kids who you can sit and talk to as kids and they'll be 10 times more talented than you."
What about inviting the adult guest stars?
Honestly, it started with: Who did I want to ask? André De Shields and David Byrne [and] Annaleigh Ashford [were] at the top of that list. I have to say, I'm not comparing it to non-theater people, but the ability to learn these songs in a quick fashion—you know, most everyone was shooting something for part of the day elsewhere or had a Broadway show that night. André had to do "Hadestown" the evening of the day we shot that algebra song, David Byrne was doing "American Utopia," and Jake Gyllenhaal was doing "Seawall / A Life." So we had people who were incredible and learned and nailed this stuff so quickly.
"It's really easy to watch something. It's harder to read something. If you want to be a writer or you're a writer-performer…if you sent me something I could watch, it was a lot easier."
Did you ever use Backstage for auditions or gigs?
No, I never did! But I had an idea at "Saturday Night Live," which was to take Vanessa Bayer and go to every open call in Backstage. But then I thought, How [would you] bring a camera in? I pitched it to Vanessa but then had all these caveats. [Laughs] "I don't want it to be like 'Borat'—we're not trying to make fun of the productions. But also we need you to not be Vanessa, so we'll have you in wigs." Yeah, I really wanted to take her to every open call.
What is your worst audition horror story?
A very prominent film director—I started my audition, and he said, "Lower your voice, you're not onstage!" That was years ago, but I can still get mad about that. I was so mad that I left and called Nick Kroll and I told him every reason why I was a bigger deal than this very famous director. [Laughs] Like, "Who the hell does he think he is?" And, by the way, at the age I said this, I had done zero.
What's the one piece of advice you would give your younger self?
When I was, like, 25, ABC was looking for pilots. They wanted a lot of people to make pilot presentations, seven minutes [long]. For me, a very young comedian, you could actually make a product to pitch that they would watch. And I said to my agent, "What kinds of shows do they want?" And he said, "Oh, they want hits." And I try to keep that in mind at all times. Like, no one knows. What they do know is they want it to work. So rather than that old adage, "Nobody knows nothin'," I think I would just say, "You know what people would like? Hits." And whatever hits, they'll be happy with, so you might as well do what you want.
What advice do you have for people looking to audition for "SNL"?
It's really easy to watch something. It's harder to read something. If you want to be a writer or you're a writer-performer, sending in a packet of sketches—many have been hired off of a packet, but in terms of standing out, if you sent me something I could watch, it was a lot easier. People are inherently lazy. I think it's benign, but they're lazy.
Keep your "SNL" audition really short. If anyone tells you to go over five minutes, they're lying to you. And do your best stuff. I knew, going into the audition, that I wasn't going to get it. I was like, there are so many male caucasian brunettes, there's no need for me. So, I didn't try to learn a Gordon Ramsay impression in 24 hours. I just did the standup I had, which was more act-out-y. You just want to give a sense of yourself. The amount of people [cast] who we've never used one thing from their audition is numerous. Some people would audition with an impression and it would be on the first show; a lot of times, it's not. They're just trying to get a sense of you.
Any other words of wisdom for performers?
Having watched people audition a lot now, as a producer at "SNL" and even doing "Sack Lunch Bunch"—I tried to convey to the kids sometimes, "I want you to do well, too. All of us want you to do well. None of us care if you dropped the lyric and need to restart. It's fine, this isn't a quiz." It's often the case for adults [that] there's a feeling of antagonism [in the audition room], that it's adversarial. Oh, the casting director is eating lunch? I auditioned once for an Alexander Payne movie; the casting director was eating the biggest salad in the world. And he was talking to me, he couldn't remember what he saw me in, and he kept eating salad. Afterward, I was like, Goddamn, he wouldn't stop eating that salad. But I looked at the line in the hallway and thought, Oh, he's stuck in there all day. That's why his mouth was full of tuna niçoise.
This story originally appeared in the Aug. 27 issue of Backstage Magazine. Subscribe here.
Looking for remote work? Backstage has got you covered! Click here for auditions you can do from home!