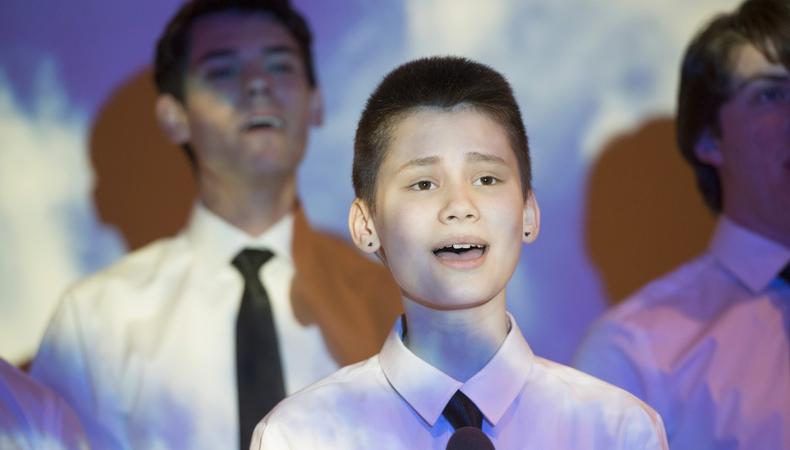 At 14 years old, Ian Alexander wasn't looking to become a working actor when he first stumbled upon a casting notice for what would become "The OA" on Netflix. But reading the notice, which described the character of Buck as a 14-year-old, Asian, transgender boy, he couldn't help but become immediately intrigued to see a character so perfectly in line with himself. And so he auditioned for the series' creators, Brit Marling and Zal Batmanglij, and was soon after cast. Now at age 17 and two seasons into the streaming hit, he's being called "the future of trans visibility in Hollywood."
READ: The Specific Acting Challenge of Netflix's 'The OA'
In "The OA" Season 2, which premiered late last month, Alexander takes on dual roles, reprising his performance as Ian and playing Michelle, whom the actor describes as a pre-transition version of Buck. Without giving too much away, the character of Michelle exists in another dimension, a "Sliding Doors"-esque exploration on life as a non-linear journey.
What has playing Buck and Michelle added to your acting skills?
I've never played two roles at once, which I thought was really intriguing to have the duality of two very different characters within just a few weeks of each other. We shot all of the Michelle stuff separately, which made it easier to divide the characters from day to day in my mind. It challenged me as an actor. Especially because Michelle is like a pre-transition version of Buck, and that was definitely interesting, to bring gender into it, as well.
I'm very familiar with Buck. Buck is a character that I definitely hold very close to my heart and I see a lot of myself in him. So it's very easy to get in character for him because I feel like I'm just playing a slightly different version of myself. But it was more difficult with Michelle having to completely transform myself; go to work that day dressed as Ian, my short hair, my regular clothes, and then have to change into a dress or something that would be considered more "feminine." And then to wear a long wing! That was the first time I'd seen myself with long hair since eighth grade. So that was a huge shock to me. But I was OK with it. [Director] Zal [Batmanglij] ran it by me before they even wrote those episodes to make sure I was comfortable. And I was, but I was surprised to look at my reflection and not recognize myself. I think that's true for a lot of trans people: We do look in the mirror and not recognize our reflection because who we are on the outside doesn't necessarily reflect who we are on the inside.
How did you prepare to play these roles? How would you describe your process?
I don't think they ended up including this in the show, but a couple of months before I went out to film in L.A. for the episodes that Michelle is in, they had me create photos of what was going to be Michelle's Instagram. So I gathered together my friends and picked out a bunch of different outfits and wigs and makeup, and I think that that really helped me prepare for the character because I was putting myself in the shoes of Michelle and not Buck or myself. And the preparation for Buck has been the same for Part 1 and Part 2: I basically keep a character journal and draw things that are part of his life. I write things in the character or notes about the scene as if it were happening in real time. It was definitely interesting having to prepare for both roles at the same time.
Why was Michelle a character that especially interested you in the first place?
When Zal called me, I think it was August of 2017, he brought up the idea of having me play Michelle, who would be considered a pre-transition version of Buck, and I was immediately intrigued. "Orange Is the New Black" is the only show I've seen where they really dive into the pre-transition version of a trans character, and I felt really connected to this idea because I do feel like I have a past self—a female form of myself that no longer exists. I thought it would be really interesting to revisit that side of myself and experiment with the different possibilities of acting as a trans actor in portraying the different experiences of trans people and the different characters we play throughout our lives until we truly discover who we are. So it felt very natural to me to put on this costume because I feel like I wore a costume for a big part of my life.
READ: How to Audition for Netflix
What advice would you give your younger self and other young trans actors wanting to get their start?
So my personal story of how I came to be on "The OA" is very unique. I saw an open casting call online, I think it was Tumblr or Twitter. It was kind of floating all over the place because the trans community was like, "Oh my God, this is amazing; we've never seen such a specific casting call for a trans actor before." So all of my friends were sending it to me because I am trans, I'm Asian-American, and I was 14. I had no previous acting experience, so I just went for it and sent in a headshot, which was actually just a selfie. And that's how I ended up getting the role. So my best advice would be to put yourself out there, look for open casting calls, go to events where there might be casting associates, and take that leap of faith because you never know where it will happen.
How do you typically prepare for an audition?
That's an interesting question because there's still a little bit of a learning block for me. I had never been out on any auditions before "The OA," so I'm still getting used to that. But I typically memorize my lines first through a collection of different methods. I'll often write them out because writing things really helps me memorize. And then I'll recite them, recording myself with the other lines and then just saying my lines out loud. And then just reading them over and over. So it's a combination of visual and kinetic. I'll also try and find an actor friend of mine so that they can direct me and give me advice on direction with where to go. I definitely still am learning, though, and there's plenty of room to grow. I'm excited to see how I develop in the next couple of years.