Nicole Kidman gets animated when she's talking about acting—not just her life as an actor, but the true nuts and bolts of it all. She sits up and leans in close. Her voice, sometimes such a whisper that you have to hunch forward to hear, increases a few decibels. You might imagine that someone who has been performing onscreen for as long as Kidman would be tempted to fall into a rote response about how the actor prepares. Instead, she brightens when getting into specifics; interviewing her feels like a very glamorous TED Talk for one on acting.
How Nicole Kidman Got Herself Into the Right Audition Rooms
First, there's what she calls the "due process" of simply living as an actor: finding the help, the energy, and the protection to manage her day-to-day needs. Then come the diligence and focus required for a particular role. Both demand a stamina not available to those who aren't made for this vocation. Acting, Kidman believes, is either in your blood or it isn't. Figure out if it is sooner rather than later, because in her experience, the lifelong engagement can be quite literally transcendental.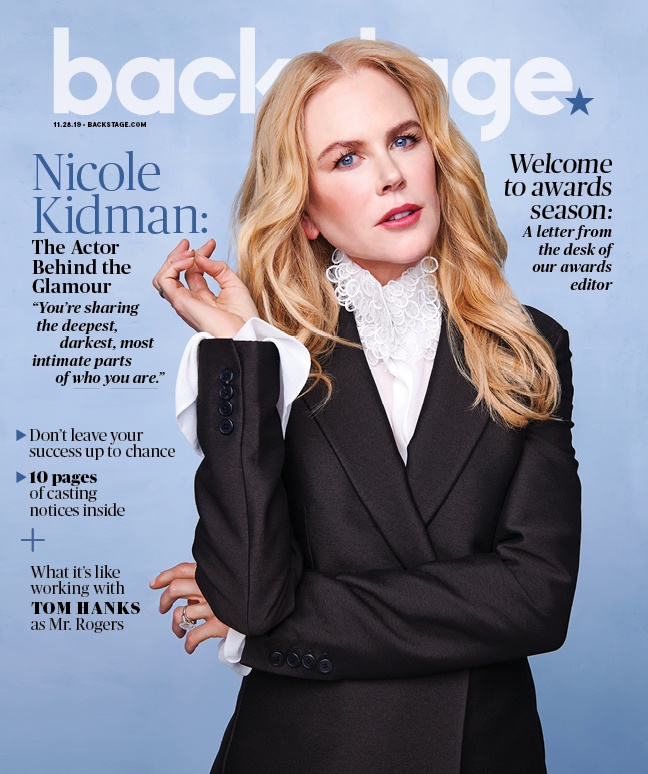 "You're existing in almost this other realm when you act, when you come into another person's psyche and the director's psyche in such a deep way," she explains. "The bonds that are formed are beyond words. You're sharing the deepest, darkest, most intimate parts of who you are."
If you've watched Kidman perform onscreen or onstage, you can attest to the different psyches in which she has existed. But spending the afternoon with her, you get a much clearer sense of just how far she's stretched Nicole Kidman the person to embody Nicole Kidman the artist.
READ: How Nicole Kidman Got Over Her Shyness While Acting
Even now, she seems diffident in the milieu of celebrity—the fussing, the compliments, the flattery—as if she's still surprised to be so lucky. Yet, there's bravado to the characters she plays, so long as they demand it. Like many in her profession, the Oscar winner thrives in the knottiness of contradictions like this, and when she wields that duality to full effect onscreen, it borders on the mystical.
"That emotionality is probably my most powerful axis. It's a detriment in real life sometimes, the empathy where I can actually step in and suddenly I'm in that person's life," she says of embodying her varied characters. (She finds it particularly difficult in her work with UN Women, for which she's been a goodwill ambassador for 13 years.) "I have to be so careful, because I can absorb the emotions and the emotions can make me sick…. It's like you're in dangerous territory sometimes."
Nearly four decades into her career, Kidman is still discovering how to place boundaries within her work—and then find their edges. Such was the case on "Big Little Lies," HBO's explosive, two-season cultural phenomenon about five mothers navigating tragedies small and large—from murder investigations to polar bears going extinct—in Monterey, California. On the bill are some of Hollywood's most revered women: Reese Witherspoon, Laura Dern, Meryl Streep, Zoë Kravitz, and Shailene Woodley. Kidman, an executive producer alongside Witherspoon, stars as Celeste Wright, a retired lawyer and mother of twin boys. After the sudden death of her abusive husband raises questions in the gossipy town, she's forced to relive her trauma and its aftermath during a custody battle with her mother-in-law, Mary Louise (Streep).
"I've had so many people come up to me and write me letters about [what Celeste] understands, which is: 'Why do I stay and why did I stay and why am I still holding [on to] him and wanting him even though he's gone, and why is that pull still there?,' " Kidman says. "That is unfathomable to people who have not experienced that sort of addiction or that abuse."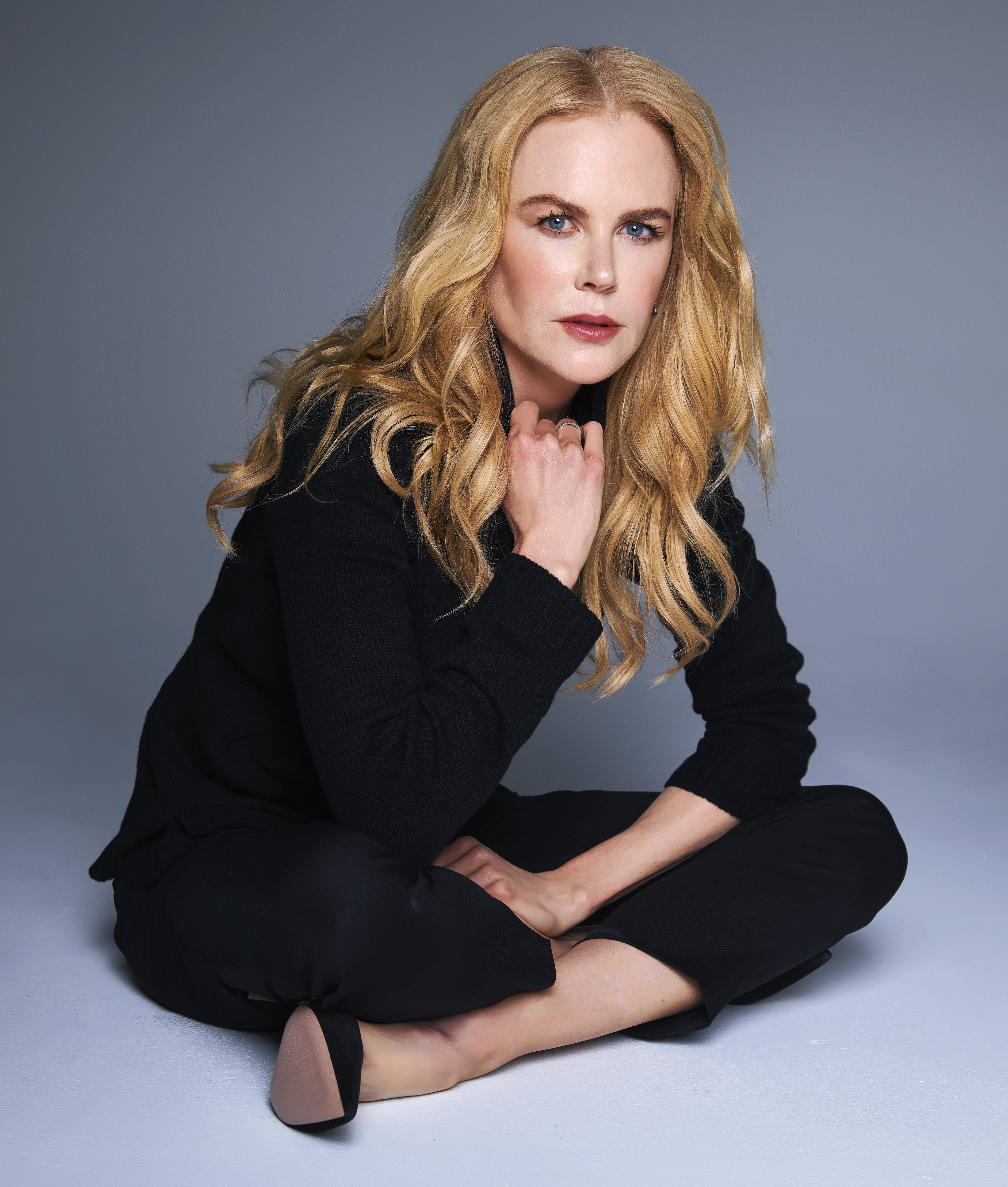 On the first season, Kidman was so immersed in the physicality of Celeste's abuse she came home to her actual husband, country singer Keith Urban, with her back covered in bruises—the challenge of what she calls "moving in and out of her own existence." It was a similar case with "Destroyer," in which she played a rage-fueled LAPD detective dealing with blowback from past decisions. Urban, for the first time ever, was anxious for the film's production to wrap because Kidman was so distraught.
"I'm still learning, but at the same time, I was like, 'Well, if women go through this, I can do this! I can sustain parts of it,' " she says. "That's what I mean by this sort of commitment [to acting] that's in the blood. I don't recommend that [approach], but I'm learning now that I was such a visceral actor, especially when I first started."
Even without black-and-blue proof, there's always an inward psychological momentum to Kidman's fraught characters. It's no small feat that she believably plays within the emotional grays of Celeste's relationship to her husband, Perry (Alexander Skarsgård), both her sexual attraction to him and repulsion at their violent, charged dynamic. It's in part what earned her a SAG Award for the performance in 2018.
But the show's unplanned second season afforded her an even more rewarding honor, depending on who you ask: digging into one of the series' meatiest dynamics with Streep. The most Oscar-nominated actor of all time came on board as Celeste's mother-in-law and foil, and her courtroom scenes opposite Kidman were some of the most talked-about TV moments of the year.
"She steps on, she's just pure talent," Kidman says of the luminary. "No matter what genre, no matter where she is, no matter how she does it, it's clear and unbelievably pure." Moreover, the plot shift gave Kidman the opportunity to engage differently with Celeste's history as a lawyer, her complex, self-sabotaging tendencies, and her autonomy. She mastered dense scripts and legal jargon rather than physicality for a standout performance on a series already packed with them.
READ: How to Push Back on Acting Notes, According to Meryl Streep
Yes, "Big Little Lies" proved a trying experience, but Kidman says Celeste was one of the rare characters whose emotions "came to her" easily. Other roles, she says, require different approaches; accent work, a physical change in how she carries herself, or immersion in a very different way of thinking all benefit from deep research in tandem with an emotional response. To further her exploration, Kidman sometimes reaches for dream analysis and animal work—"I align a particular animal to a character, in the way in which they move or behave."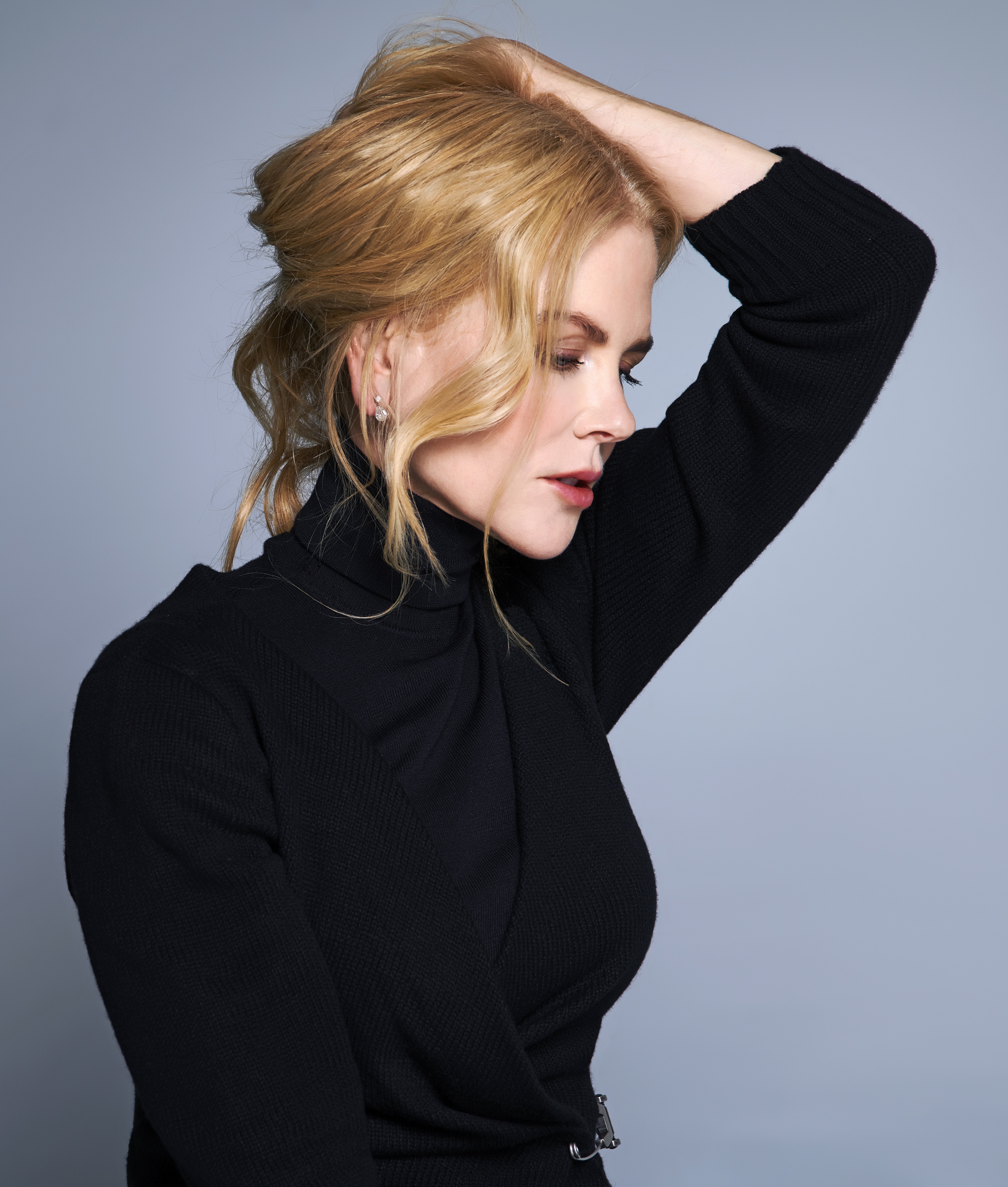 Beyond herself, she leans on writers and especially her director to flesh out a backstory and guide decisions. To play a real person, as she did with Virginia Woolf in "The Hours," Kidman employs a mix of techniques: She researched extensively to build her Woolf, finding a recording of the pioneering writer's voice in the process. She considered using it onscreen until director Stephen Daldry vetoed the idea, a lesson in the actor's prescribed pliability, she notes.
Now, the opportunity to play a real person—this time living—has come up once again with Fox News staffer Gretchen Carlson in "Bombshell," the story of the Roger Ailes and Fox News sex scandal. She stars opposite Charlize Theron as Megyn Kelly, John Lithgow as Ailes, and Margot Robbie. Because of a nondisclosure agreement Carlson signed with Fox, she was unable to speak with Kidman ahead of filming, so the actor relied on hours of footage of the former to build the rhythms of her speech, her mannerisms, and her movements in what is yet another tour de force performance within Kidman's lengthy and varied résumé.
With more than 80 projects to her name, the defining trait of Kidman's success remains her ability to use her work to evolve. From budding ingénue to bedraggled, world-weary lead, she'll move from "Moulin Rouge!" or "Happy Feet" to "Boy Erased" or "The Killing of a Sacred Deer," almost as if to show us she can. And for someone who wasn't sure she'd be able to remain in control of her career choices, even having the option is a sweet surprise.
After the birth of her first daughter with Urban, Kidman hit a career slump she worried she wouldn't get out of. "The work just wasn't there," she says. "You call your agent and you go, 'Is there anything?' And they're like, 'There isn't, actually, right now.' " It's primarily why she decided to produce 2010's "Rabbit Hole," a behind-the-scenes responsibility she's carried into "Big Little Lies" and the upcoming HBO series "The Undoing." It's put her in a position to advocate both for projects and the actors in them—as she did for Woodley's and Kravitz's storylines on "BLL." "That's a really wonderful thing when you're in that producer place to be able to go, 'No, no. Let's listen to this, because there's going to be value here.' "
Her new attitude mirrors the tectonic shifts that have allowed women at all points in their careers to stay in the spotlight and have more say about what that should look like. (When Kidman won last year's SAG Award, she noted in her speech that every woman in her category was over the age of 40, notoriously the decade roles begin to dry up for female actors.) "Thank god for television, because if it was just left to films, we wouldn't have the chance," she says. In the last two years alone, Kidman has released or worked on eight different projects across film and television. It helps to stay busy and open for the camera, she adds. If she's out of work for too long, a rigidity creeps in that she hates.
It doesn't seem she'll have that problem at any point in the foreseeable future. As of late, her projects have loosened her up in a way they haven't in a while: She's back in her Nashville, Tennessee, home taking dance classes for "The Prom," Netflix and Ryan Murphy's film treatment of the Tony-nominated Broadway musical, due out in 2020. The experience is a small but welcome reminder of where she's been and what's to come.
"I've now, at this age, been through so many different existences and experiences, and also experienced an enormous amount of losses and firsts, and I bring all that [to the work]. When I was a teenager and I was acting, it was a far different place," she says. "The thing you just hope is that the roles stay, because as you get older, you bring so much more with you."
No matter the role, if it's Kidman who's bringing it, we're taking it. No questions asked.
This story originally appeared in the Nov. 28 issue of Backstage Magazine. Subscribe here.
Photographed by Matt Doyle; styled by Julia von Boehm; makeup by Romy Soleimani