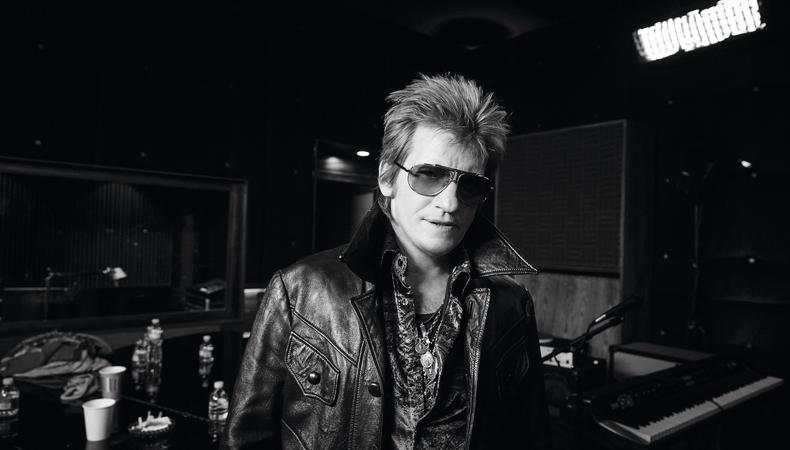 Multihyphenate Denis Leary is gearing up for his new FX show "Sex&Drugs&Rock&Roll," which he created and stars in, about a group of middle-aged men who never achieved their dreams of fame and fortune. He talks about how his creative experience helped his acting, how he moved from theater to film and TV, and the key to improving any project.
Tell us about "Sex&Drugs&Rock&Roll" and playing Johnny Rock.
Everyone in America seems to be so consumed with the thought of getting famous, so I thought it would be interesting to examine a group of people who were all so desperate to be famous and didn't make it. [The show asks], What are you in it for? Are you in for empty calories or are you in it for your art? I thought that's where some great comedy and some great drama would lie.
What have you learned on "Sex&Drugs&Rock&Roll"?
Go out and hire really great actors. It makes the job so much more fun to go to work in the morning, but also it makes the end product so much better. I like to do improvisation and let the actors have total freedom most of the time. [ADDITIONAL FOR WEB] That's the real key: it doesn't matter how great the project is. If you don't have good actors, nobody's going to see it because it's not gonna happen.
How did you get your Equity and SAG-AFTRA cards?
I got my SAG-AFTRA card right after "Strictly Business"; that's what got me out of the theater and one foot into film and television. My Equity card was during "No Cure for Cancer" at the Actors' Playhouse in '91. My wife and I were so broke and the money in theater is so bad that I was in a one-man show that was selling out but we were barely breaking even. So when my wife got her due date, I thought I was going to have to quit the show and go home and take care of my son Jack because we couldn't afford a babysitter. Then right toward the end it just took off, so by the time my daughter was born things were actually happening.
Tell us about your survival jobs.
My parents were Irish immigrants and we didn't have a lot of money so if you were 11 or 12, you were expected to get a job. I had a paper route, and by the time I was 13 I was working as a dishwasher at a diner in my neighborhood; I actually liked that. It put something like $35 a week in my pocket, which was a lot of money for a high school kid.
What do you wish you'd known before you started acting?
I wish I'd known what I came to learn as a producer and writer, which is it's never really a rejection based on you; it's based on what the vision the director or the writer has in mind for the piece. You can be an amazing actor and kill it in an audition setting, but you don't get it because you don't match up with who they already have in mind for the other parts or you don't have the right chemistry. Once you learn that lesson, it's a great thing to have as an actor.
How do you typically prepare for an audition?
This is the absolute truth: I was the worst auditioner in the world. It's one of those things that happens to a lot of actors. I'm much more of a "gimme the ball" kinda guy. Turn on the lights and open the curtains at 8 o'clock, "gimme the ball, I'm ready to go." Sometimes you go in there and, especially when you're reading for camera, there's a casting assistant who's not an actor reading off a page. There's no vibe. I never got used to it and I never got a part I auditioned for. And as a director-producer-writer, I hate auditioning actors because my heart breaks while I'm watching them do the work, even if they're doing good work!
One of the great things that has happened in the last few years is the actor's ability to self-tape in a comfortable setting where they can feel good in a room in front of a camera. I've hired so many actors [that way].
On whom do you have an acting crush?
I say this all the time—and I say it in a joking way—I'll see a terrific young actor give a performance and I'll tell my kids, "I hate that person," because they're just so good! Because I know what I'm capable of, I look at [them] with utter amazement because I would never be able to do it. I remember seeing Christine Ebersole when she did "Grey Gardens." I couldn't get up out of the seat; I was so stunned by what she did onstage that night. Also, I thought Bradley Cooper in "American Sniper"—I don't care what people thought about the movie, I'm just talking about the pure performance—I couldn't find an inkling of Bradley Cooper.
A couple of times a year I just get so swallowed up by somebody's talent I just come home and go, God! How the fuck did they do that?
Which of your performances has left a lasting mark on you?
Certainly working on "Wag the Dog" with [Robert] De Niro and [Dustin] Hoffman and [director] Barry Levinson. [The film] was from a David Mamet script, but we did a ton of improv. We had a two-week rehearsal period where we went through all these scenes and improvised them, and then on set we'd do a scripted version from Mamet and a version that was completely improvised. It was like doing theatrical scenes in an actual location.
Honestly, the main reason I started to be an actor was I saw "Mean Streets" when I was 14 or 15 years old. Growing up I didn't go to a lot of movies, and the people in them always seemed so big: John Wayne, Frank Sinatra, Paul Newman. When I saw "Mean Streets" and I saw those characters, those people sounded like people in my neighborhood; I knew guys that acted like that, and I thought, Maybe I could play one of those guys. So to work with those guys years later and to be able to be improvising with Dustin Hoffman is something I'll never forget. I was a sponge. I just sucked up every ounce of energy and every cell I could from those guys.
What is your worst audition horror story?
When I first started out in the late '80s I was hired on this show called "Remote Control" on MTV, which was like a game show parody that had a series of characters come out during the course of the show that were played by several actors, many of whom went on to fame: Adam Sandler, myself, Colin Quinn—terrifically talented people. I played Keith Richards and Andy Warhol. At that time, Oliver Stone was making a movie about the Doors, the rock group, and Andy Warhol was in several scenes. Some manager, agent, CD at the time said, "You should go in and audition for that!" I said, "Well, my Andy Warhol's kind of goofy, I don't know if it's the right thing." Anyway, they talked me into it. I put on the wig; I put on the glasses, the makeup that I wore on television to play the part. And I go and I wait, and there's no one there that looks like Andy Warhol; they're all auditioning for him but no one looks like him. Finally I go in and do my thing and Oliver Stone says, "What the hell is that? That's nothing like Andy Warhol! That's like a cartoon! Get out!"
It was soul-crushing at the time, but a few years later I got famous and I wanted to meet with him about "Natural Born Killers" and I told him the story—I didn't think he would remember it—and he goes, "Oh my God! I remember that. That was such a horrible audition!"
I wasn't meant to play Warhol, clearly. I think if anybody in this world is thinking of who should play Andy Warhol my name is not on any list. Patti LuPone's name would be on that list before my name; that's how not right I am to play Andy Warhol.
Like this post? Check out more of our Backstage 5 interviews!