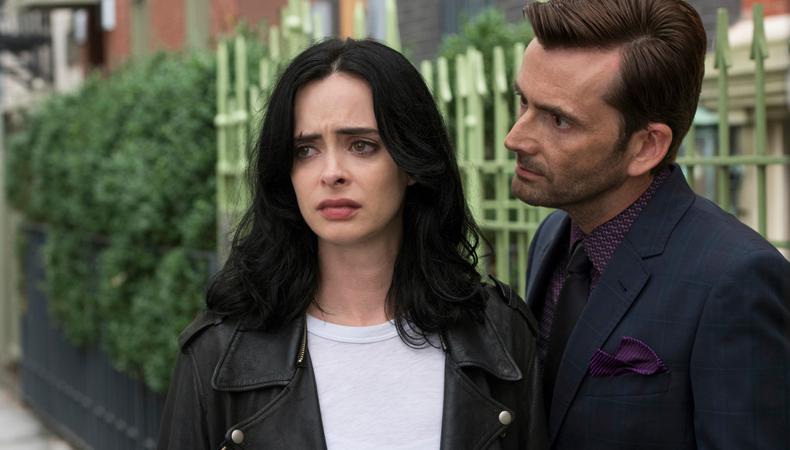 Welcome to Rumorville! Here you can learn about casting news that's about to break in Hollywood. These speculations might be only rumors, but that doesn't mean you can't follow the trail all the way to the audition room.
"Jessica Jones," "Luke Cage," and More
Could we see the return of Jessica Jones, Luke Cage, and more Marvel TV heroes? Speaking at Disney+'s virtual TCA press tour, chief creative officer at Marvel Studios Kevin Feige hinted that some of the company's earlier television properties could someday make their way home to the Disney+ universe. Said Feige, "I think we probably could do it, I think a lot of that stuff comes back to us. There's always rumors online about things reverting, sometimes that's true, sometimes it's not, but I'm not exactly sure of the exact contracts but perhaps someday." Most of those properties, including the hit series "Jessica Jones," as well as "Daredevil," "Luke Cage," "Iron Fist," "The Punisher," and "The Defenders," were launched at Netflix and eventually canceled. Now, with Disney+, Marvel Studios has a slew of TV titles in the works or in progress, including "WandaVision." Feige was promoted to his current role in 2019 and now oversees Marvel Television and Marvel Family Entertainment coming under the Marvel Studios banner. He has expressed his disappointment that he didn't get to work on those older properties. Back in 2019, "Jessica Jones" star Kristen Ritter shut down rumors about a potential return while talking to TVLine, stating, "Do I think I'll play her again? I don't think so. I feel like I've played her, you know? I feel really good about it. I feel good about closing the door." Showrunner Melissa Rosenberg also expressed a similar thought: "I feel like this is a really complete, closed chapter. I mean, never say never. But I feel ready to tell all-new stories." Different casting directors worked on the different Netflix series, including Kerry Barden and Paul Schnee on "Jessica Jones," but Marvel CD Sarah Finn would likely take over for any property we see more of.
"The Killer"
After the success of his recent feature "Mank," David Fincher is back at Netflix for more. The director is reportedly developing an adaptation of Alexis Nolent's "The Killer" graphic novel series. Fincher will also reteam with his "Seven" screenwriter Andrew Kevin Walker, who will adapt the novel. According to Deadline, Michael Fassbender is in talks to star in the pic, but there has been no comment from the streamer yet on the potential casting. The graphic novel series follows a cold-blooded assassin "who begins to have a psychological crisis in a world with no moral compass." Fincher recently made Netflix his home for the foreseeable future after signing a four-year deal with the streamer. Fincher worked with his usual casting director Laray Mayfield on "Mank," so expect the same for "The Killer."
"Twisted Metal"
PlayStation is having quite a past few months, both between the coveted release of its PlayStation 5 and in having its properties adapted for the screen. Following the recent news that Pedro Pascal and Bella Ramsey will star in a series adaptation of "The Last of Us" at HBO, a live-action series of the "Twisted Metal" PlayStation game franchise is officially moving forward. Sony Pictures Television and PlayStation Productions will develop the series. First released in 1995, the games (and now the show) are about "a motor-mouthed outsider who is offered a chance at a better life, but only if he can successfully deliver a mysterious package across a post-apocalyptic wasteland." The new action-comedy series will be based on an original take by Rhett Reese and Paul Wernick, the writers behind "Deadpool." There has been speculation that Will Arnett will voice Sweet Tooth, the famous deranged clown who drives an ice cream truck, but no deal is currently in place. Michael Jonathan Smith ("Cobra Kai") will write and executive produce the series with Reese, Wernick, and Arnett set to executive produce.
"Gone Bamboo"
While the late Anthony Bourdain made his bones as a chef on TV, his side career may get the small screen treatment, as well. First reported by Deadline, Webster and Robert Stone have acquired rights to Bourdain's crime novel "Gone Bamboo" for a scripted series based on a pilot. The second published work of fiction from the chef, "Gone Bamboo" follows the "sharpshooting hedonistic assassin Henry Denard, who botches a career-capping hit" and must enlist the help of his wife to save themselves and keep the peace in their tropical paradise of St. Martin. Said Bourdain of the book, "I wanted to write a sociopath beach book. I wanted a hero and heroine as lazy, mercenary, lustful, and free of redeeming qualities as I sometimes see myself." And the Stones seem to agree. The brothers' producing credits include "The Conspirator," Gone in Sixty Seconds," and "The Negotiator."
Looking for remote work? Backstage has got you covered! Click here for auditions you can do from home!