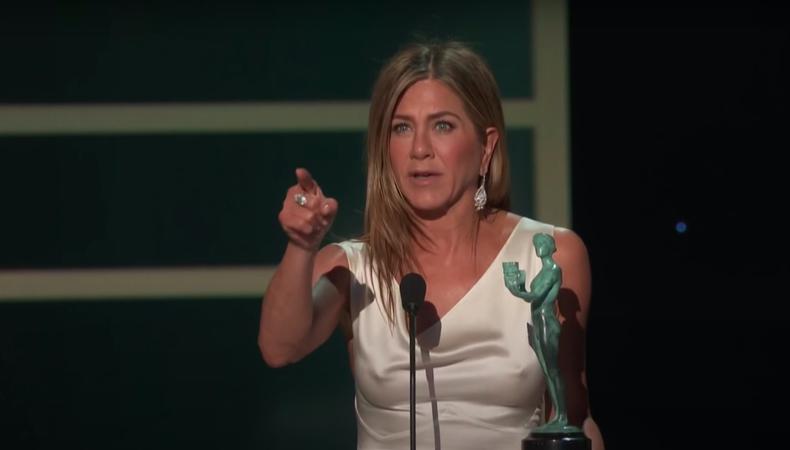 Want the inside scoop on all things awards? Welcome to Letter From the Awards Editor, our series in which Backstage's Jack Smart takes a look at the latest film and television news, industry trends, and awards projections that matter to today's working actor.
Dearest Backstager,
What are the best awards acceptance speeches of the past year? As always, the world may be burning, but your trusty awards editor is back to ask the truly important questions.
In all seriousness, though, looking back at 2020's best awards acceptance speech-givers helps prepare us for the unprecedented film awards season now underway. The highlights below are divided into pre- and post-pandemic moments, a reminder of how drastically the COVID-19 pandemic has affected, and will indefinitely continue to affect, Hollywood at large and its congratulatory rituals in particular. (Here are our favorite speeches of 2019 by comparison.)
This month, with the ongoing nominations announcements of major voting bodies, there's a comfortable familiarity (mild controversy at the Golden Globes; weird indies in the Gothams and Spirit Awards; Oscar winners Viola Davis, Gary Oldman, and Olivia Colman back in the race!) mixed with the sense of unease and instability that has so characterized daily life since last March. The approaching 2021 film and guilds season is giving me déjà vu from the 2020 Emmy Awards: my days are spent bemusedly wondering how the biz's favorite traditions will adapt to such chaotic and tragic times.
Above all, I wish the pandemic hadn't spiraled out of control to the point that Glenn Close, receiving her 15th nomination for a Golden Globe Award, can't potentially give another touching and exuberant speech onstage in front of her adoring peers. If you're looking for the ultimate guide on being a great awards-accepting orator—a skill to cultivate if you want to achieve artistic greatness!—her 2019 speech made Backstage's how-to round-up below.
So without further ado, here are seven acceptances speeches from the last year that, regardless of the circumstances in which they fell, we will always remember fondly:
Michelle Williams at the Golden Globes
Williams has become a top-tier Hollywood speech-deliverer. Her many acceptances for her work on "Fosse/Verdon" were so fiercely righteous and truly graceful, it's easy to think next time she shows up on voters' ballots, it'll be more tempting to pick her. "Women, 18 to 118, when it is time to vote, please do so in your own self-interest," she said at last year's Globes. "It's what men have been doing for years, which is why the world looks so much like them." Whew!
Brad Pitt at the SAG Awards
One of the best treats of last year's film awards season was Pitt's emergence as a bona fide stand-up comedian. Praising his "Once Upon a Time in Hollywood" co-stars' feet and saying "Quentin [Tarantino] has separated more women from their shoes than the TSA" is only one of his many memorable quips.
Jennifer Aniston at the SAG Awards
The SAG Awards are Backstage's favorite awards show for a reason. The sense of camaraderie in a room full of actors honoring their craft is an inspirational reminder of the joys, struggles, and potential triumphs an onscreen career entails. No one reminded us of that journey better than "The Morning Show" winner Aniston last year, telling the crowd about her earliest acting dreams and how a Bob's Big Boy commercial and a SAG card helped achieve them. "They were humble beginnings but you have to start somewhere." Preach!
Adam Sandler at the Spirit Awards
Sandler made what felt like awards history with his 2020 speech calling the Film Independent Spirit Awards "the best personality awards of Hollywood." Delivered with idiosyncratic gusto the day before the Academy Awards—at which his turn in "Uncut Gems" was snubbed—he said, "Let all those feather-haired douchebag motherfuckers get their Oscars tomorrow night. Their handsome good looks will fade in time, while our independent personalities will shine on forever!"
Bong Joon-ho at the Oscars
Now we get to the real champs of the 2020 awards season: director Bong and his translator Sharon Choi. Any one of their jointly delivered acceptance speeches for eventual Oscar best picture winner "Parasite"—and there were many!—is sure to warm your heart. Or, in the case of Bong's quip at the Globes ("Once you overcome the 1-inch-tall barrier of subtitles, you will be introduced to so many more amazing films"), expand your mind. The filmmaker's best moment was undoubtedly his Oscar win for directing, in which he honored fellow nominee Martin Scorsese, spurring a standing ovation.
Zendaya at the Emmy Awards
Now come the emphatically different, but no less special, award moments that will surely come to define this unprecedentedly weird era in Hollywood. At the 2020 Emmys, delivery people in full-blown hazmat suits showed up at the doors of nominees everywhere. The "Schitt's Creek" cast donned and doffed face masks, bundled up together under a tent somewhere in Canada. And Zendaya of "Euphoria," surrounded by friends and family, became the youngest ever winner of the Emmy for leading actress in a drama. On the one hand, it's a shame she couldn't achieve this career milestone onstage in a packed theater. On the other, her ebullient reaction via webcam made for this ceremony's best highlight, somehow both intimate and spectacular.
Regina King at the Emmy Awards
"This is so freakin' weird," said King, accepting a whopping fourth Emmy statuette in six years for "Watchmen." Since it very much feels she's just getting started when it comes to winning prizes (behind the camera as well as in front!), King's acceptance speeches are ones to watch for lessons in how to blend authentic charm and gratitude with gravitas. Reminding viewers to vote and shouting out the late Ruth Bader Ginsberg in her speech, King wore a shirt honoring the murdered Breonna Taylor, inviting us to "say her name."
Here's hoping the upcoming Screen Actors Guild Awards, Oscars, and more give us the kind of delightful awards ceremony moments above—even if they're happening remotely. Don't we all need a little gratitude, and grandeur, to get by these days?
Talk soon,
Jack
Some More Smart Stuff:
To read up on the 2021 Golden Globe, SAG, and Critics' Choice Award nods, follow those links! And buckle up for lots more coverage over at Backstage's awards page.
The "In the Envelope" podcast this week aired a compilation of recent interviews featuring Black talent speaking to the state of the industry today and what individuals—especially non-Black individuals—can do to create space for a more inclusive entertainment industry. Be sure to check out "Black Voices in Hollywood" here.
Other unmissable Backstage features: a Meet the Maker with director-actor Robin Wright, Backstage 5 interviews with SAG Award nominees Bob Odenkirk, Jared Leto, and more, and this piece on chemistry between onscreen pairs.
Looking for remote work? Backstage has got you covered! Click here for auditions you can do from home!