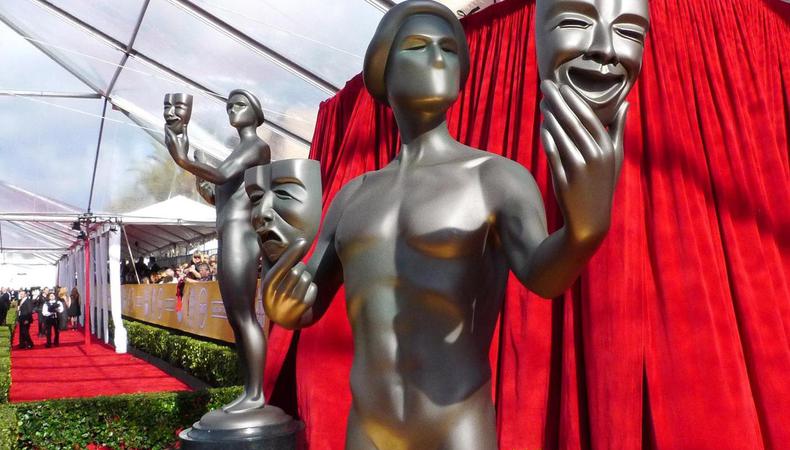 Want the inside scoop on all things awards? Welcome to Letter From the Awards Editor, our series in which Backstage's Jack Smart takes a look at the latest film and television news, industry trends, and awards projections that matter to today's working actor.
Dear SAG-AFTRA Member,
Happy new year, and happy awards season! Your trusty Backstage awards editor is back to guide you through the ups, downs, ins, and outs of your favorite time of year and its many prestigious events—in particular, the Screen Actors Guild Awards. As the trade publication for actors and talent seekers, Backstage is a handy resource, for the approximately 160,000 active members in SAG-AFTRA, on everything to know about their big awards show. (You can start here with our 101 guide!)
In case it's not on your calendar, here's a reminder: Nominations for this year's SAG Awards will be unveiled Feb. 4. Join Daveed Diggs and Lily Collins live on Instagram that day, and then read up on the nominees here with Backstage. Our editorial team has been hard at work the past few months interviewing and covering the actors and creators whose work will surely be recognized among the SAG Award nominating committees' choices. Not to brag, but we have a pretty great track record.
If you are one of the 2,500 members of the film or television SAG nominating committees, first of all, congratulations! Second of all, if you haven't yet submitted your nomination ballots, the deadline to do so is 5 p.m. PT/ 8 p.m. ET this Monday, Feb. 1. Feeling inundated by all this year's worthy screen acting, or needing a refresher? Read up on Backstage's curated choices for film leading and supporting contenders, TV drama, comedy, and limited series contenders, and ensemble contenders below. You won't be eligible to be appointed to this committee again for eight years, so savor the moment and be sure to consider as much as possible.
Now, here comes the crucial reminder, SAG-AFTRA members: it will then be your responsibility—your privilege, really—to vote. The ability to select the winners from each of the SAG Awards' 15 categories will become available Feb. 16 and last until March 30, so keep an eye out for communication from your guild on ballot submissions. Due to the coronavirus pandemic's ongoing disruption of the biz, we're in the midst of a remarkably lengthy awards season; with the Oscars shifted all the way to April 25, the powers that be at the SAG Awards have made April 4 their big night.
So with only 15 categories, five nominees per category, plenty of overlap between individual and ensemble contenders, and the fact that you're likely under lockdown or quarantining, two months is precisely enough time to see and consider every nominated performance! Are you in the habit of only rewatching old films? Overwhelmed by the sheer amount of content in this Golden Age of TV? Too bad—this awards editor doesn't want to hear any excuses! You have the honor of assessing the buzziest screen projects of 2020, which I can say without reservation was a spectacular year for screen performances. Drama, comedy, sci-fi, period piece, big and loud, small and subtle—great acting is great acting, and you owe it to your fellow working artists to point us all in the direction of its prime examples.
With great power, and paying one's union dues, comes great responsibility. All active SAG-AFTRA members get to decide for themselves, Feb. 16–March 30, 2021, what they consider to be the best their craft has to offer. See you all next week.
Happy voting,
Jack
Some More Smart Stuff: