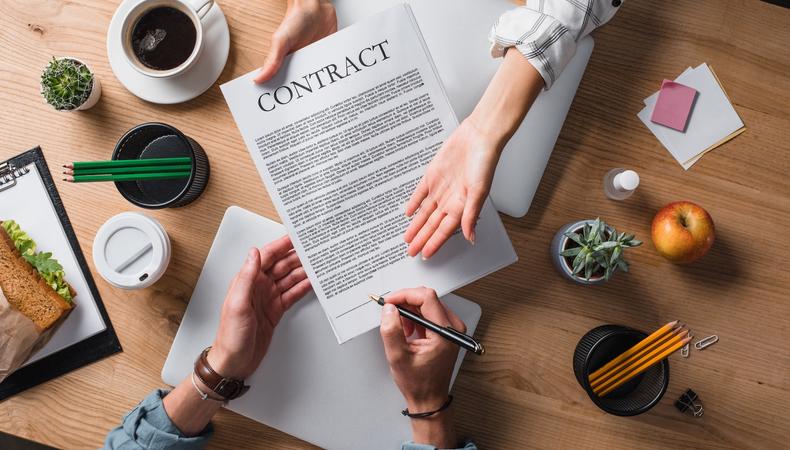 You created your voiceover demo reel, you auditioned, and you booked the job. Now, you have one more challenge to complete before you can get to work: Signing your contract.
Whether it's your first job or your hundredth, it's important to always read every contract in full. Contracts exist to set binding expectations tied to work, which include your duties as the employee and the agreed-upon rate for those services. Here's what you can expect to see in a typical voice acting contract, how to interpret it, and why it matters.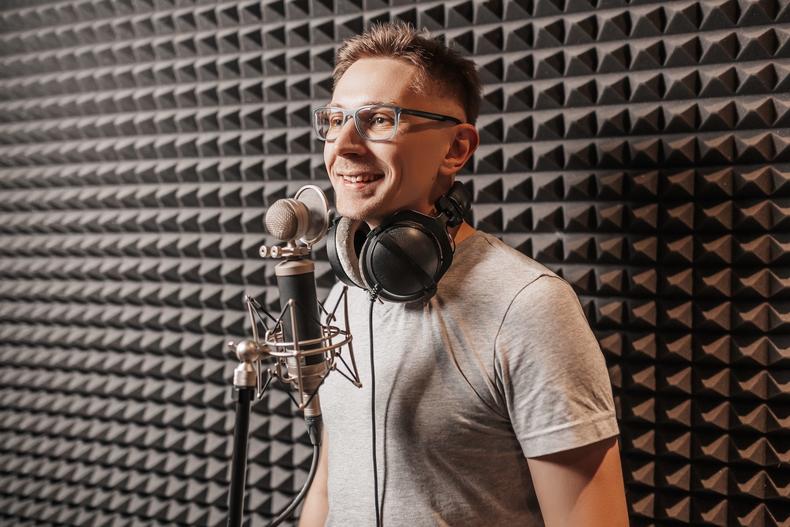 Daria Lukoiko/Shutterstock
Statement of work
The majority of contracts fall into the category of "statement of work" (SOW). This outlines your work activities, deliverables, and a timeline for the project. Is it a 30-second commercial spot taped in a one-hour live recording session on Jan. 1? Or is it a chapter of an audiobook recorded in your home studio, with a script delivered to you by Jan. 1 and your recording due Jan. 31?
Vendor agreement
This is the legal document that outlines the conditions around your work. It includes the date, time, and location of work. The vendor agreement often contains the SOW (which describes the nature of the work). But this document is what you and your employer actually sign.
Nondisclosure agreement
In addition to your SOW, you may be asked to sign a nondisclosure agreement (NDA). This is common practice to ensure the confidentiality of the content of your work. Your commercial script might contain details of a product that isn't yet public. The client wants to establish that the information you learn while on the job doesn't leave the recording studio.
Master services agreement
As implied by its name, the "master" agreement stipulates the terms that will dictate future transactions or agreements.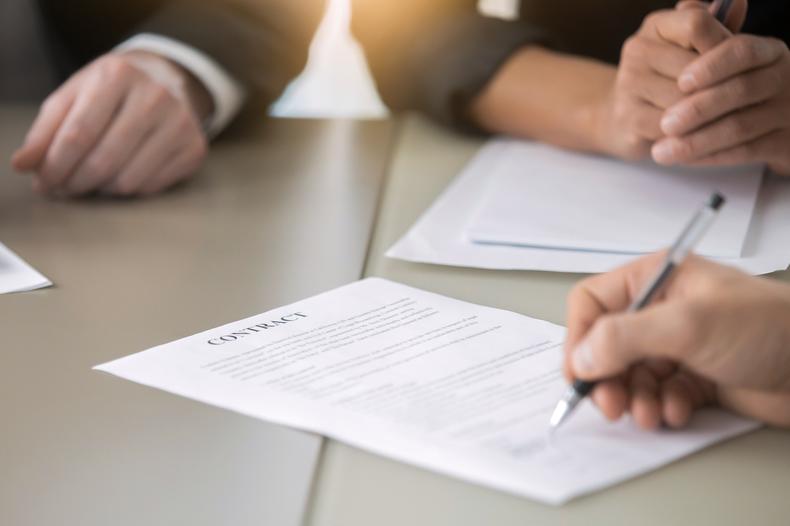 fizkes/Shutterstock
The contents of your contracts will vary depending on the genre of voiceover work, the company administering your contract, whether the job is union (SAG-AFTRA) or nonunion, etc. These are the most likely clauses to expect:
Services and responsibilities of the parties
What are you recording? This section specifies the type of voiceover work (commercial, animation, audiobook, video game, virtual assistant, corporate and educational video, health and wellness, documentary narration, or announcing) and the product that "talent shall provide" (e.g., a 60-second commercial spot). It may specify the conditions of work, for example: "The 60-second spot will be recorded in a single live session. Final script will be provided five days in advance of the session." If conditions are not detailed in this section, be sure they are somewhere in the contract.
Compensation or payment
This section outlines how much you will be paid for the duties described in the services section. Make sure the payment covers the agreed-upon deliverable and any other work completed that is related to the project.
Say you're recording that 60-second commercial spot. The services section specifies a live recording session of a final script. After you record, however, your employer needs you to do a pickup (meaning rerecording a piece of audio), or they made changes to the script and need you to record again. That work is not included in your services, but it can be anticipated and should be taken into account in your original agreement. Corporate clients often ask only for a voiceover on a project. However, statistics show "a 90% likelihood of voicing additional work that's 'unforeseen' at the onset." Rates for overages (extra duties on the work day) and retakes (additional work after recording day) should also be specified here.
Union contracts typically include a table outlining the minimum compensation for this type of work, even if you have negotiated above this rate. Always check SAG-AFTRA rates first. The union offers a safety net which you should feel comfortable negotiating above based on the production, its budget, and your role.
You'll also want to ensure that the contract outlines the method of payment delivery. Are they sending you a check? If so, is your address listed correctly? Will you receive a direct deposit? Have they attached the necessary forms? Make sure to include a late payment penalty clause as well. This will incentivize your employer to make timely payments—or compensate you for the delay.
Recognition and coverage
This is standard for every SAG-AFTRA contract. It stipulates that the contract you are reading operates under union rules. If you don't see this section, you're either missing something or you're working a nonunion job.
Licensing, intended use, and ownership
Whenever you produce a professional recording of your voice, you automatically own the rights to that performance. Signing a contract cedes the rights of the recording to the client, allowing them to use it. "Licensing," "use," or "ownership" specifies the medium your voice will be heard through (radio, television, podcast, etc.) and the duration of time the recording will be used.
Going back to the 60-second commercial example: The contract defines the number of weeks your recording will air (13 weeks is standard for radio and television). At times, licensing and talent release can be outlined in a separate contract, but they are usually included as part of a clause in the main agreement. Be sure this is addressed somewhere in the contract.
Working conditions
This ranges from COVID-19 safety precautions to your union-provided right to health insurance credits and retirement benefits. Any anti-harassment policies and protections can fall under this category as well.
RELATED: 9 Training and Technique Books Every Voiceover Actor Should Read
Crediting
In addition to payment, make sure you get credit for your work. If you're expecting to be credited in a certain way for your performance, make sure that it's in writing.
Exclusivity
Your client can use an exclusivity clause if they don't want you doing the same type of work they hired you to do for another client. The clause stipulates the exact type of outside work you are prohibited to take on. (Is it all 60-second radio spots, or just 60-second radio spots specific to an industry?) The language may indicate that exclusivity applies in a certain geographical area (e.g., the Northeast) and/or a specific period of time (e.g., six months from the date of service). Exclusivity is common, but some contracts can be vague about the length of time it lasts. Here are a few phrases that should set off alarm bells:
"In perpetuity": This means forever, leaving you open to troubles finding work far down the road.
"Reasonable timeframe": Alway ask for specifics.
"To be determined later": You should always decide on terms—that includes everything from exclusivity to payment to services rendered—before the work starts.
As with licensing stipulations, exclusivity can be outlined in its own contract but is commonly included as a clause in the main agreement.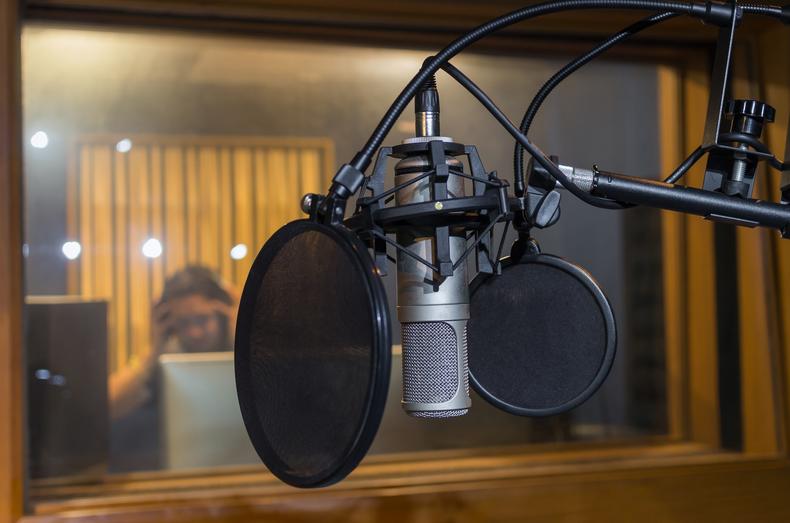 TZIDO SUN/Shutterstock
If you're new to reading and understanding contracts, finding outside counsel might be a good option—particularly if the contract is for a longer-term commitment or you're working with a major brand. The decision should depend on your budget, how many questions you have about a contract, and how much peace of mind you'd like before signing.
An agent
If you have representation, your agent should be able to help you understand the contents of your contract, answer questions you have, make you aware of any red flags. That said, an agent reading your contract is a supplement—not a substitute—to doing your own reading.
A lawyer
If you don't have an agent but still want another set of eyes, consider asking a lawyer to review the contract. Domenic Romano, a managing partner at Romano Law, says that for extended nonunion deals or long-term commitments, the $200-$400 an hour it costs for a lawyer to review the basic terms is a smart investment. This is especially true if you are entering a contract with an agent or manager. Entertainment lawyer Susan Chana Lask says that hiring a lawyer for a contract that would pay you less than $20,000 isn't worth it.
You can contact the New York City Bar Legal Referral Service for free to get matched with a list of NYC attorneys they vet annually.
Research and clarification
Contract language is intentionally dense. If the above options don't work for you, looking up confusing contractual terms could help you better understand what you're signing.
You can also ask the employer to clarify murky contract language with a straightforward verbal explanation. If there's something you understand but don't want to agree to, ask about cutting that language from the contract. Most importantly, read every word, and trust your gut.
(Note: Backstage does not provide legal advice, nor do we instruct talent on exactly how to read a contract or what to look for. This guide aims to provide a comprehensive overview of agreements without offering specific guidance about how each should be dealt with. If you have questions or concerns regarding any type of contract, you should seek legal advice from a certified professional.)