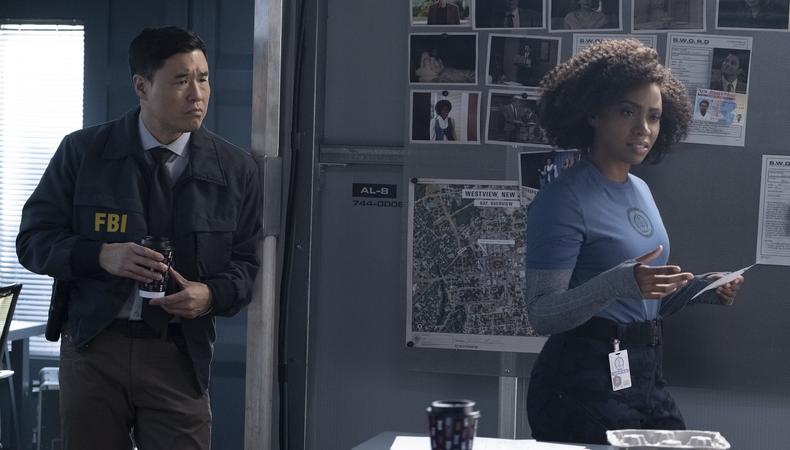 Beneath the superhero and supervillain origin stories on Disney+ and Marvel's "WandaVision" is a love story. More important, it's a story about people. And production designer Mark Worthington was always hyper-aware of that. Here's how he designs for storytelling first, and how actors should (and should most certainly not!) contribute to the production design process.
How closely are you, as the production designer, working with actors?
I have tons of stories about working with actors, maybe because I'm a little more gregarious and because I come from theater and I also have a directing background. I'm comfortable talking with actors. I'm comfortable talking about character and an actor's performance, that kind of thing. s a production designer, if you're doing a character piece specifically—and they're all character pieces, but some even more so—on something like "Ugly Betty," it's especially important to have a conversation with [star] America Ferrera about how you are expressing the character through the environment she inhabits so that it feels accurate to her understanding of it and she feels at home in that space and can inhabit the character, rather than have her walk in and go, "This doesn't make any sense to me."
Do you appreciate when actors have input? Or does it step on your toes?
It's a delicate balance, because I've had disagreements with actors—I won't say which ones—about, sometimes, their approach, because I felt it was a little too self-involved and not as much about how that character would really exist in the world, and the realities of what that would mean as an adult. It was the same thing with Vanessa Williams on "Ugly Betty," [as it was for Ferrara]. I was very close to that cast. And on "American Horror Story," same thing, talking to Jessica Lange or any of the cast about their spaces and what they meant. It's not just to make them more comfortable, but also to make it better. They contribute. They have really interesting ideas that I have not thought of. And those things are wonderful to bring into the mix. I may have an ego, but I don't believe that everything I say is right. You've got to let a little light in and say, "I need to hear from other people to round out the ideas that I have and make it better." And those conversations, 90% of the time, they make things better, and they make me go, "Oh, hey, that's important to take in," and it changes my perspective of what the space needs to be.
Similar to how a set can help an actor understand their character, do you think a set can provide information to an audience about who that character is?
That absolutely is true. The environments can give you an immense amount of information about a character at a glance. Now you can go on with it. You immediately start understanding who they are. And really simply, things like, is their space a mess or is it meticulously kept? That tells you a lot right out of the gate, and you don't have to say it, so now they can get to the meat of what the story is or what the conflict is or whatever is going on. You've aided in that by contributing to the character's sensibility, and it's a shorthand—hopefully, sometimes, even a poetic shorthand—for that idea. And if it's sensibly shot, it provides a wealth of information. That is something that I think is definitely our responsibility to do, in order to help the story.
This story originally appeared in the June 3 issue of Backstage Magazine. Subscribe here.
Looking for remote work? Backstage has got you covered! Click here for auditions you can do from home!