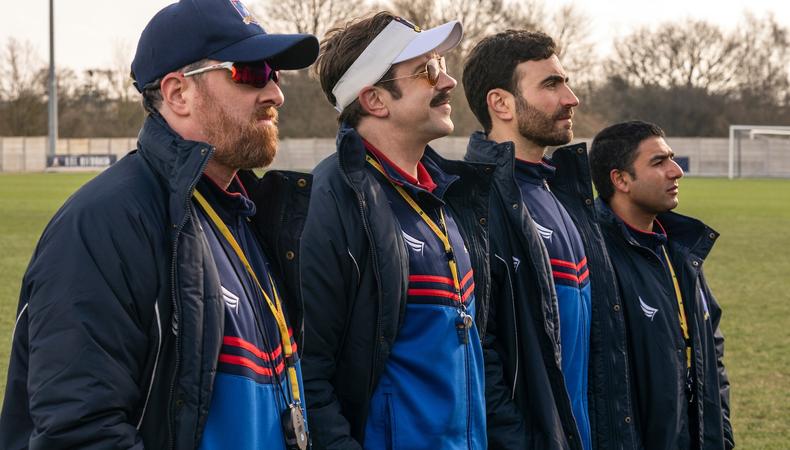 Want to be part of a genuinely zeitgeisty TV show that makes almost everyone feel warm and fuzzy inside? Want to act alongside some of the most in-demand actors of the moment, many of whom got their big break working on this show? If the answer is yes then you probably need to find out more about Apple TV+'s Ted Lasso, and Backstage is here to help. We've got the inside track on the casting of this comedy hit filmed right here in the UK.
Ted Lasso is an Apple TV+ comedy starring Saturday Night Live alumnus Jason Sudeikis as an American football coach who finds himself in charge of an ailing English soccer team with all the 'fish out of water' laughs that entails. Although there's lots of comic business surrounding tea ("hot brown water") and the word 'wanker', it's the good-hearted nature of the show and the essential niceness of Ted as a character that has proved the show's sweet spot. Now about to start shooting its third season, Ted Lasso is a multi award-winning megahit you need to know.
Ted Lasso debuted on Apple TV+ in August 2020 and quickly became a hit for the streamer. Audiences locked down during the pandemic wanted something heartwarming, funny and uplifting and the corny Kansas wisdom of Mr T Lasso Esquire fitted the bill 100%. It provided a televisual antidote to what was going on in people's real lives and extolled the virtues of positive thinking during a difficult time. Plus it was funny which proved a winning formula for fed up viewers across the globe.
Although Sudeikis is the star, Ted Lasso is all about its ensemble. There are opportunities aplenty for talented actors and the show gave notable breakthrough roles to jobbing actors such as Brett Goldstein (Roy), Hannah Waddingham (Rebecca) and Nick Mohammed (Nathan). Talking to Apple TV+'s podcast, Sudeikis said, "That's what I'm most proud of, is what a group endeavor it is." He also added the secret of the show's success is simple: "Nobody was a dick."
Ted Lasso was created by Sudeikis, co-star Brendan Hunt, who plays Ted's sidekick 'Coach Beard', and Executive Producer Joe Kelly. According to Hunt, they first started thinking about this character while working in Amsterdam in the early 2000's doing improv. Sudeikis, like Lasso, knew nothing about English football but Hunt had become a convert. He told the Daily Beast, "I've been soccer-translating for Jason for a long-ass time."
Having started as a joke between friends, Ted Lasso made his first on-screen appearance in 2013 in an ad. NBC had spent $250m on the broadcast rights for English Premier League Football and wanted their American viewers to feel OK about not knowing their off side rule from their midfield cross. Enter the character of folksy US Football coach Ted, who'd just been hired as Spurs manager without seemingly knowing anything about the game. Played by Sudeikis in a 4 minute short film, Ted became an immediate social media hit and boost NBC's ratings too.
Encouraged by the shorts reception and his then partner Olivia Wilde's enthusiasm for Ted, Sudeikis got in touch with Bill Lawrence, the creator of hit medical comedy Scrubs. When Sudeikis brought Ted to him in 2017, he saw the character's potential but knew it needed to be more than an elongated sketch to work. He told an SXSW panel, "We wanted to make our own version of a sports movie, but as a TV series, where you can bring up expectations for people, that they think they know what is gonna happen, and then change them."
The formula worked and Ted Lasso has gone on to win multiple Emmys including Outstanding Comedy Series and acting gongs for Sudeikis, Brett Goldstein (Roy) and Hannah Waddingham (Rebecca).
Ted Lasso is mainly filmed in west London and its surrounding areas. Many of the interiors of the show are filmed at West London Film Studios in Hayes. The third season is due to start filming in spring 2022, with the completed series expected to drop on Apple TV+ later this year.
As for the show's filming locations, AFC Richmond's training ground is actually the home of Hayes and Yeading FC, while Nelson Road is in fact Selhurst Park, home of real life Premiership side Crystal Palace. Ted lives in Richmond – his flat is Paved Court and his local pub is the Princes Head. Taciturn club captain Roy is often seen pottering around nearby Twickenham. Check out a fuller list of locations here.
Ted Lasso's casting director is Theo Park. She worked with Sudeikis and the show's other creators to find the perfect ensemble, usually suggesting actors using audition tapes. That said, the show's female lead Hannah Waddingham was cast after a face to face meeting with Sudeikis. She told Backstage that she said to herself leaving the audition, "Let's hope it goes my way. And thank God it did."
Of course to cast a professional soccer team you have to find actors who can at least look like they might be able to handle a ball. CD Theo Park told us, "The boys on the team had to play football to a good standard, so we made them do little videos of their skills, which were really great. Cristo Fernández, who plays Dani Rojas, had one of the best self-tapes I've ever seen in my life. His football skills are fantastic. I saw some brilliant tapes—really creative self-tapes—from actors showing us their football skills. It's great."
And then there were the perfect castings that almost didn't happen. Nick Mohammed, who plays Nathan, was originally brought in for Rebecca's sidekick Higgins, and Brett Goldstein, who plays Captain Roy Kent, started out working as a writer for the series. He told Jimmy Kimmel, "We were, like, five episodes into and writing, and I start to think, I think I'm Roy... But I also thought no one around this table thinks I'm Roy... So when we finished the writer's room, I filmed five scenes as Roy, and I emailed it to them and said, 'Thanks for having me, if this is awkward, or this is shit, pretend you never got this email, and I promise I will never ask you about it, but if you like it — I think Roy is in me, growling.'"
Ted Lasso is a scripted drama but the actors on the show, many of whom have comedy roots, are allowed to let loose with the script. That means having a good sense of humour and strong comic sensibility helps. Theo Park agrees that being funny really gets her attention, "The main thing that makes my ears prick up or makes me take notice is timing—using the right beats and hitting the joke."
When casting the show she scoured the UK stand up comedy scene, the National Youth Theatre and Open Door, a group that encourages performers from less privileged backgrounds, for new talent. "Just looking outside of people who already have agents is really good and really exciting," she said.
That doesn't mean sidestep your agent; if you have one they should always be your first stop when trying to get in touch with a Casting Director for a project. Theo Park does make her contact details public but don't contact her until you've done the basics – watch the show, do some research and make sure your headshots, CV and showreel are good to go so you're ready when Ted comes calling.
If you're keen to audition for the show, then it seems straightforward that the best people to ask for advice are Ted Lasso's brilliant cast. Luckily enough, Backstage has already chatted to many of them.
Hannah Waddingham told us about her self tape top tip: "I would say, only read it through once. I put it on a voice app because I have to—it's the same as I do when I'm learning scenes that we're going to shoot. I have to hear it as music in my head. I have to hear the reasoning of each character. Obviously, you're needing to hear the cue lines as well. For me, I find that I have to hear it in the room as a conversation. So, I go straight on to putting it as an audio thing that I can just feel around me. Particularly with self-tapes, I make sure that I have a really good working knowledge of it, but I don't ever make sure that I'm completely off-book. I stick it up on the wall behind the camera—like, really crudely. I cut out the script bit, get all the rest of the paper out of the way so that my eyeline's not budging here and there. I think that keeps it more fresh and more coming from your gut; that kind of nervous energy on it is more honest than having it completely in your skin."
Chatting to Backstage's 'In the Envelope' podcast, Brett Goldstein had these words of wisdom for surviving the audition process: "Do your thing. It is a lottery. Psychologically you have to go, I'm just offering them a flavor. And it might not be the flavor they want. They might want chocolate, and I'm offering vanilla or whatever it is. I mean, this metaphor is getting stretched. Offer them a fucking flavor from the spice board!"
He added that being an 'overnight' success has actually taken ages and actors should always try and be creative in many forms, "If I'm not acting, I'm writing," says Goldstein. "I'm never not busy. As long as I've got stuff going on, even if this stuff is going nowhere, then I've had a good day... This magical part you're waiting for? Write it."
CD Theo Park agrees with Goldstein that actors should grab the initiative. "Film something and stick it on YouTube. Especially in lockdown, social media is so big now. You can get a retweet, and suddenly thousands of people are watching your sketches or whatever. It doesn't have to be a sketch. It could be anything—a monologue, whatever you want to do. Just film something, stick it out there, get on social media, and tweet it. That could be the best thing to do."
Great advice and, as Ted Lasso would say, "Believe!"