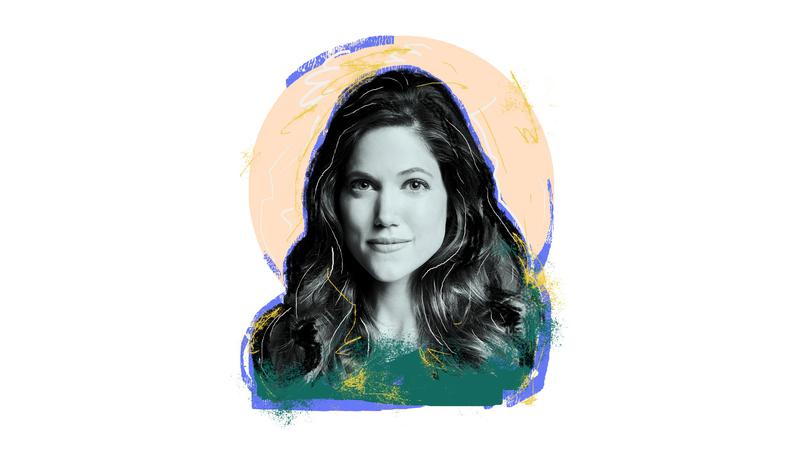 Charity Wakefield made history as the first woman to play Shakespeare at the Globe in their momentous production of Emilia, exploring the life of the Bard's supposed muse. So, it's only right that she's part of the all-star cast remaking history in The Great, an "occasionally true story" that romps through 18th century Russia following an unlikely young woman's transformation into Catherine the Great. Charity plays court manipulator Georgina Dymov, caught in a love triangle with an unpredictable emperor (Nicholas Hoult) and a treasonous husband played by Gwilym Lee. Written by Tony McNamara (The Favourite), lockdown has only heightened anticipation for what was already one the most exciting new series of the year. Just ahead of release, we spoke with Charity to find out what drew her to the project, where she learnt to keep her cool on set and why starring in Emilia was a way of life.
What drew you to your character in The Great?
The script is probably the best pilot I've ever read. It's got a brilliantly interesting protagonist in Catherine and the way of telling her story was totally new to me. At the time I read it, The Favourite hadn't come out, so to me it really was completely new. Tony McNamara is just so audacious and deftly funny. It awakened something in me; I thought: "I will do anything to get into this project." Frankly, I didn't care what part it was. That's kind of the way I am with work – it's more about the project than the role.
Saying that, it's been fun playing Georgina because she's this powerful underhanded manipulator, very different to roles I've done before. And it was especially fun to play opposite the brilliant Nicholas Hoult and Gwilym Lee in this strange three-way relationship. As with a lot of these big American series, you do the pilot and see if it gets picked up, but the whole script isn't written. So, it was genuinely interesting to discover how Georgina developed.
How do you prepare for a role?
It completely depends on what it is. The Great wasn't like any other historical screen drama I've done – it was closer to Emilia, partly because it's modern in tone but also because it uses history to tell a story that appeals to us now. Tony McNamara makes no bones about lifting the jewels from the past and creating his own world. So, in some ways, you need to research the period and characters, but also you need to completely let that go and listen to what the writer is telling you to play.
Like Emilia, it totally relies on the ensemble. You're creating a historical world which the audience should be able to feel, but you find your own language within that. So, there's a lot to be discovered in the social etiquette and in the dance sequences of The Great, and we worked with Polly Bennett to create incredible pieces that were vaguely historical but had a modern feel. It doesn't feel stuffy, it feels vibrant and new.
Which fellow actor have you learned most from?
Working with Hattie Morahan [in Sense & Sensibility] was fascinating because she's quietly "method" in her own way. Sometimes you'd speak to her and she wasn't really there – she was investing in her character and always reconnecting to the circumstances around her. And that performance was mesmeric, her emotion was so under her skin. I think it comes from Hattie's theatre experience, particularly working with Katie Mitchell, who encourages actors to create their own stories. So, they have a whole other storyline offstage and there's a lived experience that comes back onstage with them. I think Hattie showed me you can take that theatrical approach and transpose it onto screen acting.
That detail is important for screen work because it's so easy to get distracted on set. Helen Mirren nails it in her masterclass when she shows you what happens just before you do your acting. You get swarmed with people doing your makeup and hair, telling you about lighting and asking and so on. You have to be able to keep your concentration and connection to what you want to tell in the story. You also have to let go of all of that in the moment so something fresh and interesting can happen and be caught on camera.
What project are you proudest of?
I feel really fortunate to have been in Emilia and proud of what it did. I've known [playwright] Morgan Lloyd Malcolm for a long time and I'd said to her I was looking for something about the female experience because I felt like I was often cast in a similar role and a lot of things I was reading were supporting characters that perpetuated a certain female trope. I wanted to do stuff about difficult female experiences. Emilia meant so much to all of us because the intention was to literally give women a voice. To talk about women's stories, how they've been aired in the past and who's been in control of the publishing of them.
At the Globe and in the West End, Morgan was continually uplifting other women who were writing. She would continually bring groups to the theatre for Q&As and she wore herself out on Twitter. It was extraordinary. It was more than a normal play, more like a way of life. I even had people come to see the play and, immediately after, tell me very private stories about their lives. Like, what they were going to do tomorrow to sort out a problem at work, that they were going to ask for something they were completely within their rights for. It felt rousing and political.
What advice would you give your younger self?
I've thought of this a lot lately, mainly because of lockdown. To be kinder to yourself and give yourself more time to do things. To trust in what you're doing a bit more. I'm a worrier and in part that's good because it makes me question what I'm doing, but in other ways it's a bit of a curse.
What's your worst audition story?
Oh my. I've never said this publicly but I auditioned for a film to play an expat living in Hong Kong who could speak fluent Cantonese. For the audition I had some lines translated for me and learnt to say them as best I could. And then in the recall, the director Susanne Bier, and Hugh Grant and Chinese actor Zhang Ziyi from Crouching Tiger, Hidden Dragon were there. And even though I had reiterated that I couldn't actually speak Cantonese, I guess this wasn't related to the director who is famed for wanting actors to improvise. So I had an excruciating hour with these two really famous actors where I had to play the translator between the two of them. I was spoken to in Cantonese and expected to tell Hugh Grant what that meant. It was definitely the worst audition of my life and you can probably tell... I did not get that job. It was like a nightmare but real. Awful.
What film do you think every actor should watch?
I'm going to say The Favourite. It's on-brand but it is amazing!
The Great is streaming on Hulu now, available on Starzplay from 18 June, and will screen on Channel 4 in the summer