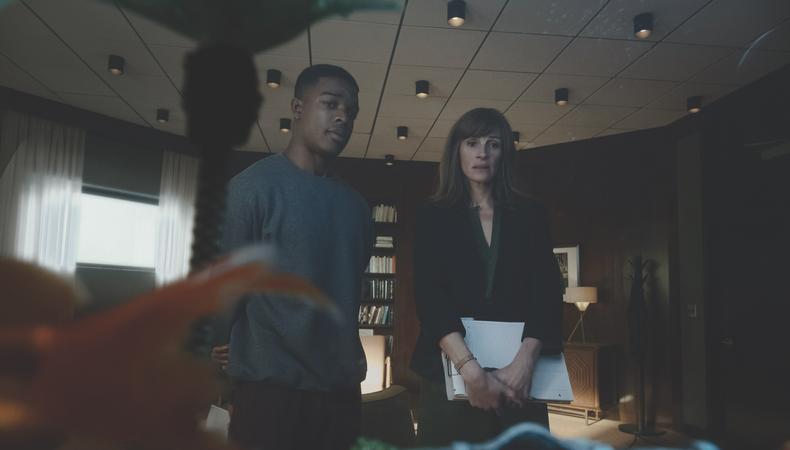 Backstage is waiting excitedly for the Dec. 12 announcement of this year's Screen Actors Guild Award nominees—and here, deciding which performances on the big and small screens merit the attention of the nominating committee. Below, we break down some of the calendar year's top televised drama contenders for your consideration: the actors who reached through the TV screen to provoke us, challenge us, and tear our hearts out. (Here also are our comedy actor picks!)
OUTSTANDING PERFORMANCE BY A FEMALE ACTOR IN A DRAMA SERIES
Caitriona Balfe, "Outlander"
From Scotland to France and now to America, and jumping back and forth in time, Balfe's Claire remains one of TV's most fascinating figures. There's a reason this Starz series' fan base remains so devotedly obsessed with her various romances and machinations—no one else can express yearning quite so exquisitely. We need more shows incorporating the female gaze, and more leading actors like Balfe, who know instinctively how to level it.
Christine Baranski, "The Good Fight"
Everyone's favorite chunky-necklace-wearing power attorney continues to slay in and out of the courtroom, and the diva playing her proves increasingly unafraid of pushing Diane Lockhart's flaws to the forefront. For kickass feminist inspiration or tips on how to deliver a speech that will flatten a scene partner, visit literally any moment of Baranski's consistently fabulous performance.
Angela Bassett, "9-1-1"
Fans of Bassett know she can handle delicately intimate conflict and explosive chaos with equal capability. On Fox's crisis-of-the-week hit, the actor gets to do both as LAPD officer Athena Grant. But the real treat every week is seeing Bassett as an action star; the way she moves with a gun, the way she tamps down Athena's varying levels of alarm beneath an unassailable surface. In the "Black Panther" sequel, give her a weapon!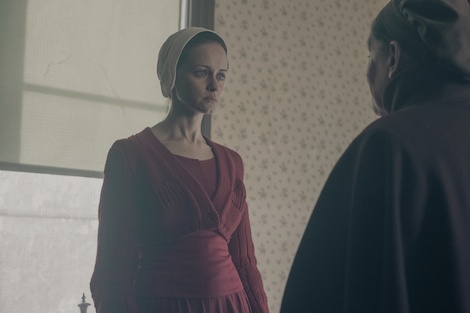 Alexis Bledel, "The Handmaid's Tale"
There isn't a pair of eyes on the small screen today as able to wordlessly relay the same sadness, horror, and unending disgust as the mesmerizing baby blues of Bledel. Deservedly upped to series regular in the second season of Hulu's dystopian drama, the Emmy winner's season-long arc is perhaps the most harrowing of all the crimson-clad women of Gilead. But somehow, Bledel ensures audiences never lose all hope for her Emily, even when she's lost it herself.
Jodie Comer, "Killing Eve"
Villanelle kills people. She's good at it. She's gorgeous. She's completely heartless. (Or is she?) Phoebe Waller-Bridge's jet-setting assassin challenges our every preconception of psychopaths, assembling, puzzle-like, someone who inflicts her deeply buried suffering on others, but who mostly yearns for the unexpected. As portrayed by Comer in one of the gutsiest performances of the year, expectations for Villanelle are subverted at every twist and turn.
Viola Davis, "How to Get Away With Murder"
Five seasons in, Davis is still sinking her teeth into the role of treacherous defense attorney Annalise Keating and carrying a show full of murderous twists so cheesy you'll swear off lactose. In her Emmy- and SAG-winning role, she's a diva for the ages, as brash and ballsy an antihero as any of her white male counterparts on the small screen. We wish there were more TV characters—and performances—like hers.
Ann Dowd, "The Handmaid's Tale"
Any selection from Dowd's oeuvre would qualify as a brilliant performance, but with her Emmy-winning, scrumptiously nuanced delivery on "The Handmaid's Tale," Dowd has undoubtedly hit a career high. As overseer Aunt Lydia, she's a heady mix of blunt force and for-your-own-good tenderness that does what exquisite acting can: humanize a ruthless monster.
Maggie Gyllenhaal, "The Deuce"
It takes a lot for a celebrated actor like Gyllenhaal to be simultaneously surprising, uninhibited, and still convincing—and that's not considering the graphic sex scenes she handles. Gyllenhaal is all that and more on HBO's vintage drama, playing a prostitute named Candy who fiercely fends for herself, becoming more and more ambitious in the golden age of porn.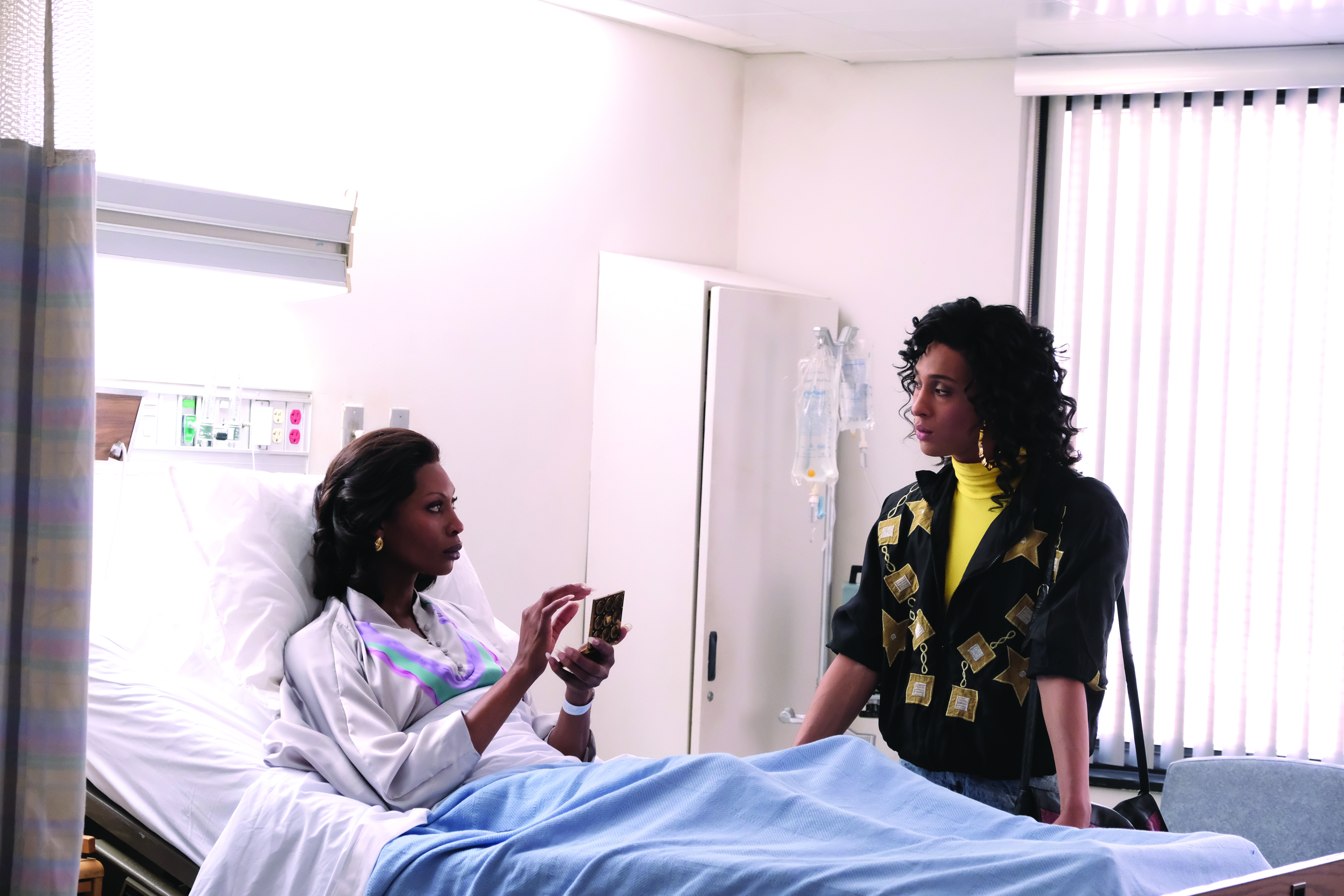 Dominique Jackson, "Pose"
"I look too good not to be seen." So sayeth Elektra of the House of Abundance, Jackson's reigning queen of fabulousness in Harlem's ball culture world. The statement is just flat-out true. On FX's essential-viewing Ryan Murphy series (which features the talents of the biggest transgender cast in the history of scripted TV) Jackson brings to our screens a leering, domineering diva clinging to her queendom with flawlessly manicured claws. None of us are worthy.
Laura Linney, "Ozark"
Wendy Byrde is a dissatisfied suburban housewife—until she's an on-the-run, money-laundering mastermind. In this darkly twisted Netflix drama, Linney excels at charting you through everything on Wendy's map: messiness, vulnerability, true kickassery. Count on Linney to ground wild twists and turns with her shrewd yet fascinating style.
Chrissy Metz, "This Is Us"
In NBC's tearjerker of a family drama, Metz continues to show us new layers of Kate Pearson, making the struggles of living as an overweight woman relatable to those going through the same issues and understandable to those who are not. The actor is now synonymous with a fully realized woman we feel like we know; in her hands, Kate could never be a one-note character.
Elisabeth Moss, "The Handmaid's Tale"
Peering out from between the bone-white wings of her handmaid's bonnet, Moss takes on the role of a lifetime, navigating the despair of an oppressive dystopian world with dignity—and a wickedly dark sense of humor. Last year's Emmy-winning producer-actor is at her most subtle when the stakes are highest, and watching her handle the pitfalls served up by the distressingly tangible Gilead is revelatory.
Niecy Nash, "Claws"
No diva can hold a candle to Nash—certainly not in this pulpy, Florida-set, crime-crazed TNT dramedy. In her first big leading role as nail salon owner Desna Simms, Nash can play motherly tenderness, intimidating toughness, and endless sass, all while wearing the year's most unforgettably colorful costumes with aplomb. We worship at her altar.
Thandie Newton, "Westworld"
The Emmy-winning Newton has long showcased killer acting chops across film and TV, but she brilliantly bests herself again and again as the fabulous former brothel manager Maeve Millay on HBO's "Westworld." As the artificial creation achieving untold levels of power over her fellow hosts, her progression from the controlled to the controller through the drama's second season is one of its greatest strengths.
Sandra Oh, "Killing Eve"
Oh's critically hailed return to TV reminds us, through an honest, human portrayal of another brilliant woman committed to her work, why she's so compelling to watch. We follow her ascent from disillusioned government employee to insatiable MI6 agent on the hunt. Her complicated relationship with Comer's Villanelle proves that these cat-and-mouse stories can be anything but predictable, and Oh's performance makes us want to savor each suspenseful moment.
Elizabeth Olsen, "Sorry for Your Loss"
A series built entirely around grief makes for a tricky tightrope walk for its leading actor. Facebook Watch's "Sorry for Your Loss" toys with our emotions using a blend of raw poignancy and the kind of dry wit characteristic of mourning. It's Olsen, playing the newly widowed Leigh Shaw, who must thread the needle between those two extremes.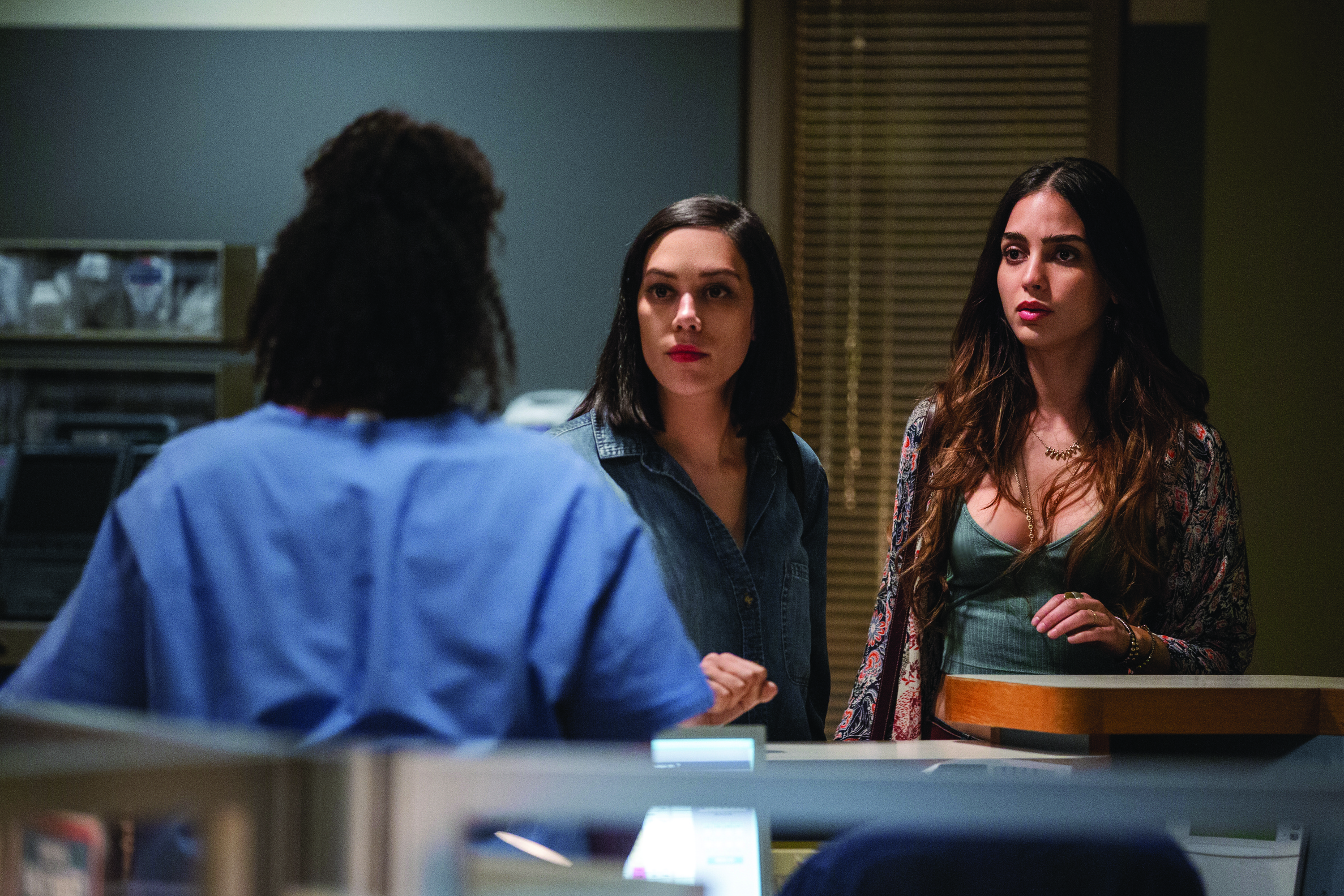 Mishel Prada, "Vida"
As Emma, returning to East L.A. and discovering her deceased mother's same-sex relationship, Prada gets to unveil layers of this queer Latina businesswoman as she simultaneously unveils to audiences what she's capable of as an actor. She plays uptight and grieving and everyday frustration wonderfully—and she deserves more roles as substantial as this one.
Julia Roberts, "Homecoming"
Inheriting and expanding upon Eli Horowitz and Micah Bloomberg's eerie fiction podcast of the same name, Roberts joins director Sam Esmail in bringing to Amazon this story of mysterious government facilities, military PTSD, and unspeakable secrets. It's her first regular TV role, and it serves as proof that screen size doesn't matter when it comes to Roberts' expressive face; her Heidi Bergman is the master of easy smiles, stricken confusion, and, best of all, dawning dread.
Mj Rodriguez, "Pose"
The sheer amount of emotional heavy lifting Rodriguez must do as emerging house mother Blanca Rodriguez-Evangelista in this gorgeously detailed 1980s drama proves she could take on any role. A lesser actor would buckle under this much challenging material; the scene in which she learns she's HIV positive alone is worth a truckload of trophies.
Keri Russell, "The Americans"
If any current Russian spies are as ruthless as Elizabeth Jennings, we're in trouble. As both American matriarch and loyal Soviet agent, Russell radiates determination, even danger. And while FX's "The Americans" featured excellent dialogue throughout its astonishing and now concluded run, watching this actor's magnetically wordless moments has been one of its most delicious treats. In one of the final episodes, there's a reaction shot where Elizabeth's breath catches in her throat, and it's enough to do the same to us.
Kiernan Shipka, "Chilling Adventures of Sabrina"
In Shipka, we have a tried-and-true teenage star who can apparently juggle anything—in the case of this Roberto Aguirre-Sacasa riff on Netflix, both occult-inspired horror and petty high school angst. As Shipka's Sabrina struggles to resist the call of her demonic destiny, she never forgets to entertain those of us craving pulpy, witchy fun.
Kerry Washington, "Scandal"
Everyone's favorite political soap opera ended its run this year, with its trailblazing star in top form. Olivia Pope was a notable step in TV's journey toward embracing heroes (and antiheroes) who challenge the status quo, and much of the character's success was due to the incandescent Washington. For seven seasons, showrunner Shonda Rhimes threw the actor curveball after curveball, and she proved she's got it handled every time.
Susan Kelechi Watson, "This Is Us"
Beth Pearson has grown from being simply Randall's (Sterling K. Brown) wife to the glue that often holds this multigenerational family together. That move on showrunner Dan Fogelman's part surely had everything to do with Watson's work on the show, some of the strongest and subtlest seen on network TV. She is funny, warm, fierce, and restrained in her every scene.
Evan Rachel Wood, "Westworld"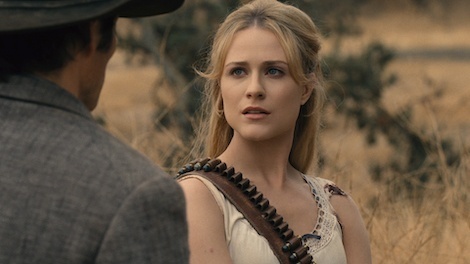 Wood has referred to this series as the "acting Olympics," and after watching her as Dolores (plus the more villainous Wyatt), her awards attention is especially merited. Keeping track of the mind-boggling layers to her character is enough to make you short-circuit, and in one heart-stopping moment toward the end of Season 2, Wood digs from such a deep well of shock and grief, it's a wonder the camera doesn't shatter.
Robin Wright, "House of Cards"
While "House of Cards" first put Netflix on the map as a story of the scheming politician Frank Underwood, we now enter its final season with the focus squarely on Claire. Wright's ability to project a steely exterior—or collapse under its weight—has been put to the test again and again. With an unstoppable performance, Wright has shown us what it means to be an unstoppable woman.
OUTSTANDING PERFORMANCE BY A MALE ACTOR IN A DRAMA SERIES
Jonathan Banks, "Better Call Saul"
Banks is a master of the close-up. When the camera inches toward the actor's face, you see both sides of his Mike Ehrmantraut in this "Breaking Bad" prequel: the cold-blooded hitman and the weary, tenderhearted grandfather. How does Banks use a grunt, a glare, or a subtle twitch to convey either persona—let alone all at the same time?
Jason Bateman, "Ozark"
It may have taken Bateman most of his acting career to prove he can play (and direct) drama as well as he can do comedy, but his performance as Marty Byrde, a cuckolded financial adviser whose idyllic life becomes a money-laundering nightmare, was worth the wait. That classic Bateman dryness provides the perfect mold for the unsettling world of "Ozark," where middle-class banality becomes menace.
Sterling K. Brown, "This Is Us"
You can't look away from a performer like Brown, who can seemingly do no wrong. Playing the multifaceted Randall Pearson means the Emmy winner gets to preach the truth, have mental breakdowns, and occasionally throw out solid one-liners that reveal his superb comedic timing. He's created one of the most enthralling characters in TV drama.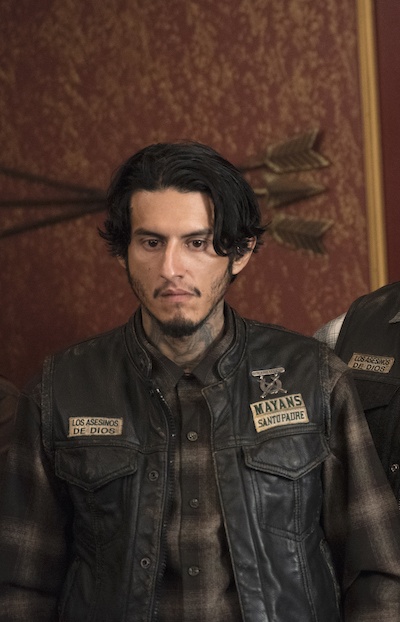 Richard Cabral, "Mayans M.C."
Cabral gets to have a come-from-behind narrative on FX's "Sons of Anarchy" spinoff "Mayans M.C." Amid an ensemble of crazy motorcyclists and cartel members, his sharpshooter Johnny "Coco" Cruz emerges as perhaps the crime drama's most intriguing character, an increasingly complex blend of machismo and perceptiveness.
Joseph Fiennes, "The Handmaid's Tale"
Everybody loves a villain—or loves to hate a villain. And in Hulu's sophomore outing of "Handmaid's," Fiennes' putrid Commander Waterford is furiously easy to despise. By season's end, in fact, when at long last June meets his scornful gaze with the full force of
her open palm, the satisfaction for those watching at home is so delicious, it has to be fattening.
Ed Harris, "Westworld"
Harris' scraggly appearance and gravelly voice help build one of the year's most iconic TV characters, the Man in Black—aka William, aka the most bullet-riddled character on HBO's Western-sci-fi puzzler. He treks through the desert on a quest for purpose, drawing us inexorably into every twist and turn of his fraught journey. It's certain Harris is having the time of his life.
Sam Heughan, "Outlander"
The time-traveling, star-crossed romance "Outlander" has continued to deepen and expand in its scope and ability to spin multiple plates. Its twists and turns have resulted in many hardships for Heughan's handsome highland warrior Jamie Fraser—trust us, the guy's been through a lot. Heughan bears those internal scars with statuesque valor, all while diverting attention—swoon!—to Caitriona Balfe, the show's female lead.
Freddie Highmore, "The Good Doctor"
What makes "The Good Doctor" stand out isn't just its refreshingly character-focused approach to the medical drama genre, it's the sheer power of Highmore's portrayal of autism and savant syndrome. He leads one of the highest-rated scripted series in ABC history, and we're betting this child-turned-adult actor and rising Hollywood star will only continue to ascend.
Stephan James, "Homecoming"
James is one of those actors who can hit a monologue out of the park, but who particularly thrives opposite a co-star. With Roberts as counselor to his Walter Cruz, a levelheaded military vet, James comes alive, conveying an intimate (too intimate?) therapist-patient relationship with precision and an edge-of-your-seat intrigue.
Jason Mitchell, "The Chi"
One of the key figures in Lena Waithe's kaleidoscopic portrait of her Chicago hometown, Brandon Johnson is given hyperspecific, luminous life by the unmissable Mitchell. Throughout this Showtime drama's first season, the character is grief-stricken in a way that proves achingly affecting, and thanks to Mitchell, that effect lingers long after the poignant finale.
Bob Odenkirk, "Better Call Saul"
As this riveting spinoff delves deeper into the thorny morality of ambition and survival, Odenkirk continues to show us streaks of the "Bad" habits that built his character's rascally reputation. Technically, we know where all this is going, but even with the knowledge of that final meth-charged outcome in the back of our minds, Odenkirk is giving an increasingly refined performance, adding new layers to the dodgy lawyer's present tense.
Mandy Patinkin, "Homeland"
Patinkin earned his well-deserved seventh Emmy nod earlier this year as the tough and gruff Saul Berenson in this Showtime series' most recent nail-biting season. What continues to make his performance so riveting is Patinkin's ability to wallow in the questions of right and wrong that haunt this political thriller. Nothing in counterterrorism is black and white, as Saul constantly reminds us in both word and action.
Michael Peña, "Narcos: Mexico"
If there's just one reason to check out the fourth and wildly different new season of Netflix's "Narcos," it's Michael Peña. The guy can do it all: comedy, drama, physicality, interiority, and tense thriller, the latter of which is put to the test with this story of an undercover DEA agent sent to Mexico to gather information on a dangerous drug kingpin (played by Diego Luna).
Billy Porter, "Pose"
Everyone on this sequined and stunning series deserves accolades aplenty, but the performance that may most lodge itself in your heart is Porter's as Pray Tell. With countless friends and lovers dying of AIDS, he is entrenched in so much sadness and death and unimaginable fear, yet he projects an infectious joyousness without ever coming off as saccharine. We're finally mining the depths of this veteran theater actor's abilities, and on a bigger stage.
Matthew Rhys, "The Americans"
Rhys upped the game on his typically great performance as Soviet spy Philip yet again on the final season of "The Americans," and finally claimed an Emmy for doing so. Plumbing the depths of infidelity and trust while facing the repercussions of staying in his line of work gave Rhys a wider emotional range to tackle—all of which he explored unflinchingly. What might he do next?
Jeffrey Wright, "Westworld"
For tips on how to make glancing over one's glasses or brooding at a computer screen riveting, watch every moment of Wright as Bernard. Or maybe that kind of charisma can't be taught. He exhibits his host's intelligence and burgeoning guilt in unassuming yet wholly captivating ways, and manages to have electric chemistry with each and every one of his co-stars.
J.K. Simmons, "Counterpart"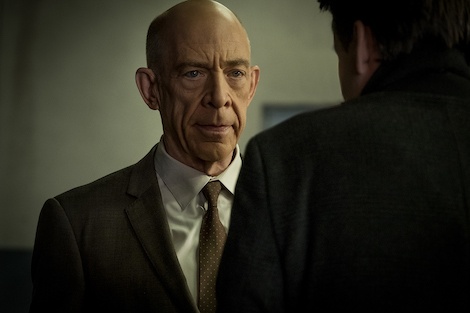 We've seen actors double up onscreen to play two separate characters in the same frame, but that technical trick alone is not enough to make a great performance. What makes Simmons' turn as Howard and Howard Prime (his titular "counterpart") in Justin Marks' breakout Starz drama is his ability to play what's ostensibly one person and another evolved, or devolved, version of that person. It's a master class in nuance that will rock you to the core.
Milo Ventimiglia, "This Is Us"
On paper, the day-to-day life of a father with three kids doesn't sound like a riveting NBC show. But with the terrific Ventimiglia playing the character, things start to get interesting. Endless care, tireless loyalty, and dad jokes: For three seasons, Jack Pearson has represented the culmination of everything anyone ever wanted in a dad. Yet Ventimiglia never fails to make him feel real.