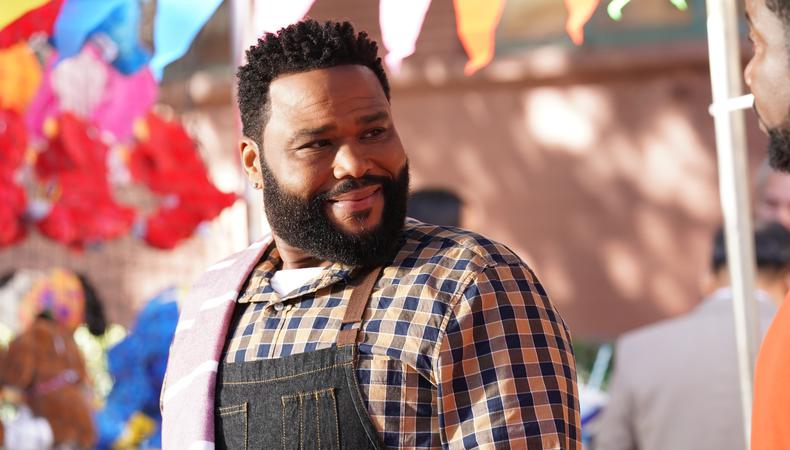 On the heels of his ninth Primetime Emmy Award nomination, Anthony Anderson is well known for his role as a lead actor and executive producer in Kenya Barris' ABC family sitcom "Black-ish." His scene-stealing comedic timing and chemistry with his co-stars, including fellow Emmy contender Tracee Ellis Ross, have cemented him in the small-screen comedy world for the last several years. He recently sat down via Instagram with Backstage's Awards Editor Jack Smart, as part of our ongoing digital programming The Slate, to chat about the challenges of life amid COVID-19, his roles on the show, and his philosophy when it comes to the auditioning process.
Though he's been working on "Black-ish" for six seasons now, he says he only realizes it's been a long-running television series when he looks at how much the kids on the show—Yara Shahidi, Marcus Scribner, Miles Brown, and Marsai Martin—have grown. The evolution of the young cast from children to teenagers to young adults, he says, makes it all sink in. "Being on set, it does not seem like it's been six years, it does not seem like it's been a long time," Anderson says. "But watching it in reruns and syndication, you go back to those very first episodes and you're like, 'Oh my God, we've been doing this for a minute now!'"
Anderson says there are parts of his character, Dre Johnson, that he's still learning about—because he's still learning about himself. Discovering new things about his own personality, he says, allows him to bring new things to the character and keep the content fresh.
An executive producer since the pilot, Anderson says he was integral in developing Barris' original concept for "Black-ish." Wearing two different hats, as executive producer and an actor, he was more hands-on as a producer in the pilot phase and first season to help get the show off the ground.
"I'm trying to navigate through that as best I can and making sure that people are comfortable with me wearing those two hats," Anderson explains. "We're doing what we love to do and that shouldn't complicate anything."
When it comes to auditioning, Anderson says his success in an audition room comes from being prepared. "It's a simple equation," he says. "The only thing I can control in the equation is me."
As long as an actor prepares as much as they can beforehand, it's important to acknowledge that the rest is out of their control. Whether he's gotten the audition or not, Anderson says giving it your all is the best way to assure yourself that you did the most you can in such a subjective process; with hundreds or thousands of actors trying to get one role, he says you can't lose sleep over wondering why you might not have landed a role or why another performer else booked it over you.
"I give 100 percent every time I enter a casting room because I always believe that I may not get that job, but they will remember me for the next opportunity that comes across their desk," Anderson says, reiterating, "you are the only constant in the equation that you can control." Before he goes into every audition, he claims the role as his own—if, of course, it's destined for him to have. His mantra? "If it's meant to be, it's meant to be."
Watch the full interview below, and stay up-to-date with future Backstage interviews on The Slate right here.
Looking for remote work? Backstage has got you covered! Click here for auditions you can do from home!