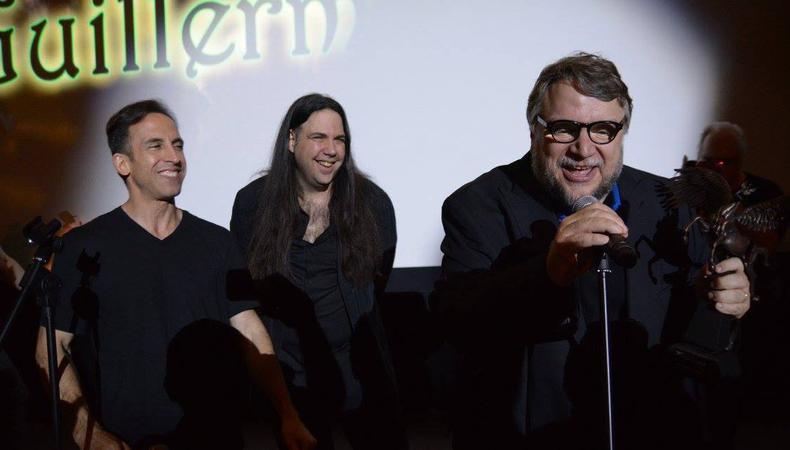 Welcome to Behind the Fest, Backstage's questionnaire series with film festival figures looking for that next big festival hit. Featuring behind-the-scenes insight from the organizers and programmers at Sundance, TIFF, Cannes, and more fests from around the globe, these tips might just hold the key to your indie film success story!
In its 25th year, Montreal's Fantasia International Film Festival will host an online edition that begins Aug. 5 and lasts nearly all month long until Aug. 25. Centered on celebrating genre film since 1996, the fest is credited with introducing North American audiences to fare such as Japanese horror (known as J-Horror), the 2014 hit "Unfriended," and the late, legendary director Satoshi Kon with his 1997 groundbreaking debut, "Perfect Blue."
This year's lineup includes a bevy of thrilling premieres, including Edoardo Vitaletti's "The Last Thing Mary Saw," Mikhael Bassilli and Luc Walpoth's "Baby Money," and "Hellbender" from John Adams, Toby Poser, and Zelda Adams, plus a special screening of "The Suicide Squad."
Backstage spoke with artistic director Mitch Davis about the Canadian festival's storied history, what makes the Fantasia moviegoing audience unlike any other, and why filmmakers must do their research when it comes to submitting.
What is the Fantasia Festival's basic mission and outlook?
Fantasia, at its heart, is an annual three-week celebration of the eccentric and the unclassifiable, with a key focus on international genre filmmaking. From the earliest editions, our mission has always been to bring attention to unconventional genre storytelling that doesn't always get a proper platform of focus and discussion in this part of the world.
What sets Fantasia apart from other festivals?
So much of what makes Fantasia a singularly ecstatic experience is our audience. There's a reason why so many filmmakers talk about how much they look forward to showing their film to the Fantasia audience—not "at Fantasia", but specifically "to the Fantasia audience." I've never felt an audience like this anywhere else, even at festivals that hold screenings in 3,000-seat palaces. Loud audiences can be found anywhere. That's not what this is. The Fantasia audience will sound like a rock concert when a specific moment in a film warrants that, but you'll never hear people speaking over dialogue or phones going off, and you'll feel palpable waves of response that magnify all kinds of smaller, more intimate beats in a screening. There's an incredible sensitivity to nuance and it brings films to life here in the most rewarding ways.
One of the most rewarding things about programming is that you often get to watch a filmmaker's life change in real time, right in front of you. A first-time director world premiering their work here will often be visibly terrified speaking in front of such a huge crowd during their intro. They sit down, experience their film with that audience, and return to the stage for their Q&A a changed person, with distinctly different body language, basking in the loudest cheers and applause they've likely ever heard. I can sense that a lot of the audience pride themselves on being a part of a filmmaker's journey, and it's really beautiful.
What kinds of films do you look for in programming the fest?
We're always looking for films with a point of view or an unusual perspective that does exciting or surprising new things with the genre. At the same time, a rambunctious, volume-11 rollercoaster that reinvents elements we've seen plenty of times has a place as well, as solid contemporary examples of whichever subgenres they represent. Our programming's always been a kaleidoscopic mix of large-scale crowd-pleasers and quieter, more intimate auteur visions, while always having a place for a wide range of works that can't be classified within conventional genre definitions. So, horror, action, fantasy, thriller alongside atypical comedies, stunning animated works, anguished dramas, experimental films, documentaries, and even the odd children's film.
What are the potential benefits for a filmmaker of submitting to Fantasia?
The moment we announce a new title out of raw submissions, one that didn't come from a sales agent or distributor and doesn't already have pre-existing awareness, filmmakers usually get a barrage of emails from potential buyers, reps, and other festivals. So many friendships come out of a single visit here, sometimes along with newly formed creative relationships—sometimes with romantic ones. Short filmmakers are treated like feature directors, invited to the same places, introduced to anyone they'd like to meet. Press and industry are everywhere, hanging out with everyone, and mountains of good things come out of that organically for everybody on all sides. We frequently have filmmakers returning in future years without a film, just to hang out with everyone.
Which specific success stories come to mind?
Many! First-time filmmakers Daniel Goldhaber and Isa Mazzei's "Cam" sold to Netflix off its world premiere with us, as did the McManus brothers' "The Block Island Sound." Our world premiere of "Unfriended," which we played under its early title "Cybernatural," introduced screenlife storytelling to the world and resulted in Universal [Pictures] picking up the film. We premiered Adam Wingard's first feature, "Home Sick," when he was just 19. We premiered Satoshi Kon's landmark feature debut, "Perfect Blue," and we're largely cited as the place where J-Horror began in the West, with Dreamworks having bought "Ring" off our screenings. We were the first festival to show work from Takashi Miike in this part of the world.
What advice do you have for those looking to submit to film festivals?
Research a festival before you spend a cent submitting. Get a good sense of what they gravitate towards as programmers. Don't submit unless you genuinely feel that your film could potentially fit. We regularly program docs, for example, but someone submitted a straightforward, non-fiction work on a ballet school that by no objective measure could ever have been an appropriate fit with our programming. That's almost always preventable with just a little homework.
Then do a bit of research to see what kind of press attention a fest that you're considering can get for their films. You've got only one world premiere! Don't let it happen somewhere where it won't be acknowledged in meaningful ways.
One last question: What's your favorite film of all time?
Ken Russell's "The Devils."