Founded in 1960, Backstage has a storied history of serving the entertainment industry. For over 50 years Backstage has served as a casting resource and news source for actors, performers, directors, producers, agents, and casting directors.
Over that time, Backstage Magazine has also appeared on numerous TV shows, such as "Mad Men," "Entourage," "Glee," "Oprah," "The Tonight Show," NBC's "Today" show, Comedy Central's "@Midnight", NY1's "On Stage," and "Saturday Night Live," as well as multiple mentions on shows like "Inside the Actor's Studio" and "Girls"; and appearances in films such as "13 Going on 30," the Farrelly brothers' "Stuck on You," Spike Lee's "Girl 6," "The Muppets Take Manhattan," Christina Aguilera's "Burlesque," Netflix's "Feel the Beat"; and even shout-outs in narrative prose, such as Woody Allen's short-story collection "Mere Anarchy" and Augusten Burroughs' novel "Sellevision."
And Backstage has received accolades from multiple Academy Award-, Emmy-, and Tony-winning actors and directors. (Plus, the hit musical "The Last Five Years" even includes Backstage in its lyrics: "Here's a headshot guy and a new Backstage / Where you're right for something on every page.")
Below are a few of our favorite quotes about Backstage from a collection of amazing actors, directors, and performers: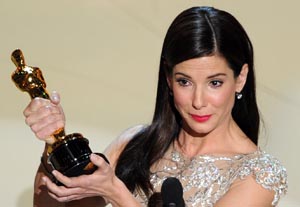 "Backstage? I am standing here now because of Backstage!" Bullock told Backstage during an interview. In a later interview she elaborated, "I look back and I say, 'Every single thing I have today is because I picked up Backstage every Thursday.' It's such a great thing, a tool that still exists for the actor who wants to act to go out and find like minds." — Sandra Bullock ("Gravity," "The Blind Side," "The Proposal," "Crash," "Miss Congeniality")
"I always tell people just to buy Backstage and Show Business," De Niro told James Liption on "Inside the Actors Studio," while explaining how he launched his career and met Martin Scorsese. "I don't know if Show Business is around anymore. But Backstage, I used to buy both every week and just go through all the auditions." — Robert De Niro ("Silver Linings Playbook," "Taxi Driver," "Raging Bull," "Goodfellas," "Heat")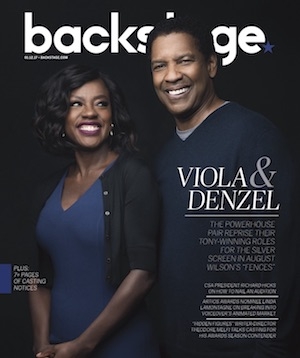 "I scoured [Backstage] to get a job... Open calls, cattle calls. That's where you begin. I probably started looking at them in college at Lincoln Center. You're like, 'How do I get into the business?' Somebody gives you Backstage. You didn't have an agent, you had that. Everybody's gotta start somewhere. Where else would you go? ... If you know the way, you won't get lost." — Denzel Washington ("Training Day," "Malcolm X," "Hurricane," "Fences")
"You needed a way in... I came to New York in '88, took a break between my undergraduate B.A. in theater at Rhode Island College and going to Juilliard. So I came here for six weeks to do a program at Circle in the Square Theatre. I just needed a way in with anything. I used Backstage." — Viola Davis ("Fences," "The Help," "How to Get Away with Murder")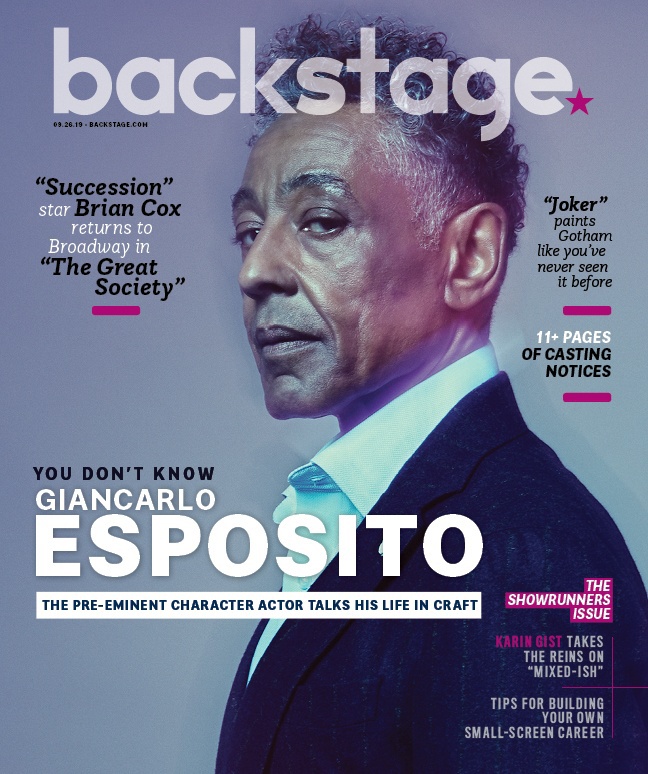 "[I have] very fond memories of Backstage because that's how I was given the ability to know what open calls were, and how I could go have my face be seen... So it allowed me to know information for my career that was valuable, that led to me getting numerous gigs, and put me on the map of casting directors. So I've always loved the informative nature of Backstage." — Giancarlo Esposito ("Do the Right Thing," "The Mandalorian," "Breaking Bad," "Better Call Saul")
"How did I get into acting? Well, I read a lot of Backstage. Everybody got Backstage. That's so funny. Backstage, wow. Doesn't every unemployed actor have their Backstage? That's the first step." — Scarlett Johansson ("Black Widow," "Her," "The Avengers," "Vicky Cristina Barcelona," "Lost in Translation")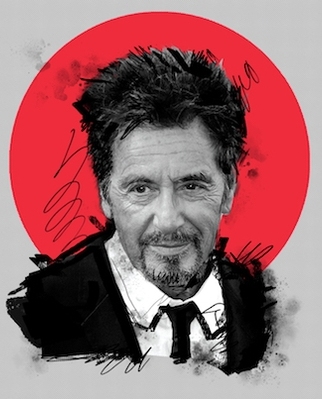 "I remember Backstage as a newspaper that we used to get to look for work. Actors knew where there were actual things that they could go audition for.... The wonderful thing about Backstage — I'm gonna give you guys a real ad here, but I don't care, it's true! — the wonderful thing is that [Backstage] allowed an actor to feel a part of something, because you could just really feel out of it as a young actor.... And, of course, Backstage really gave you the opportunity to go [audition for] some of these things — and I did! I did quite a few of them." — Al Pacino ("The Godfather," "Dog Day Afternoon," "Scarface" )
Describing his early career in a Desert Island Discs radio interview, "In those days if you went for auditions they would list it in Backstage — which was a newspaper for actors — leading men, leading women, character leading men, character leading women, juveniles, character juveniles... Thats what I was always sent out for. I said, 'gee I like this part...'" — Dustin Hoffman ("Midnight Cowboy," "Straw Dogs," "All the President's Men," "Tootsie," "Rain Man")
"Backstage has been a huge part of my narrative, actually..." — Tessa Thompson ("Thor: Ragnarok," "Creed," "Westworld")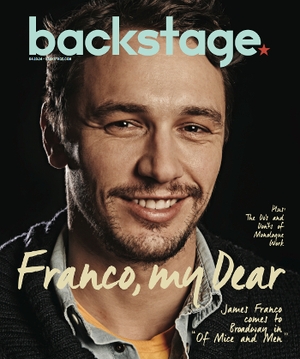 "Backstage was one of my first introductions to the business." — James Franco ("127 Hours," "Palo Alto," "Spider-Man," "Freaks and Geeks")
"I can't believe I'm on the cover of Backstage! ... Three years ago I was living with my parents and reading Backstage to find a job." — Jonah Hill ("Superbad," "Moneyball," "21 Jump Street," "The Wolf of Wall Street")
"Keep reading Backstage.... That's how I got my first job." — James Earl Jones (Academy Award, Tony Award, and Golden Globe-winning actor; "Star Wars," "The Lion King," "The Great White Hope," "Field of Dreams")
"Literally, I got off the bus in a pair of character shoes and an A-line skirt and a leotard shirt, thinking, 'I want to be an actor.' Thinking, as most of us do, getting off the bus with suitcase in hand, that it's going to be a lot easier than it is and the city will just be glad I'm there as they discover me. You know in the back of your head it's not true, but you don't know how hard it's going to be, and it's hard — it's really hard. You audition for everything. In fact, I probably got my first job from Backstage magazine in New York. It was an Off-Off-Off-Broadway production, and it was a new play, and I went down there and auditioned in a cattle call, and I got the role. So that's a minor miracle." — Marcia Gay Harden ("God of Carnage" on Broadway, "Mystic River," "Into the Wild")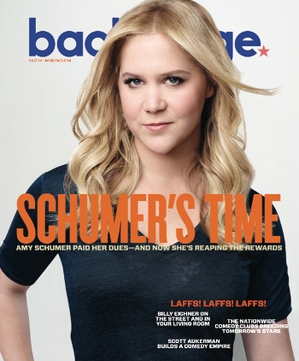 "Like every other actor in New York, L.A., or Chicago, I have such a relationship with Backstage. As soon as I got out of college, I would go through the magazine and circle [casting notices]... Those taught me so much and they connected me with people that I still work with now." — Amy Schumer ("Inside Amy Schumer," "Last Comic Standing," "Reality Bites Back," "Delocated," "Trainwreck")
"I did theater all the way through high school, and I was doing it in summer in St. Louis when I came home from college. Finally I quit school, and I went to New York to try my luck there. I'd never been to New York. I had a friend in St. Louis, and he was kind of advising me, because he had been to New York. He said when you get to New York, you've got to buy a Backstage, because that's where they have all the auditions. So I go to New York on a Wednesday…. I open Backstage the day I get there, and lo and behold [I got cast in a project]." — Scott Bakula ("Quantum Leap"," "Men of a Certain Age," "Star Trek: Enterprise," "American Beauty")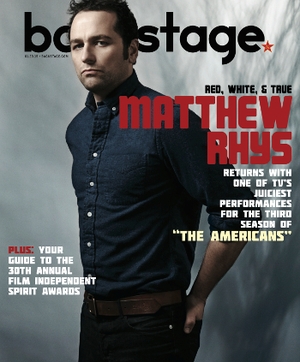 "For actors, you know that Backstage is of your own people. It's instrumental." — Matthew Rhys ("The Americans," "Brothers & Sisters," "Love and Other Disasters," "The Edge of Love")
"When I got out of college, it was all about Backstage. When I made my short films and plays, I cast out of Backstage. Everyone, when they get to New York and want to be in that business, starts with Backstage. It's all about Backstage." — Gavin O'Connor, writer-director ("Warrior," "Pride and Glory," "Tumbleweeds," "Miracle")
"Backstage saved my life, basically. When I was going to give up acting completely and I was on the phone with my mother in New York City, saying, 'Couldn't you just send me a couple of hundred dollars? I'll pay you back.' I'd been sleeping on a bench in Penn Station for two weeks. I had an old copy of Backstage, and there was this casting call in the back, and she said, 'Well, I'll give you a ticket to come home, but I'm not going to send you any money.' I said, 'Okay, well, I have this audition first,' as if I had some big audition. It was a cattle call in the back of Backstage, and I went to it and I got my first job from that, and I've been working ever since. I have very romantic feelings about Backstage because of that." — Todd Field, actor ("Stranger Than Fiction," "Twister," "Eyes Wide Shut"), writer-director ("Little Children")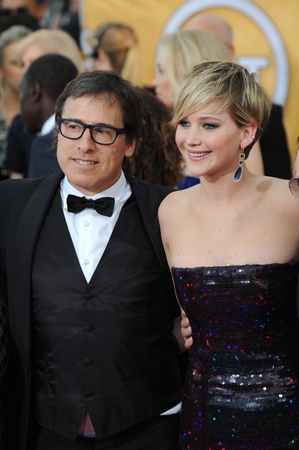 "When I was a waiter and bartender way back, I cast my first short films in Backstage... It was a window into a whole world. I was like, wow, what is that world in Backstage? ... You would see all the films casting in there which was always exciting to me. That's why I like to do interviews with Backstage... I love Backstage, I've been reading it for 30 years." — David O. Russell (writer-director-producer, "Spanking the Monkey," "Flirting with Disaster," "Three Kings," "I Heart Huckabees." "The Fighter," "Silver Linings Playbook," "American Hustle," "Joy")
"I can say that to a certain extent it's the bible and the road map for some of our best performers. If someone asks you where to get information or if someone says, 'I want to break in,' you always say, 'Well, get Backstage.' Just for information that you need, the rules and regulations, and access to all the resources, and who's auditioning what and when and where, and what's happening. It has its hand on the pulse." — Brooke Shields ("Lipstick Jungle," "Suddenly Susan," "Pretty Baby")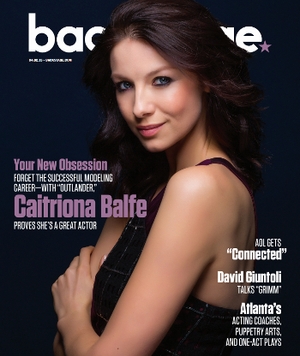 "I still get Backstage emails 'cause I still subscribe to Backstage. [Backstage is] kind of the Bible in the beginning, which is amazing. Samuel French and Backstage go hand in hand, you know? You go there for your plays when you're in classes, and then you get your Backstage." — Caitriona Balfe (Starz's "Outlander," Jodie Foster's "Money Monster")
"There was a time when [Backstage] was a bible for me of information. I was in a couple of articles. I remember doing a play at the Lee Strasberg Institute, 'A View From the Bridge,' and they did an article about the play and I was part of it, and it was a great article. A lot of people came from it. I have very fond memories of Backstage." — Kim Cattrall ("The Ghost Writer," "Sex and the City," "Police Academy")
"When I was pounding the pavement, Backstage was the bible." — Richard Gere ("Pretty Woman," "Days of Heaven," "Chicago," "An Officer and a Gentleman," "Arbitrage," "Primal Fear" )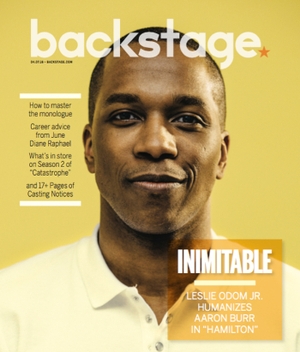 Interviewed several times by Backstage, Leslie Odom, Jr., once advised actors to "Browse Backstage's casting listings. I used to pick up Backstage and find my auditions. The first Broadway show I got was 'Rent,' which I'm positive I found from Backstage. And the first one I auditioned for was 'Aida,' and that was also through Backstage." Later he elaborated, "I respect Backstage a lot, my very first auditions I found in Backstage. [I booked 'Rent'] my Broadway debut, from an open call I read in Backstage. That was the only thing there was. [I had] no agent. That's how everybody found their auditions. Fourteen, 15 years old I started reading Backstage regularly in Philadelphia. And eventually I got enough courage to look at the auditions section and sort of imagine what that would be like. 'Rent' was having an audition in Philadelphia. I read about the open call in Backstage, I was in 11th grade, I played hooky from school for the morning, showed up at an open call — never thinking that I would get it. That wasn't the point. The point was to go to the audition.... And from that audition, four or five callbacks later, I was in New York.... Ignorance! That early ignorance, you have to capitalize on that. You just do whatever your gut tells you to do. Go for it! [It was] a month on Broadway making $1,260 a week, at 17 years old, more money than I ever in my life imagined, that was a million dollars a week to me, and maybe the longest run I'd done was three weeks of something in community theater, so a month was an eternity." — Leslie Odom, Jr. ("Hamilton," "Smash")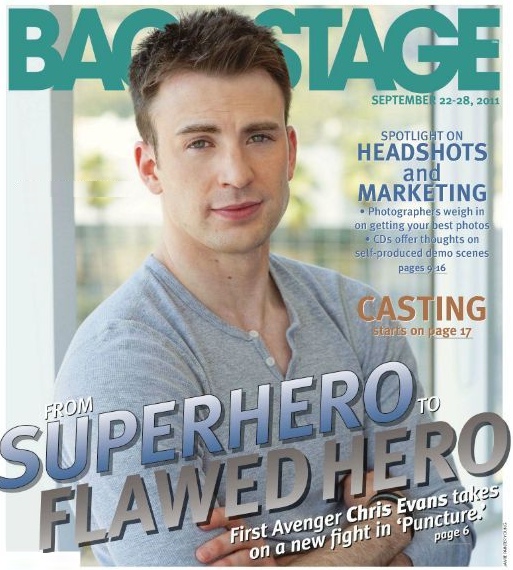 "I got my first acting gig through Backstage in New York. It was a film called 'The Paper Boy.' Eric Ogden was the director. I was living in NYC the summer of my junior-going-into-senior year of high school, interning in casting offices, doing that shit, and I was getting Backstage and looking for auditions. There was an audition for this short, so I went and auditioned and got a callback, and I was all fired up. It was my first real audition outside of, like, community theater, and I ended up getting it. I remember I was walking to work one morning and I got a phone call from the director being like, 'You wanna do this thing?' I was like, 'Ah!' I remember walking down the street with my hand in the air." — Chris Evans ("Puncture," "Captain America: The First Avenger," "Scott Pilgrim vs. the World," "Fantastic Four")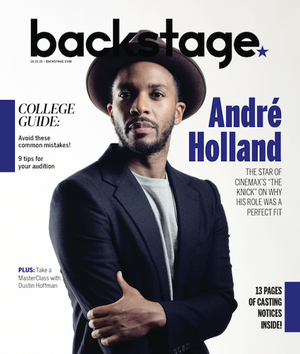 Actor André Holland was a Backstage reader while still in school, years before he was featured on the cover of Backstage Magazine. "So when I told my mother I was doing this interview," he says, "She was like, 'You have got to be kidding me! Look at God. Just look at God!'" — André Holland ("The Knick," "42," "Selma")
"When I graduated with my master's degree from NYU, I would have been lost if it weren't for Backstage. I didn't have an agent, I had no way of finding out what was happening in the city and the rest of the country. Backstage was my bible. I would scour the pages for open auditions, reviews, advice, and articles. It helped me feel connected to my craft and my community. I learned a lot through the pages of your magazine." — Camryn Manheim ("Harry's Law," "Ghost Whisperer," "The Practice," "Happiness")
"I'm well aware of Backstage. At my acting school at the Atlantic Theater Company, we have a business class, and one of the first things our teacher [told] us is to get a copy of Backstage." — Elizabeth Olsen ("Martha Marcy May Marlene," "Peace, Love & Misunderstanding")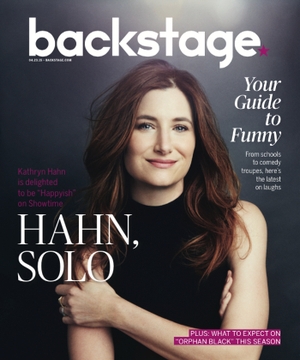 "My husband and I, when we first moved to New York, Backstage is all we would look at. We would get it and, like, run to auditions. I got my first play in New York from Backstage. It was part of the festival at Theater for the New City, and I got a role in a play called 'Bar None' that starred a woman named Avocado Tit. I'm not even kidding. So I have a long history with Backstage." — Kathryn Hahn ("Free Agents," "Our Idiot Brother," "Revolutionary Road," "Anchorman: The Legend of Ron Burgundy")

"When I first started in the business, [Backstage] was my bible." — Loretta Devine (original Broadway production of "Dreamgirls," TV: "Grey's Anatomy," "Eli Stone," "The PJs," "Boston Public")

"I [read Backstage] when I first came to New York, absolutely. I can't say that I ever got a job going to any of those auditions, but yes…I used to read it, certainly." — Hope Davis ("Mildred Pierce," "American Splendor," "About Schmidt," "The Daytrippers")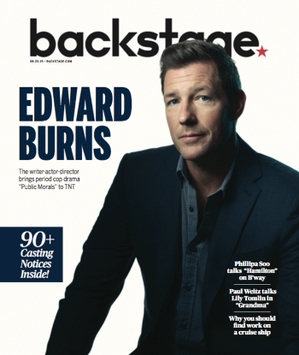 "I was so excited to get my first commercial that I almost didn't go to the Sundance Film Festival when 'The Brothers McMullen' got in. After two years of trying, I finally got my first commercial. 'Brothers McMullen' was truly my big break. I got it out of Backstage, and I didn't have an agent and I wasn't in SAG, and it went on to win the Grand Jury Prize at Sundance and everything changed. And that film's director, Ed Burns, is definitely a champion. I've done three movies with him, and I learned so much about the way I love to work by working with him. Pete Berg, too. I love working with the same people over and over again; I feel it always allows me to do my best work. Because I know that person is behind me." — Connie Britton ("Friday Night Lights," "Spin City," "The Brothers McMullen")

"I think my very first job out of college was out of Backstage. I went to an open call for 'Rent,' and I did 'Rent' in Canada, and that's what started me off: production contract, back to New York, and boom! Somebody I worked with very recently just moved to New York, and he said, 'I just want to get some insight on what I should do.' I was like, 'First thing you need to do is go and pick up Backstage and run to some auditions and see what you can get through that.'" — David St. Louis (Broadway: "Jesus Christ Superstar," "The Scarlet Pimpernel")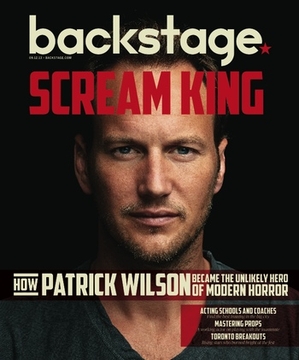 "I used to get Backstage when I was in college — well, I had friends who got it and would tell me about it, and my friends and I would drive up from Pittsburgh [to auditions in New York]. I auditioned for so many things then…. My first job was from Backstage." — Patrick Wilson ("A Gifted Man," "Watchmen," "Little Children")

"Backstage was a big part of my career. Literally submitting envelopes with headshots in it and writing a letter. All of that. I did a string of student films for a year through Backstage just to keep busy and wanting to stay in practice and to meet filmmakers." — Randall Park ("Fresh Off the Boat," "The Interview")

"Your magazine has carried me through the hardest of times. It was all I looked at when I first moved to New York. It's like the mecca, the Torah, of actors going to New York. It has to be a part of your life. You make it so comforting for actors. I used you guys all the time for auditions and read the articles on how to be a better actor, how to be more patient — there was an article on rejection that I swear saved me. It's such a great thing; every actor all over the world knows about Backstage. I read it for so many years and continue to look at it so fondly." — Katie Finneran (Broadway: "The Iceman Cometh," "Proposals," "The Heiress," "Cabaret," "Noises Off")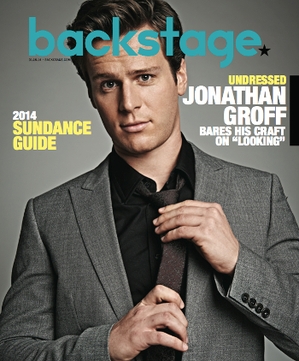 "I believe in Backstage. It changed my life." — Jonathan Groff ("Spring Awakening," "Looking," "The Normal Heart," "Glee," "Frozen")
"I was a huge Backstage buyer! I used to get excited every Thursday when it came out. That was the most exciting part of my life when I started acting. I would have my hard copy of my headshot, and I would buy envelopes and send it out to the addresses. I got a whole bunch of jobs from Backstage." — Guillermo Diaz ("Weeds," "Mercy," "Half Baked")
"Backstage is more than just another trade publication. It is filled with up-to-date and valuable information on what is happening in the industry from week to week, especially for actors just coming into L.A. It could even lead you to where you need to be at the moment...you never know." — Kim Basinger ("8 Mile," "L.A. Confidential," "Batman," "9½ Weeks")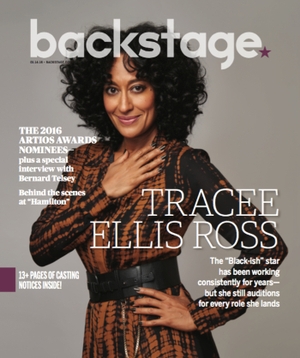 "I used to [read Backstage] a ton when I was early in my career." — Tracee Ellis Ross ("Girlfriends," "Daddy's Little Girls," "Reed Between the Lines," "Black-ish")
"Read Backstage. Believe me, I used to tear through that paper, boy. Oh my God — tear through it. I couldn't wait for that new issue. That's the other thing I'll say — get Backstage the second it comes out and tear through it. I used to wait for it. It's a true story! Ask my mom; she used to yell at me for having Backstage papers all over the place!" — Jerry Ferrara ("Lone Survivor," "Empire State," "Turtle" on HBO's "Entourage")
"Oh, I 100 percent [read Backstage], that's why I really like talking to you, because I really… I'm having like a huge flashback. That's all I did. I started in New York, I didn't know anyone, and I would just pick up a Backstage and circle nonunion jobs." — David Walton (star of NBC's "About a Boy," "Fired Up!," "Perfect Couples," "Bent," and "Heist")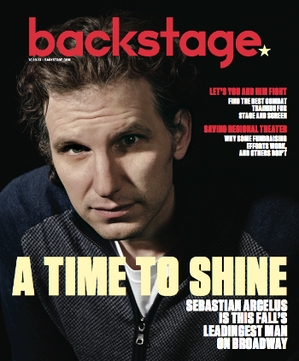 "Backstage was very much a part of my life, and when I meet folks today outside the stage door and they say they're a young actor just starting out, I tell them, 'Just get Backstage. That will get you going and that will keep you going.'" — Sebastian Arcelus ("House of Cards," "Rent" and "Jersey Boys" on Broadway)
"Of course I [used Backstage]! Are you kidding me? Yes! I grew up in Jersey, right across the bridge. I don't know if I booked anything but I went on a whole lot of auditions. I remember particularly when I was non-Equity, when you're looking for that foot in the door and you don't have an agent looking out for you, having a place where you feel in control of your own destiny is really important. Backstage was and is that for a lot of people." — Rob McClure (Tony Award-nominated and Theatre World Award-winning Broadway actor, "Chaplin," "Avenue Q," "Honeymoon in Vegas")
"I was auditioning a lot. In New York City, if you don't have representation, which I certainly didn't, you look in Backstage Magazine and find auditions." — Stephanie Courtney (the Groundlings, the Neighborhood Playhouse, "Mad Men," Flo the Progressive insurance pitchwoman)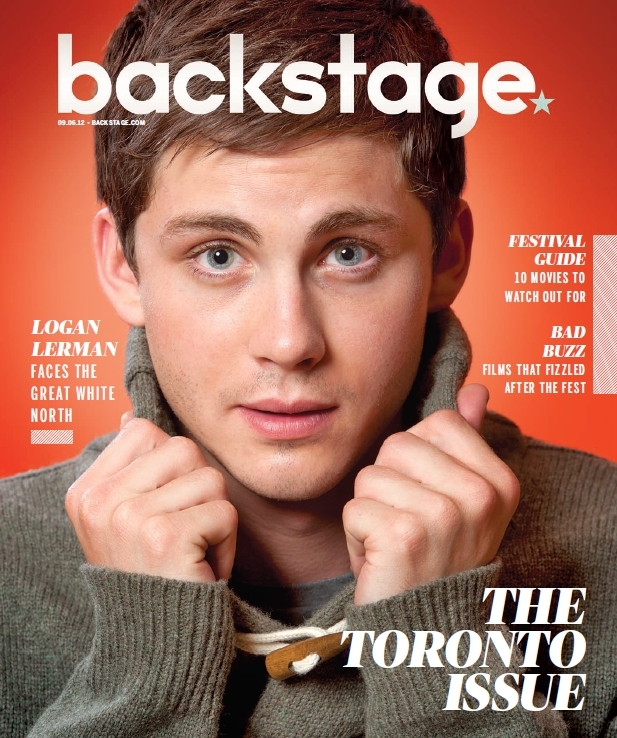 "I've seen the magazine in countless casting offices. You always pick up Backstage and then flip through it. I've seen it a million times. I always find it interesting, and it's my industry; it's my business. I love it." — Logan Lerman ("The Three Musketeers," "Percy Jackson & the Olympians: The Lightning Thief")
"I certainly have stood in a lot of very long lines from ads in Backstage. I remember one time there was this open call for a soap opera. This was 25 years ago. And I remember it was on a Saturday. They're always on a Saturday; they're never on normal working hours. And I remember coming out of the subway, and there were literally 350 girls just lined up. I'd just moved to New York and thought, 'Oh, God.' I stood in a lot of lines from Backstage. I certainly read it every week." — Catherine Dent ("Uncle Vanya" on Broadway, "The Shield," "21 Grams," "Nobody's Fool")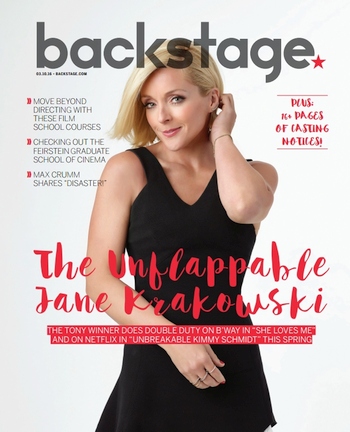 "My first audition was through looking through the audition listings in Backstage. It was an open call. We used to circle the ones I was appropriate for with a marker, like going through the pages. Now it's all online, right? So weird. We used to go to the city, buy it — because we lived in New Jersey — and circle the ones [we liked]. And I waited on line outside the 46th Street Theater to audition for a show called 'The Milliken Breakfast Show.' I was nine years old. My dance teacher wanted to be one of the adults in the show and he brought two of his students to audition, myself and another student. We all waited on line and I must've been number 250 or something, we waited outside all day. I went in and sang a few bars. And it was an industrial for a clothing company so we had to be measured. Like, did I fit the clothes? I sang my 16 bars and got in.... First job ever! Yeah!" — Jane Krakowski (Emmy, Tony, and Olivier winner; "30 Rock," "Unbreakable Kimmy Schmidt," "Ally McBeal")
"I certainly read [Backstage] for jobs. Yes, I would purchase it and read it and see what was going on." — Judith Ivey ("Flags of Our Fathers," Broadway: "Steaming," "Hurlyburly," "Park Your Car in Harvard Yard")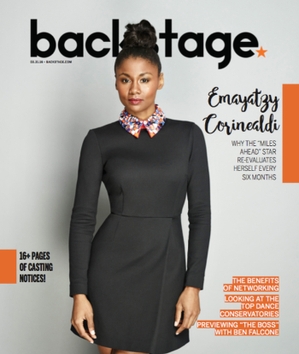 "Backstage was such a large part of my life in Jersey. Because that's where I looked at all the casting notices, all my Off-Off Broadway, things like that. So I came [to L.A.] and it's like, OK, well, [all] I have really is Backstage to know where to go. I could rely on my Backstage out here. And, so, that's what I did." — Emayatzy Corinealdi ("Middle of Nowhere, "Miles Ahead")
"['Matewan'] was my first feature film, but it came in kind of an interesting way. My wife [Marianne] was also an actor. When we were living in New York, she answered a Backstage ad for an NYU student's film, and that turned out to be Nancy Savoca. So Marianne did Nancy's half-hour junior black-and-white piece. Then she and Nancy and Rich, Nancy's husband — we all four became real good friends from that experience. Then Nancy worked on 'Brother From Another Planet' when John [Sayles] was shooting that. And she was aware that John beforehand had lost financing. He wanted to do 'Matewan' but lost the financing, so he went on to do 'Brother From Another Planet.' So Nancy gave John my name and said, 'When the time comes for "Matewan," take a look at this guy.' So that's kind of how that came about." — Chris Cooper ("The Town," "Seabiscuit," "American Beauty," "Lone Star")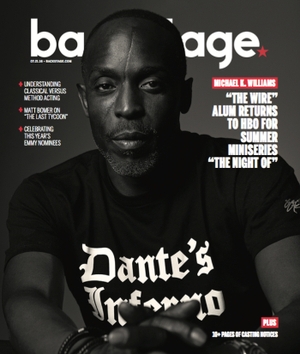 "In New York City you did it all... My three things were modeling, dancing, and acting.... You stayed in the city until you were beat tired. You went on auditions and met people and networked. You soaked up the energy. I lived in Backstage [finding casting notices to audition for a variety of projects]." — Michael K. Williams ("The Wire," Boardwalk Empire," "Bessie," "The Night Of")
"Backstage was my bible... I would get up at five o'clock in the morning and wait in front of Equity." After several years of this, she was feeling defeated and vowed not to do any more open calls. "Right when I decided that, I opened Backstage, and there was an audition for 'The Merchant of Venice' on Broadway with Dustin Hoffman. So I told myself I would go one last time. And I freaking got it!" — Dale Dickey ("Winter's Bone," "My Name Is Earl," "Breaking Bad," "True Blood," "Justified")
"I totally used Backstage! Are you kidding? I didn't have an agent. When I first got here [Los Angeles], I didn't have an agent, so someone told me about Backstage Weekly. I didn't have any film [experience], I didn't have a reel, just a few commercials. I went to Backstage Weekly and auditioned for some student films, and got the roles! And therefore I had a better tape of myself. It was a great process.... I found Backstage to be very empowering to actors. [It was] always saying, 'Find ways to create your own work, don't wait to be cast.' I used to say this about myself: When I got to Los Angeles my phone didn't ring, so I called myself." — Nia Vardalos (actress-writer-producer-director, "My Big Fat Greek Wedding," "Connie and Carla," "I Hate Valentine's Day," )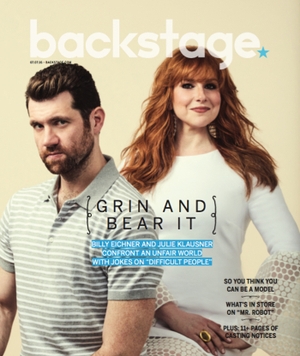 "I used to read Backstage all the time. I grew up in New York and I was a child actor, and then a young adult actor, and then an adult actor looking for work, and I was always reading Backstage," Bill Eichner told Backstage in an interview. He also tweeted, "I used to read [Backstage] every week looking for auditions. [Being featured on the cover] feels nice." — Billy Eichner (Funny Or Die's "Billy on the Street," "Parks and Recreation")
"The first job I booked was for a UPN pilot called 'Extra Sauce.' I'd been doing a play, booked after reading Backstage, and was fortunate enough to get a call telling me I'd been requested by someone who'd seen it. After years of waiting for the 'shot,' when it finally arrived I learned firsthand that Hollywood isn't like it is on TV. It's often long hours of waiting. But when my scene arrived, late in the taping, and the place exploded in laughter, it was everything I imagined and more. Thanks, Backstage; you guys played a role in that." — Cutter Garcia ("CSI: Miami," "Chuck," "Las Vegas," "Hannah Montana," "Monk")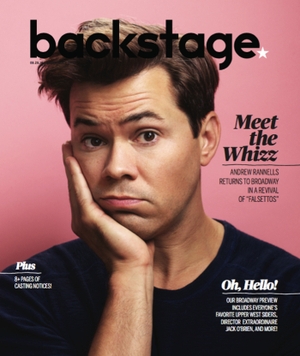 "Backstage was very helpful because it made you feel like you had some sort of inside track as to what was going on," Andrew Rannells told Backstage in an interview, explaining how he launched his career. He also tweeted, "If 19 year old Andy Rannells knew that one day he would be on the cover of Backstage, I think he'd be pretty damn excited. #Istillam" — Andrew Rannells ("Girls," "The Knick," "The Book of Mormon," "Hedwig and the Angry Inch," "Hamilton")
"I remember back in the day... I would buy [Backstage] and I'd go to every open call available. That's how I got my first agent, that's how I got my first Equity card." — Arturo Castro ("Broad City," "Narcos," and "Alternatino")
"I got a message from casting director Keshuna Jones Lee [on Backstage.com] just saying, 'Oh, we're looking for black females who can dance.' I'm like, 'That's me.' I went to the casting, and there were a man and a woman who put on some music and just said to dance... After a few more questions they told me that this audition was for a Solange video project and the rest is history." — Keah Moffett, actor-dancer-screenwriter-director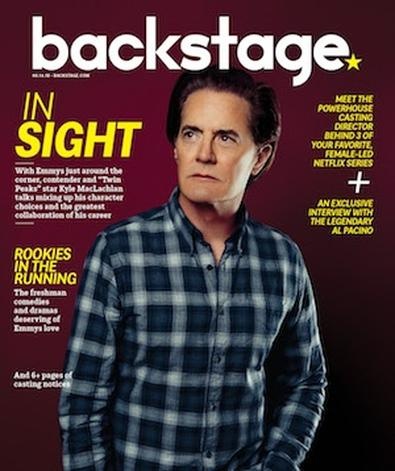 "What I was planning to do was to come to New York, get Backstage, and go through casting calls," Kyle MacLachlan said, explaining his original career plans to Backstage. But then his life took a new trajectory when David Lynch cast him in "Dune." — Kyle MacLachlan ("Twin Peaks," "Blue Velvet," "Sex and the City," "High Flying Bird")
"Backstage was the Bible, the actor's Bible... I have such fond memories of sitting in my apartment and circling the auditions." — Tony Hale ("Arrested Development," "VEEP")
"When I was dancing professionally, I found all of my jobs in Backstage. Every Thursday, I would run down to the corner store and pick up the latest issue. It was so exciting! I would circle the upcoming auditions with a red pen, write them on my calendar, and prepare! The Radio City Rockettes, '42nd Street' in Europe, 'My One and Only' national tour, 'Tap' the movie, 'Sugar Babies' with Juliet Prowse and Mickey Rooney, 'Hello Hollywood, Hello!' with Carol Channing, and many others were some of the productions that I read about, dreamt about, and landed thanks to Backstage!" — Stephanie Lawton, dancer and dance teacher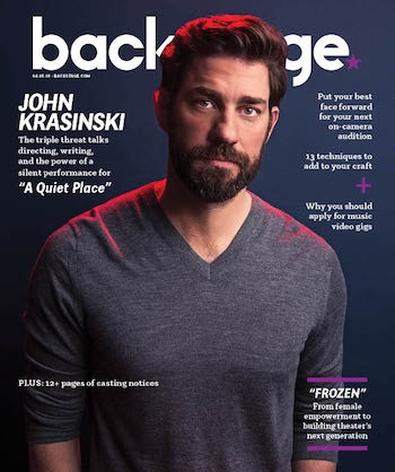 "I always read Backstage. Not only did I always read Backstage, I think I legitimately had that, like, stereotypical, circled auditions and stuff. [I would have] it in my pocket and arrive to an audition and realize that you could see all the other ones I circled." — John Krasinski ("The Office," "Jack Ryan," "A Quiet Place")
"As a new actor, when I entered the business, I was so in love with Backstage... I remember finding some of my first plays, some of my first non-Equity this, that, and the third, some of my nonunion 'gigabouts,' my things. I just remember it was the end-all-be-all." — Niecy Nash ("Reno 911!," "Scream Queens," "Getting On," "Claws," Emmy-winning host of "Clean House")
During an interview for our "In the Envelope" podcast, award-winning stage-and-screen actor Nathan Lane explained how Backstage was a part of his career from the start: "I read Backstage and was interested in seeing what was going on, and then also just the articles... It was a very helpful guide in the early days of my career." — Nathan Lane ("The Birdcage," "The Producers," "Penny Dreadful: City of Angels")
Cassandra Peterson wrote in her memoir, "Yours Cruelly, Elvira," that "While in New York, I was forced to work two jobs to cover my expenses... Working two jobs left me with only mornings to look for an agent and go on auditions, the reason I'd moved to New York. I pored over Backstage magazine, New York's equivalent of Variety, and went on crowded casting calls for dancers and singers." — Cassandra Peterson (actress, writer, singer, and horror icon best known for her character Elvira)
"Backstage Magazine was virtually the only resource in New York City when I began looking for work in the film industry. Twenty years later, I can look back and say that I actually owe my start in the industry to Backstage!" — Rob York (Director, Media Production and Distribution at Scenarios USA)
"When I need to find new talent for a film or TV show, I always cast with Backstage." — casting director Barbara McNamara (credits include background casting for "Sex and the City," "30 Rock," and "The Devil Wears Prada")

"Backstage is a spectacular resource for finding talent for any type of project. Whether I'm casting for film, theatre, TV, or commercials, Backstage is always there." — casting director Daryl Eisenberg (theater credits include "Altar Boyz," "Gossip Girl" and "Footloose")

"While it's no secret that Backstage is an absolute necessity for actors, it's also an invaluable resource for entertainment industry professionals. I find myself constantly consulting Backstage for the most up-to-date and accurate casting information, and insightful articles on industry trends and news." — casting director-producer Michael Cassara, CSA (credits include "The Molly Maguires," the New York Musical Theatre Festival, and numerous NY theater productions and national tours)

"Backstage's online talent database is a terrific way for actors to showcase their credits, photos, and reels and other video clips. I've searched the database hundreds of times." — casting director-teacher Jennifer Rudolph (credits include NY casting for "Transformers" and "G.I. Joe")
"Backstage's Actorfest was great, a surprisingly productive day. I'm working on a pilot, a feature film, and a short film and I have at least half a dozen actors from Actorfest that will definitely be auditioning for my current projects." — casting director Liz Ortiz-Mackes (casting director, film producer, teacher, and owner of Casting Solutions in NYC. Author of the book "Ace Your Acting Audition," and previously a franchised talent agent. Casts films, TV, theater, and commercials)
"A lot of people who are new to the city and people we don't see all the time at our other open calls attend Backstage's Actorfest. New faces to the city are always good for us." — senior casting associate Allison Hall, Grant Wilfley Casting (background casting credits include "Boardwalk Empire," "Royal Pains," and "Smash")
"The job that changed the course of my life came through a Backstage casting notice!" — Seed&Spark Founder and CEO Emily Best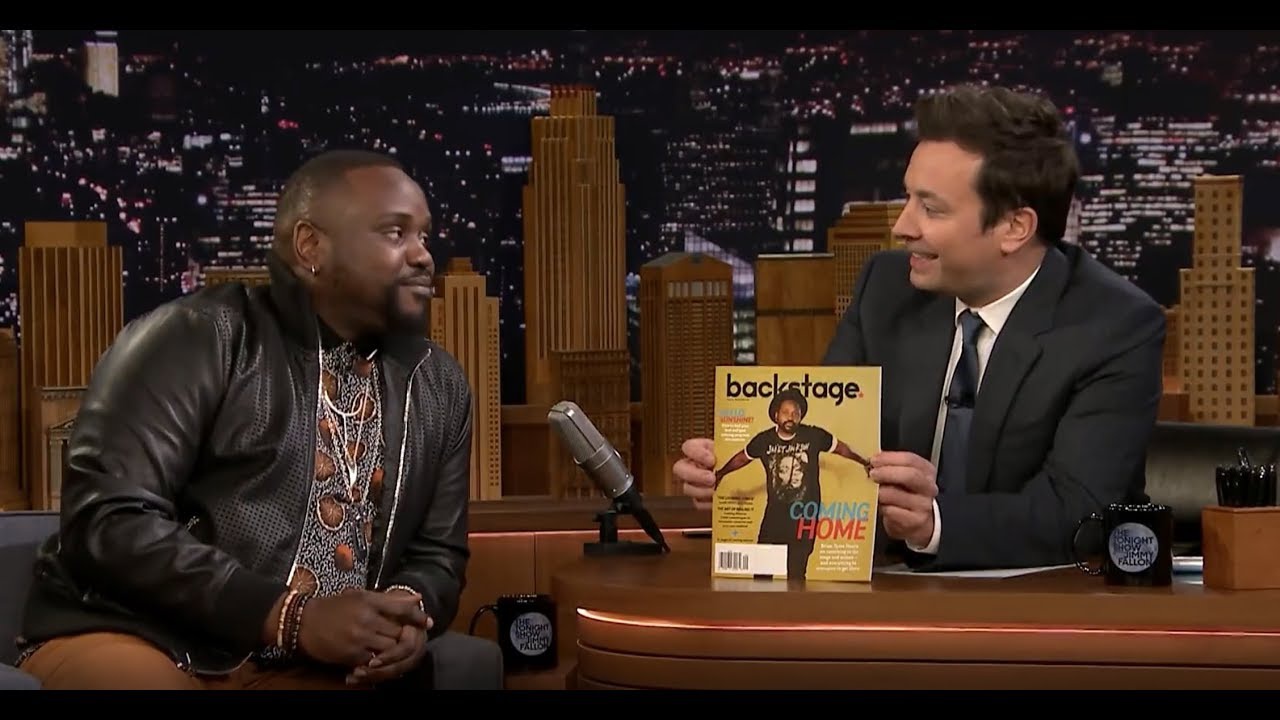 Brian Tyree Henry ("Atlanta," "Vice Principals," "The Book of Mormon") brought his copy of Backstage to "The Tonight Show Starring Jimmy Fallon," exclaiming "This is like the actor's bible. If you're in New York and you want to find auditions... You read Backstage."
And the check out Backstage's appearance in "The Muppets Take Manhattan" below!
Inspired by this post? Check out our audition listings!