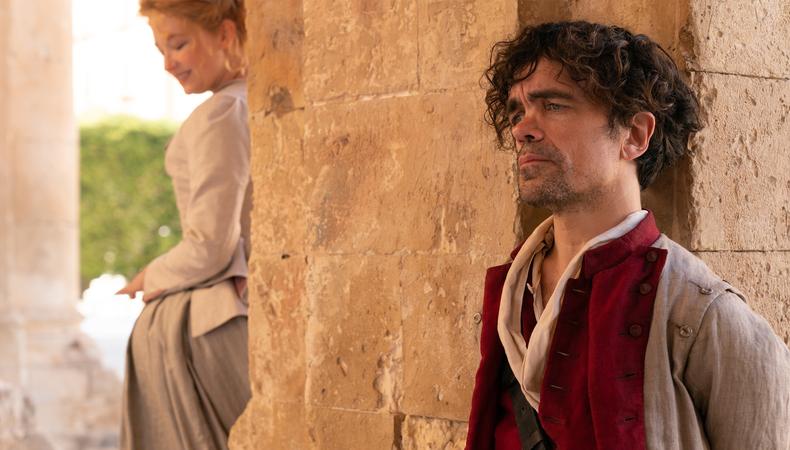 Joe Wright's film adaptation of "Cyrano" feels very different from this year's other awards-contending movie musicals, like "West Side Story," "In the Heights," and "Tick, Tick…Boom!" That's by design.
"There are some musicals and music-oriented films that I really love, but a lot that I don't like. I often find the theatrical, presentational aspects of the musical somehow galling," Wright says, "especially when you have a dialogue scene and then there's a fanfare and you launch into a song-and-dance number. I wanted a far more intimate experience."
Some of the filmmaking techniques used to create that intimacy in his adaptation of Erica Schmidt's 2019 musical (itself adapted from Edmond Rostand's 1897 play) aren't singular. Music that's performed live on camera, for instance, memorably gained traction thanks to Tom Hooper's Oscar-winning "Les Misérables" in 2012. But "Cyrano" stands out in that it's an inherently less robust musical.
"The film is about humans connecting—or more often than not, failing to connect—which is why I felt like it was perfect for the time we're living through," the filmmaker says. "To do that, there was no playback, miming, or lip-syncing. And we tried to create a kind of seamlessness between the dramatic dialogue scenes and the songs so that they felt like an extension of the emotion of the scene rather than something completely different."
Peter Dinklage stars as the lovelorn hero Cyrano de Bergerac—reprising his role from the 2019 Off-Broadway production—alongside Haley Bennett as Roxanne and Kelvin Harrison Jr. as the romantic Christian. Each actor brings their own flavor and strengths to the material. For instance, Bennett's soprano vocals have a full timbre, while Dinklage, Wright admits, is "certainly not a Broadway musical–type singer."
Yet the "Game of Thrones" Emmy winner's way of speak-singing through ballads and larger ensemble numbers enhances the film's conversational orchestration. Written by members of the National (Aaron and Bryce Dessner handled the music, while Matt Berninger and Carin Besser penned the lyrics), the songs are plot-driven rather than extraneous song-and-dance breaks.
"There are many different types of singers; I don't think Pete would describe himself as a singer. But I'm personally a big fan of Tom Waits, Leonard Cohen, and, indeed, the National's Matt Berninger," Wright says. "That's a kind of lower-key singing style, one that feels emotional and less declamatory. I wanted to keep the faults in the voices, the cracks, the breath at the wrong moment, the running out of breath toward the end of the line. For me, that's where the emotions lie: in the faults rather than in the perfection."
Making sure his actors—from the smallest supporters to the top-billed Dinklage—were comfortable while leaning into those imperfections is crucial to Wright's filmmaking approach. "We all have defenses we put up that turn into habits, and so a large part of the process for me is getting people to unlearn their habits, lower their defenses, and allow themselves to be open and trusting of their own creative intuition and imagination," he says.
Also crucial: three weeks of rehearsals, which he incorporates into all his films. It's during this period that there's "a lot of improvisation and talking and honesty about ourselves as people," he says. "Who we are and our fears and hopes and dreams. It's less about a kind of exercise and more about talking and storytelling. I've always encouraged my actors to tell stories about their own lives and say, 'It's a little bit like this or that.' "
Wright's characteristic high production value, period set pieces, and costuming in this film hold up against his work in "Atonement" and "Pride and Prejudice"; but the end result is that "Cyrano" is one of the finer, more down-to-earth musicals you're likely to see this year—or any other.
This story originally appeared in the Jan. 20 issue of Backstage Magazine. Subscribe here.
Looking for remote work? Backstage has got you covered! Click here for auditions you can do from home!