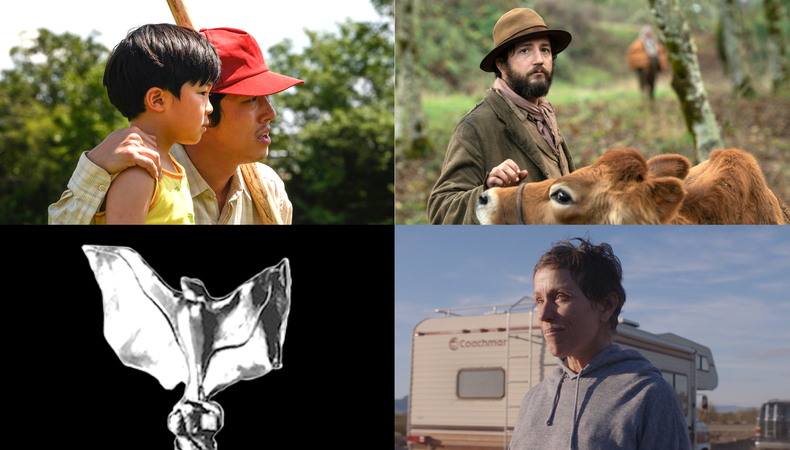 "In the Envelope: The Actor's Podcast" features in-depth conversations with today's most noteworthy actors and creators. Join host and Awards Editor Jack Smart for this guide on how to live the creative life from those who are doing it every day.
As this year's film awards season nears its conclusion, "In the Envelope" is diving deep into one of its most fabulous, and essential, ceremonies: the Film Independent Spirit Awards!
A nonprofit founded in the 1980s by producers looking to foster cinematic visions outside of Hollywood's traditional studio system, Film Independent was originally known as the Independent Feature Project/West; their Spirit Awards have now honored small-budget indie artistry for over 30 years in a ceremony usually held just before the Oscars on the beach at Santa Monica, California. Like all of Hollywood's awards shows amid the COVID-19 pandemic, this year's Spirit Awards have adapted into a virtual presentation, to air April 22 with Melissa Villaseñor as host.
"Our mission is quite simple," Film Independent president Josh Welsh tells Backstage. "We champion creative independence in visual storytelling. We support a community of artists who embody diversity, innovation, and uniqueness of vision." A former actor who began at the organization as a volunteer, Welsh is the perfect guide to all things Film Independent and the Spirit Awards, the evolving state of the indie industry, and practical career advice for writers, directors, and performers alike.
Film Independent was created by Gregory Nava, Anna Thomas, and other Los Angeles filmmakers to be "an organization by filmmakers, for filmmakers," says Welsh. "That's very much still today what this organization is. If you look at our board and even our staff and our membership, of course, it's filmmakers. And they're here to learn and get connected and network, but also to help each other."
Providing that community-driven support are year-round programs like Film Independent Presents, Artist Development labs, Project Involve, and panels, Q&As, and networking events. Film Independent membership (available for a $95 annual fee) includes access to all the above and voting privileges at the Spirit Awards, which are the organization's biggest fundraising gala as much as its marquee event.
"I truly believe it's the best films of the year," says Welsh of the Spirit Awards, pointing to the 2021 nominees. "In our best feature category, out of the five nominees, three of them are directed by women.... There is much more diversity in the independent space and definitely at the Spirit Awards. We work hard at that with the committees that we put together to select the nominations." This year's writing and directing nominees are 57% women and 48% are BIPOC, reflecting the more equitable opportunities of today's indie film industry.
Also notable in the 36th Spirit Awards are the first-ever television nominees, including an ensemble cast prize that this year will go to Michaela Coel's HBO hit "I May Destroy You." Welsh says, "I'm getting a lot of questions about, 'How can TV be independent and what does that mean?' Which are really legitimate questions because it is hard to parse it out. But we feel that is a major frontier, an area where great storytelling is happening."
While the Spirits have established parameters for defining "independent," like eligibility only for feature films budgeted under $22.5 million (or, for the John Cassavetes Award, under $500,000), the definition is inherently more about a project's "aesthetic quality," says Welsh. "Does it have that original voice? An original provocative voice and subject matter? Is it trying to do something new? Is it pushing boundaries in some way?"
Lulu Wang's journey to produce the Spirit Award–winning "The Farewell" is Welsh's go-to example of independent spirit. "She had lots of companies interested in it, she had all these meetings. They would pitch it like, 'Could you put a white protagonist in? Or could you have it set all in the U.S.? The language barrier is too much, let's just make it not Chinese.' Everything was trying to make it fit in some marketing bubble. She just was like, 'No, I'm going to tell my story. This is my family and I'm going to tell it the right way.' And she persevered and got it told that way."
As for advice for Film Independent members and Backstage readers alike, Welsh offers several pearls of wisdom: "Pursue the people whose work inspires you, find a way to get in front of them." And don't forget to treat yourself with kindness, he adds. "It's so hard just being a creative. Whether you're an actor, or a writer, or director, it's brutal, it's so competitive, it's so hard, you can get discouraged. And you just have to take care of yourself."
Stay tuned also for a check-in with Backstage's Kasey Howe, and of course a dose of storytelling inspiration from Christine McKenna-Tirella. Her casting notices of the week include a well-paying commercial and a search for real-life Magic Mikes. Listen to "In the Envelope" wherever podcasts are found:
Listen now on:
Looking for remote work? Backstage has got you covered! Click here for auditions you can do from home!