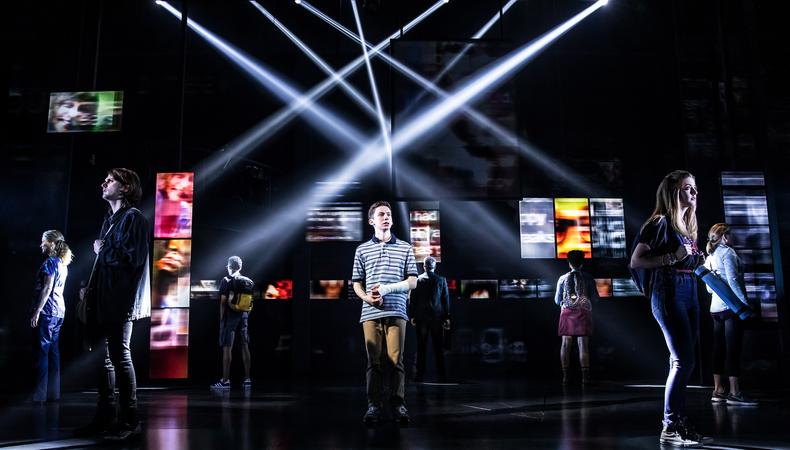 I remember my first Broadway show like it was yesterday. It was "West Side Story" and I was 11 years old. Debbie Allen was playing Anita and she was riveting. I feel like I literally held my breath for two hours. There is nothing like live theater and these days kids are being introduced to the magic of Broadway through "Frozen," "Harry Potter and the Cursed Child," "The Lion King," "Wicked," and other productions. Some that are astonished by the music, costuming, choreography, and performances are moved to want to be a part of this world. So if you have a child who is interested in becoming a Broadway star, how do you support them and make their dream come true?
It starts with a little bit of magic. Well, it certainly seems like magic to those who are just getting started when they see a well-rounded performer who can command the stage and own a role. How do they do this night after night you might wonder? The first step is just preparation and a lot of it. The first thing you should do is figure out exactly what your child wants to do. Sure they want to be on Broadway, but roles vary and different actors fit different types. Maybe they don't have an interest in dancing or perhaps they'd like to excel in comedic roles. Knowing what their type is, what kinds of roles they'd like to play, and working from there is crucial to their success as a performer.
Therefore it's necessary to go see shows together! It's the most fun homework you both will ever have! Go see whatever shows you can as often as you can afford. See them on Broadway, Off-Broadway, and in community theaters. Seeing these shows will give you a sense of what roles are out there. Your kid will start to recognize their type and their personality in some of the characters they see and know that with some work, those roles could be theirs too. Take note of what characters sing what songs, what the range required for those songs are, and compare that with your child's range. Do the same with the choreography. Does a show focus heavily on jazz, hip-hop, or contemporary? Does the role they want require a strong tapper?
Everything You Need to Know About Becoming a Child Actor
It may seem obvious, but now it's time for training, training, training! Working with a vocal coach and a dance instructor on these skills is hugely important to preparation. When your child trains specifically for certain parts, then they'll have some of the steps and the songs mastered and available to use as needed. By the time there is an open call or an audition for the role your child is focused on, they'll have a leg up on everybody else. Remember this motto: stay ready, so you don't have to get ready.
Getting auditions can be hard, especially without a résumé. While there may be a level of experience that your child will require before they're invited to audition for major Broadway productions, there are ways to still get in front of casting. You should be attending the open calls for any and all age-appropriate roles. Equity requires that productions hold open calls before invited calls, giving you a chance to show your stuff to a member of casting. Go early if you are non-Equity as there can be a long wait. I advise my clients to attend, even if we're working on getting them appointments so that they can be guaranteed a chance to be seen.
In a similar vein, you can build a résumé through classes and training. Seeing someone is working hard and continuing to further their art is a huge checkmark in their column, regardless of prior experience. If a child actor shows dedication to their craft and is right for a part, they could absolutely book it. You should also consider community theater, as that is a great place for your child to cut their teeth and get experience playing the roles that they're right for. Being able to show a production team that a child actor is not only prepared with songs from that show in their songbook but that they've put an entire live performance on its feet will be huge!
How the Theater Casting Process Works for Child Actors
Now that your child has prepared a song and has all the right dance moves, they're finally ready for the big opportunity and the moment has arrived. It's time to prepare for the audition itself. Auditioning takes its own specific skill set that might not be learned in vocal lessons. When singing, it's not just about hitting the notes, but about conveying both the emotion and character growth in the song while doing it. Who are you singing to? What is your connection to this person? How does what happens in the song change the character's perspective? These are all things that have to be conveyed! Keep eyes up and open, plant feet, and project. We need to be able to see that your child is singing to or about someone else, even if that person is their own character.
Make sure they have meaning and intention otherwise, they're just a singer hitting notes and not a musical theater performer who is conveying an inner world of emotion. It's important to practice not just with a vocal instructor, but by asking friends and family to watch so that they are used to doing this in front of other people. Singing and acting are very vulnerable crafts and often being comfortable in a room of classmates or instructors doesn't translate to being comfortable in front of a room of strangers in casting.

Finally, please, please, please keep their résumé up to date. It's crucial that production, casting, and your reps have current information on your child's sizes, like height particularly, and training. I saw a show on Netflix recently about the making of "Dirty Dancing." Patrick Swayze was submitted for the lead role but his résumé at the time did not list dancing as one of his skills. The writer and director both wanted him to read, but the character of Johnny Castle simply had to be an accomplished dancer. Later, when the production hired a director who had previously worked on dance documentaries, he immediately asked why Patrick wasn't in the mix. The writer and director said, "Well, he'd be great for this, but he doesn't dance." To which he replied "Are you kidding? His mother owns one of the most prestigious dancing academies in the country, and he's been a star in the New York City ballet scene for years." The rest, as they say, is history!
The views expressed in this article are solely that of the individual(s) providing them,
and do not necessarily reflect the opinions of Backstage or its staff.