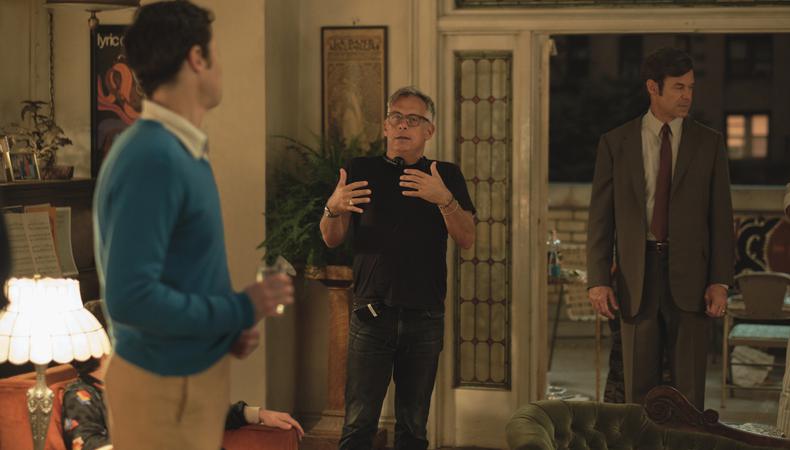 Premiering on Broadway 50 years after its original 1968 Off-Broadway run, producer Ryan Murphy and director Joe Mantello's revival of "The Boys in the Band" was one of the hottest theater tickets of 2018. Featuring an all-star ensemble that included Jim Parsons, Zachary Quinto, Matt Bomer, Andrew Rannells, Charlie Carver, its sole Tony Award nominee Robin de Jesús, and others, the production went on to win that year's coveted Tony for best revival of a play.
Even then, Murphy had been publicly floating the idea of a film adaptation for Netflix. While Mantello had never seen anything like that before, he's learned since working with the multi-hyphenate on HBO's "The Normal Heart" adaptation, which landed Mantello an Emmy nomination for outstanding supporting actor in a miniseries or movie in 2014, to leave room to be surprised.
"I've just learned to roll with it and go with what he says," Mantello, who also co-starred on Murphy's "Hollywood" on Netflix, told Backstage on a recent phone call. "I never second guess him because I feel like he's so far ahead of the rest of us."
When he was first approached to direct the Broadway revival and now the 2020 film, Mantello (also a two-time Tony Award winner for directing "Assassins" and "Take Me Out" and six-time nominee for both directing and acting) recalls his relationship with "The Boys in the Band" being complicated by playwright Mart Crowley's time and place. Pre-Stonewall, the play serves as a time capsule of a dark period for LGBTQ Americans. Its portrayal of a group of gay, male New Yorkers at an emotionally tumultuous and drunken birthday party showcases their friendship and support in the face of adversity alongside the varied ways that society's maltreatment reverberates in their lives and psyches.
"I hesitated; I had enormous questions about it," Mantello says of the prospect. "The times in the past when I've seen productions of it, there was something about the full throttle embrace of the period that always kept me at a certain distance." But heeding Murphy's advice to read it "like a classic text" and to not "worry so much about the period" as one would do with similarly themed plays like "Who's Afraid of Virginia Woolf?", the director's interpretation of the material began to expand and he came to appreciate it in newfound ways. "It allowed me to imagine something that was slightly more timeless and didn't lean so heavily into the period.
"My respect for the material has just grown exponentially over the last few years," he continues. "When you really pick it apart and look at it and dissect what's there, I think it's beautifully crafted and deeply nuanced. I think that my initial response to the idea was wrong. And I'm glad to have discovered that over the last few years."
READ: What You Need to Know to Get Cast by
Ryan Murphy Productions
His cast over the last three years has similarly found new ways to explore their relationship with the play, with their characters, and with each other, which only brought the best out of them while filming in 2019 and at the top of 2020. Mantello remembers Bomer specifically quipping that he never wants to do another film unless he's done a full Broadway run of the material beforehand.
"They played it [on Broadway] for about three months; they had all of that experience behind them. And then probably even more crucially, they had a year off. I think in that year, this amazing thing can happen with actors in that, especially if they know that they're going to have another crack at the material, something marinates in them—it's kept alive and their unconscious is thinking about it even more and it becomes more organic," Mantello posits. "I think they all felt that because they had a kind of freedom and relaxation, which allowed them to just be; and in the intervening time together, they had this closeness that had developed. There was no membrane between the way they acted off camera and the way they acted on camera. That affection and that camaraderie that they have is real, [and] I think that translates."
Wrapping up our call while speaking of the current ensemble also brings to Mantello's mind the actors who first brought "The Boys in the Band" to the stage and screen in William Friedkin's 1970 adaptation. There is something owed today to the bravery of those performers and behind-the-scenes creatives for bringing such material to audiences at an especially trying and contentious time for the queer community. It's a landmark production.
"There was a kind of risk involved for those original nine actors that just doesn't exist today," Mantello says. "Had they not taken a chance and been as great as they are—certainly in the film, I obviously didn't see the original production, but they're just great in that film. If they hadn't done that, then who knows what would exist in our history?"
Looking for remote work? Backstage has got you covered! Click here for auditions you can do from home!