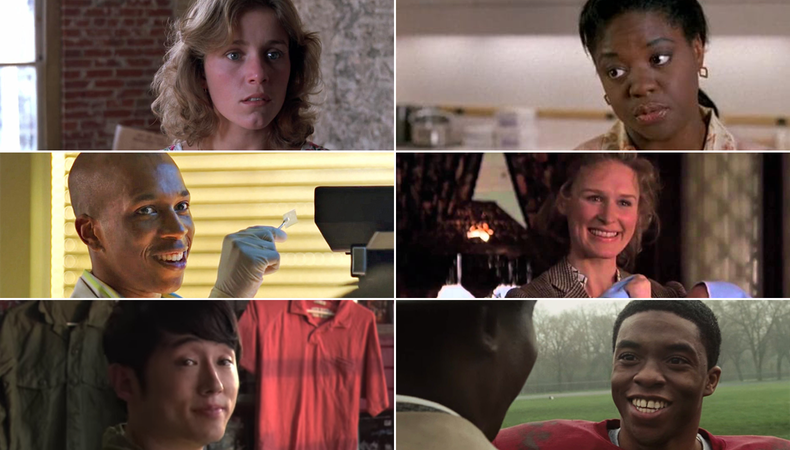 At long last, after a disruptive delay due to COVID-19, the 93rd Academy Awards will be upon us April 25. Sunday's virtual and in-person telecast will reward winners, for the first time ever, from locations outside of the usually packed Dolby Theater in Hollywood. In honor of those in contention for the gold, let's take our annual look at all the acting nominees' first major film and television roles that, in some cases, date all the way back to the '60s. Read on to see how your favorites got their start!
BEST ACTOR
Riz Ahmed, "Sound of Metal"
The Emmy-winning Ahmed splashed onto the scene playing opposite Jake Gyllenhaal in the paranoid thriller "Nightcrawler," but his first film role was actually in the 2006 drama-documentary hybrid "The Road to Guantanamo" as one of the Tipton Three, a trio of British Muslims held in Guantanamo for two years until they were released without charge.
Chadwick Boseman, "Ma Rainey's Black Bottom"
This posthumous Academy Award nominee never sounded a false note on screen, having racked up an impressive range of iconic parts, from Marvel's Black Panther to Thurgood Marshall and Jackie Robinson. After a few TV appearances on the likes of "Law & Order" and "Third Watch" in the early aughts, Boseman appeared in his first major film role in 2008's football drama "The Express."
Anthony Hopkins, "The Father"
The Welsh acting legend is among the most veteran of this year's Oscar contenders, and this marks a second nomination in a row after last year's "The Two Popes." But Hopkins has been working much longer than that, with his first major appearance in a short film from 1967, "The White Bus," and two episodes of "A Matter of Degree."
Gary Oldman, "Mank"
Oldman's first film performance dates back to 1982 in the British ensemble drama "Remembrance," about the Royal Navy embarking on a six-month exercise. The film is credited for not only launching Oldman into a prolific career, but several other well-known British stars as well, including Timothy Spall and John Altman.
Steven Yeun, "Minari"
Many would label AMC's smash breakout "The Walking Dead" as Yeun's big emergence onto the film and TV scene, and many would be right. However, Yeun actually appeared in a small indie comedy just one year prior to the series premiere of the zombie drama in 2009, titled "My Name Is Jerry."
BEST ACTRESS
Viola Davis, "Ma Rainey's Black Bottom"
The Oscar-winning "Fences" star and now four-time nominee got her start in the 1996 drama "The Substance of Fire," playing a nurse in her first-ever scene filmed opposite Timothy Hutton. Previously a theater-trained performer, Davis worked her way up from bit parts in films and series to the Tony-, Emmy-, and SAG Award–winning legend she is today.
Andra Day, "The United States vs. Billie Holiday"
With the shortest list of acting credits of the 2021 Oscar nominees, Day was mostly known for her success as a musical artist before bringing Billie Holiday to the screen. She began her movement into film beginning with 2017's "Marshall," in which she played a singer, and for which Common's original song garnered an Academy Award nomination. In a full circle moment, she's now front and center with this Best Actress nod.
Vanessa Kirby, "Pieces of a Woman"
While Kirby has now taken big Hollywood by storm, appearing in action tentpoles such as "Mission: Impossible - Fallout" and "Hobbs & Shaw," she got her start in a small British indie drama back in 2010, titled "Love/Loss." The actor has a rich and diverse filmography, including an Emmy nomination for her portrayal of Princess Margaret in Netflix's "The Crown."
Frances McDormand, "Nomadland"
While most recognize McDormand from her Oscar-winning role in the Coen brothers' "Fargo," the first on-screen appearance for the veteran actor was actually in the filmmakers' debut feature, "Blood Simple." It makes perfect sense that she then went on to win her first of two Oscars under the direction of the Coens.
Carey Mulligan, "Promising Young Woman"
Mulligan first gained notoriety for her Oscar-nominated role in 2010's "An Education," but her first major film appearance actually came in Joe Wright's 2005 "Pride & Prejudice." Mulligan played Kitty, one of the Bennett sisters, opposite fellow Academy nominees and familiar faces Keira Knightley and Rosamund Pike.
BEST SUPPORTING ACTOR
Sacha Baron Cohen, "The Trial of the Chicago 7"
Even before becoming known for his characters such as Ali G on "The 11 O'Clock Show," Baron Cohen introduced a Borat prototype in the British comedy sketch series "Comedy Nation," which ran on the BBC for two seasons in 1998.
Daniel Kaluuya, "Judas and the Black Messiah"
Kaluuya exploded onto the scene with his Oscar-nominated lead role in Jordan Peele's 2017 debut "Get Out," but the British actor had been in plenty of film and TV before then. His career dates back another decade to 2006's "Shoot the Messenger," which featured David Oyelowo in the leading role. The BBC Films drama had a recent resurgence when the film played at Lincoln Center in New York as part of the African Film Festival.
LISTEN: Daniel Kaluuya on Backstage's "In the Envelope" podcast!
Leslie Odom, Jr., "One Night in Miami"
Best known for his stage work, especially as a Tony-winning Aaron Burr in the Broadway smash "Hamilton," Odom actually began his on-screen career in serial TV. He was a regular on CBS' "CSI: Miami," playing the role of lab technician Joseph Kayle. (As for his start in the theater scene, he credits Backstage for his auspicious casting in a production of "Rent"!)
Paul Raci, "Sound of Metal"
"Sound of Metal" breakout Raci first appeared as a waiter in 1987's "Rent-a-Cop," an action comedy starring Burt Reynolds and Liza Minnelli. This Oscar nod for Raci is quite the success story: after decades of guest spots and small film roles, audiences fell in love with him as the counselor to Ahmed's newly deaf character in the Amazon drama.
Lakeith Stanfield, "Judas and the Black Messiah"
Among the most recent acting breakouts in this year's crop of nominations, Stanfield first received notoriety for his powerful role in the 2013 indie darling "Short Term 12." Funnily enough, Stanfield now joins that film's co-stars Brie Larson and Rami Malek in going on to receive Academy Award nods. (Both also triumphed with wins; could Stanfield follow suit?)
BEST SUPPORTING ACTRESS
Maria Bakalova, "Borat Subsequent Moviefilm"
A newcomer to Hollywood, Bakalova made an immediate impression as the wild daughter of Baron Cohen's Borat in the hit 2020 sequel. Before this impressive breakout, the 24-year-old had played roles in her native Bulgaria, first of which was in "XIIa," a comedy sequel centered around a group of high school students.
Glenn Close, "Hillbilly Elegy"
After years of working on stages everywhere, Close's first film credit, in 1982's "The World According to Garp," joined the ranks of Oscar-nominated screen debut performances. Four decades later, the veteran actor has now amassed a staggering eight total nominations from the Academy of Motion Picture Arts and Sciences (the most nods without a win for any living performer).
Olivia Colman, "The Father"
While best known for her dramatic turns in "The Crown" and her Oscar-winning performance in "The Favourite," Colman's humble beginnings began in the comedy scene of her native England. She was among six performers, also including Martin Freeman, in "Bruiser," the short-lived sketch show that ran on BBC Two in 2000.
Amanda Seyfried, "Mank"
Right before her breakout role in the 2004 comedy "Mean Girls" as one of The Plastics, Seyfried got her start in the world of daytime soap operas. She had a recurring role in 2003 on "All My Children" and before that, appeared in an even longer-lasting role on "As The World Turns" from 1999 to 2001.
Youn Yuh-jung, "Minari"
Korean screen star Youn has earned BAFTA and SAG Awards for "Minari" for good reason. Revered around the world, she's starred in many Korean films and TV series over the span of five decades. It all begin with her role in 1971's "Woman of Fire" where she played a country-girl-turned-femme-fatale. The performance earned her Korea's highly regarded Blue Dragon Award for Best Actress.