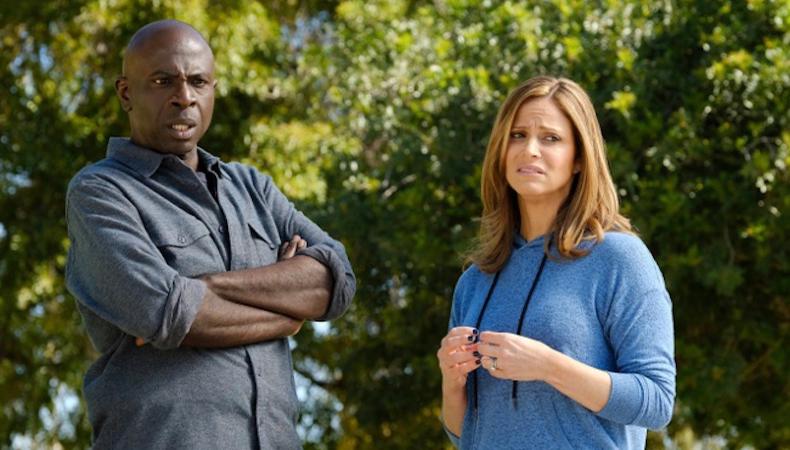 Before her new truTV sitcom "I'm Sorry," creator and star Andrea Savage says she sold at least six series ideas to various networks, none of which made it to the pilot stage.
She realized her knack for pilot development 11 years ago, when she and her "Dog Bites Man" cast mates Zach Galifianakis, A.D. Miles, and Matt Walsh were elevated to writer-producers on the Comedy Central local news parody series. For the next decade, pilot season dictated a "cycle of elation and depression," she says. "You'd sell your show at the end of summer and be like, 'Oh my god! This is amazing!' And then you'd write in the fall, and you'd get your heart broken in January."
Executives passed on a number of Savage's projects, sometimes for reasons as flimsy as "There's this other show that also has a female lead that is not remotely similar, but somehow similar," she says with faux bafflement. Among her shows sold but denied a greenlight were a Comedy Central pilot about aspiring Vegas poker players and an autobiographical ABC attempt about a woman whose divorced parents reunite 30 years postbreakup. The disappointment "gets really dark," she says.
READ: Everything You Need to Know About Booking a Pilot
If that weren't enough, Savage was simultaneously trucking through pilot season as an actor. "I was lucky and I would usually get a pilot" each January or February, she says, just to have her "heart crushed again in May." Outside of pilot season, Savage retained steady work. Audiences surely know her from series regular stints on "iZombie," "Episodes," "The Hotwives" franchise, and HBO's "Veep," where she currently causes Julia Louis-Dreyfus' Selina Meyer to seethe as President Laura Montez.
When it came to "I'm Sorry"—a semiautobiographical "exaggerated version" of her life as a married Los Angeles mom who happens to be in the entertainment industry—she thought up a new strategy.
"I'm not just developing a script again. I'm gonna find a way to shoot 10 or 15 minutes and show exactly what I'm talking about," Savage recalls telling herself. "And so I just did that." By capturing on film "tone-wise, character-wise, story-wise" the show she wanted to make and shopping that footage to networks, she ultimately got her vision to the screen.
Now that she's involved in casting decisions, Savage says the "big eye-opener" has been witnessing how infrequently actors listen to directions in the audition room. She'll set up a scene as "really, really grounded" and "not jokey," only to watch a "really big, really broad" performance. "I just couldn't believe how many people would [hear me out] and then go right back into whatever it was they had prepared," she says. She advises anyone auditioning to "really hear" what's being asked of them before they begin. "If somebody said, 'You know what? That's actually not how I prepared this. Would you mind if I took five minutes and came back in?' I would be like, 'Of course!' "
Additionally, she believes any actor can benefit from taking an introductory improv class. "I've booked so many auditions not based on the read, but based on the improv that I've added," she says. "It's amazing how much that stands out when you're watching the tape." Beyond interjecting silly asides, Savage stresses that improvising can mean "talking about what's really happening in the room."
Throughout every awry audition or scrapped series, Savage remained persistent, and her successes now speak for themselves. For Hollywood hopefuls, she insists making a living as an actor is totally possible for anyone "who is talented and works really hard."
Want to star in a new TV series? Check out Backstage's TV audition listings!