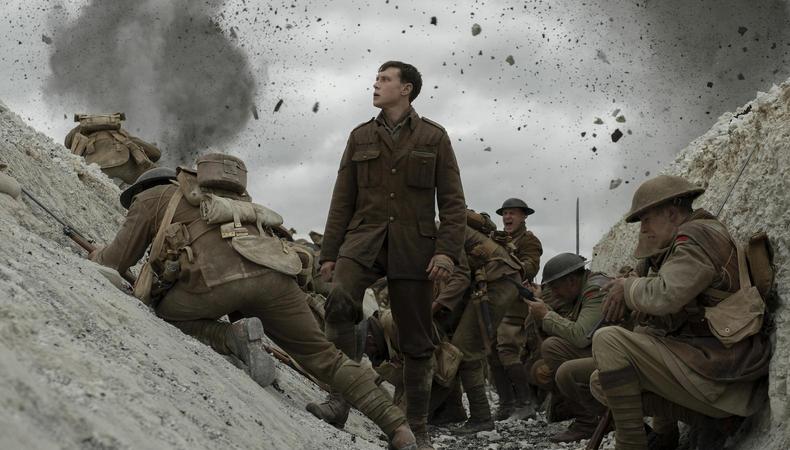 Want the inside scoop on all things awards? Welcome to Letter From the Awards Editor, our weekly series where Backstage's Jack Smart takes a look at the latest film and television news, industry trends, and awards projections that matter to today's working actor.
Dear Backstage reader,
Believe me when I say this week was big for Hollywood insiders and pundits—although, to be perfectly honest, every week from here until the Feb. 9 Academy Awards ceremony (hey, that's only a month away!) is big.
Your Official 2019–20 Awards Calendar
In case you haven't heard, the Oscars taking place earlier than usual, which makes the frenzy of Phase 2 even more concentrated this year: there is a smaller window in which to plan events and screenings, do last-minute press promoting projects, and to strategize campaigns during key voting periods before the Jan. 13 Oscar nominations. Will the Academy's changing demographics make for fresher, edgier choices? Will Netflix's year-long best picture gambit pay off? Film awards season 2020 is about to go out in a blaze of glory, and the excitement here in Hollywood is palpable.
Nods from many of Hollywood's biggest guilds, which share significant overlaps with the voting body of the Academy of Motion Picture Arts and Sciences (AMPAS), were announced this week, while the Academy's nominating was taking place from Jan. 2–7. First the Writers Guild of America named their selections for 2019's best original and adapted feature film screenplays. Then the Directors Guild of America crowned feature directors as well as first-time feature directors. Then it was the Producers Guild of America, nominating the producing teams behind 10 of the year's top films. (All three also released their choices for scripted television, which both echoed the 2019 Emmys and offered a potential preview of 2020 Emmys.) All this just after the splashy Golden Globes ceremony, which, as we know, could make unpredictable ripples.
The Golden Globes Effect Is More Than Just Glitz + Glamour
Meanwhile, somewhere in the midst of those announcements, cinephiles across the pond spoke up too: BAFTA's British Academy Film Awards offered their usual spin on the Oscar race. By "usual spin," I mean each year BAFTA members consider many of the same films relentlessly promoted by Hollywood studios, with a slight bent toward British titles and stars. "Sorry We Missed You" made the cut in their outstanding British film category, for example, and Jonathan Pryce of "The Two Popes" and Jessie Buckley of "Wild Rose," both U.K. natives whose names haven't appeared on other nominations lists, were nominated for their leading roles. Notably, the organization also rolled out its first-ever casting award nominees, which mirrored those projects recognized in other categories.
Do the Brits' equivalent to the Oscars...affect the Oscars? As with every other film accolade, they release nominations and winners as AMPAS finalizes their shortlists, and because both entities count around 8,000 voting members among them with some overlap, the answer is yes. Yet, looking at only trends from recent years—which, in my opinion, an industry shifting this rapidly requires that we do—none of the last five winners of the BAFTA for Best Film have gone on to win the Oscar for best picture.
The Academy loved "The Artist," and the British Academy agreed on "12 Years a Slave," but since then the two bodies have been out of sync. Ahead of Monday's big Academy Award nominations announcement, we can look at the choices of BAFTA as well as other British award-givers, the London Critics' Circle and British Independent Film Awards, in our tea leaf-reading. But the guilds' nominations typically provide a stronger predictive correlation to their respective Oscar categories, so consider that in your prediction lists.
These critics picked 2019's best films—Will the Oscars Agree?
Who's on my prediction lists, you ask? Dear reader, you know better than to think I, Backstage's impartial guide to all things awards and cheerleader of artists everywhere, would make outright predictions! But if you're wondering how I might guess at the Academy's selections, were I hypothetically so inclined, my strategy would be to examine all this week's selections—factoring in the SAG nominations and last weekend's possible Golden Globes effect—and notice which names appeared on the most lists:
"Parasite": This Korean critical smash is one of the few contenders to make all the shortlists this week, in addition to emerging as a Globe winner (for foreign film, as it was deemed ineligible for the top feature prizes). Is distributor Neon's best shot at Oscar gold in Bong Joon-ho's directing, or in his script? Could the SAG-ensemble-nominated cast break through? At this exact point in the race, this mind-boggling tale of the poor eating the rich is a threat in all categories.
"Once Upon a Time...in Hollywood": Don't count out Quentin Tarantino's much-trumpeted, and brilliantly campaigned, ninth film. Ever since it attached stars Leonardo DiCaprio, Margot Robbie, and recent Golden Globe winner Brad Pitt, this love letter to a sunny, tumultuous 1969 Los Angeles has been a contender. "OUATIH" led the Globes and appeared on every list this week—with the notable exception of the WGA because, fun fact, Tarantino is not and has never been a member of the guild.
"1917": Not many audiences have seen this wartime epic...but clearly the "important" audiences have! Director and co-writer Sam Mendes' WWI drama is shot as if it's a single, continuous take, a technical achievement so impressive it made him the Globes' biggest surprise winner. The late-release film has secured all the important guild nominations except for SAG and will compete for both best film and British film at BAFTA.
Leonardo DiCaprio, Adam Driver, Laura Dern, Al Pacino, Joe Pesci, Brad Pitt, and Scarlett Johansson for both "Marriage Story" and "Jojo Rabbit": Rooting for these Oscar contenders? These are the only names to be nominated for BAFTA, SAG individually, and in a film recognized by WGA, DGA, and PGA. And if SAG nominees and Globe winners Joaquin Phoenix, Taron Egerton, and Renée Zellweger aren't Oscar-nominated, that would also be a shock. But stars who have checked all those boxes have been ignored by the Academy before.
LISTEN: 'Rocketman' Star Taron Egerton on Why He Loves Auditioning
Another factor worth noting: In the wake of all this week's announcements, industry insiders and pundits alike pointed out that, yet again, contenders in front of the camera seem to be mostly white, and, behind the camera, mostly men. Twitter trend #BAFTAsSoWhite, a variation on the #OscarsSoWhite movement of years past, reappeared after BAFTA unveiled an all-white, 18-name acting lineup. And after another all-male Golden Globe directing slate, the DGA continued its trend of ignoring women in their top feature film category (they've done so eight of the last 10 years). Will movies from women and people of color, like "Just Mercy," "The Farewell," "Little Women," "Us," "A Beautiful Day in the Neighborhood," and "Hustlers" be left off Oscar ballots?
Would look something like this... https://t.co/xWIprSkUwR pic.twitter.com/g2HuQR0XSe — Ava DuVernay (@ava) January 7, 2020
We have only to wait a few more days to see whether the Academy will follow in those voters' footsteps, or throw some surprise nominations into the mix. I'll be honest: I'm a "surprise nomination" junkie. Cardi B for best supporting actress!
If the Oscar nominations mirrored all the precursor awards exactly, they wouldn't be any fun. So I say go wild, Academy nominators.
Sincerely,
Jack
Some More Smart Stuff: