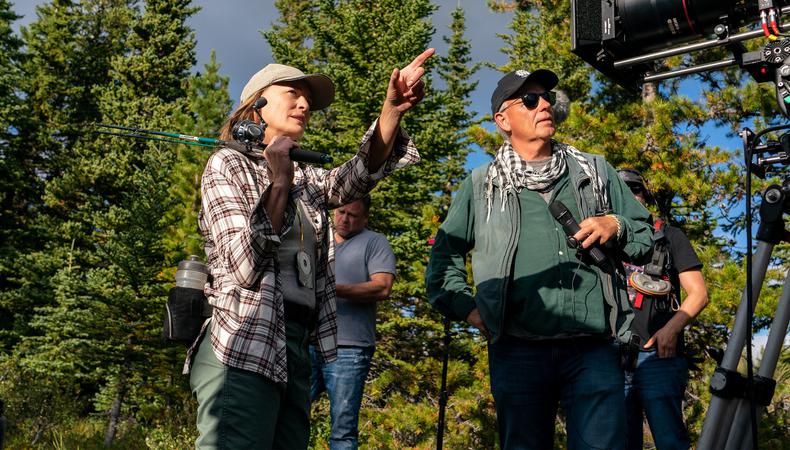 Robin Wright never intended to direct herself in "Land." When producer Allyn Stewart presented her with Jesse Chatham and Erin Dignam's script nearly three years ago, she knew she wanted to direct, but the prospect of simultaneously starring as Edee, the bereaved wife and mother who moves to a cabin in the Middle Rockies of Wyoming to live off the grid, didn't come up until after a year of unintended "rehearsals."
"We were talking about it, the producers and I, daily," Wright recalls of her feature film directorial debut's early days. "Having meetings, I would act out the scenes because we were talking about the tone and what we wanted the three acts to be in the film. I feel like we had a year of homework done before we shot it—which was, in essence, rehearsal."
It was only after a series of scheduling complications with other actors that the possibility of her playing Edee was posited: "I was like, 'OK, I'm gonna be there anyway.' " And there she was—literally living the film in a trailer sequestered at basecamp and susceptible to all the unpredictable elements Mother Nature had to offer.
"One of the producers and I chose to stay on the mountain, at basecamp, in our trailers, because it was mid-September—out of the blue, it was summer one day, and then winter the next," she says. "We got lucky, actually, because we shot the film in 29 days. We had to cover two and a half years, four seasons in each year. We would just have a change of wardrobe in a tent right next to the cabin, because when that weather shifted, we had to jump into year two and put on after-ski boots and put the wig on. And then [go] back to summer if you got surprised by beautiful weather the next day."
"It's a job, at the end of the day, like any job. And, yes, it's emotional and therapeutic, and it's complicated, emotionally, to get there. But…that's what we do as actors."
The result is a film that has Wright's fingerprints and face on essentially every frame. As director, executive producer, and star, she takes the audience on a heartbreaking, whirlwind journey as she hides away in isolation and grief, nears death while facing the unforgiving environment's various dangers, is rescued and befriended by a kind stranger (a warmly pitch-perfect Demián Bichir), and learns to survive on her own, a woman reborn. While the project has been gestating for some time, its timely relation to today's atmosphere of loss and hard-earned growth isn't lost on its filmmaker and star.
"A lot of people have experienced so much loss in this last year," she reflects. "I just was thinking about all the people who are grieving, and how everybody grieves in a singular way, and that human beings are resilient, and they can have a renewed faith, and generally it comes with the help of another…. This is one person's experience traveling through that. I think it is more [about] traveling through it, instead of fighting it. You have to go through the phases of grief to come out on the other end."
When it came to finding her way into Edee's psyche, as broken as it is by her loss (which isn't revealed until the very end of the film), Wright says the character-building tools she needed are ingrained in her bones and process thanks to nearly 40 years in front of the camera.
"It's a job, at the end of the day, like any job. And, yes, it's emotional and therapeutic, and it's complicated, emotionally, to get there," she explains. "But I just felt like I understood what this person went through, definitely intellectually. That's what we do as actors: You are the vessel. Whether you've gone through it or not, whether you're playing a character that has nothing to do with you, you can understand and have compassion and empathy. It just came naturally."
"You have to have [an incredible crew] when you're in front of the camera and directing. You have to trust their instincts."
The technical process of directing her first feature, however, came with a learning curve. She says that directing 10 episodes of "House of Cards," the Netflix series on which she also starred, was her version of a "mini cinema school—I got to do it while I was schooling in it." And surrounding herself with an "incredible, experienced crew" she could trust on "Land" helped fill in any gaps.
"You have to have that when you're in front of the camera and directing. You have to trust their instincts," she says. "Because there were times when I would be laying in the snow, as an example, [and] I couldn't get out of the snow to walk and go look at playback, because I was walking on fresh fallen snow and we needed that in the shot! They're in the tent watching, and they'd either say thumbs-up or thumbs-down. They were my director, a lot of the time."
As far as the one thing she wishes she'd known more about—and would therefore advise other actors who want to direct to look into—before getting behind the camera, Wright says, "I personally wish I knew more about lenses. I'm still learning, obviously—this is my first feature film!" Otherwise, she insists on the importance of simply studying cinema.
"Study the directors that you resonate with, the films that touch you, and why. Why does one resonate versus another? That's where you kind of form your own style…. You kind of steal from people, everybody does. And then you have to imbue your own style on top of that."
Looking for remote work? Backstage has got you covered! Click here for auditions you can do from home!